Earning Ministry Cred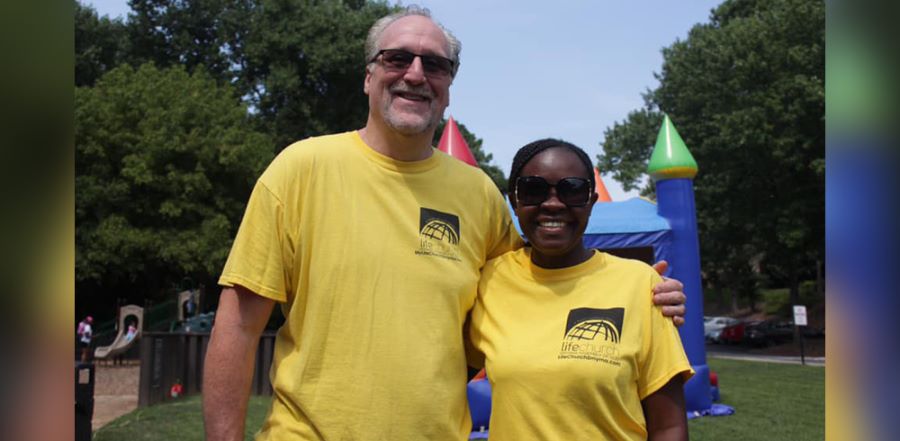 Don't miss any stories. Follow AG News!
Shell D. Osbon and his wife, Missy, smile at their waitress as they order dinner in a local restaurant, a frequent practice after Sunday morning worship at Life Church Smyrna Assembly of God in an Atlanta suburb.
Osbon, 56, Life Church's lead pastor and Georgia Ministry Network metro Atlanta regional presbyter, almost always asks the same question to food servers: By the way, while you are turning in our order, we will be praying for our meal, but is there any need that we may also pray for you?
Over many years, Osbon recalls only two refusals for prayer. He also blesses each encounter by tipping generously. "We build relationships befriending people," he says. "And what a great witnessing opportunity it opens."
One of the couple's initial Sunday luncheons upon joining Life Church in 2003 cemented a long-term relationship with a Mexican restaurant. That experience opened up devotional services at the restaurant for employees, counseling, and conducting marriages and funerals. The owner accepted Christ into his life and has donated thousands of dollars to the church and missions.
Serving people off campus underscores Osbon's vision to impact the greater Smyrna community. One of his first visits took just three minutes walking over to the adjacent Griffin Middle School, introducing the church to the principal.
The principal accepted Osbon's unconditional offer to serve the school in any way, which has continued and expanded. Typical support activities include hosting school staff training sessions, preparing meals and snacks for teachers, counseling, bereavement calls, conducting funerals, and praying for the sick. During occasional memorial services, Osbon has free rein to share the gospel and even give an altar call.
The church's 400 multiethnic congregants, representing 30 nations, supports building community partnerships to the max.
Currently Life Church serves three dozen local organizations, including the police and fire departments, restaurants, schools, a hospital, and youth organizations. On weekdays and evenings, the church's parking lot is normally packed for on-campus community events.
Last fall, Michael S. Cason, Life Church's elementary children's pastor, consoled 100 Cub Scouts, Boy Scouts and Girl Scouts, their parents, and scout leaders. They had gathered to remember a Cub Scout leader's wife who had died recently. The church provides facilities for scouting programs on Tuesday evenings. Most participants do not attend the church.
Cason, 25, spoke freely for 10 minutes offering God's comfort and the resurrection hope of Christ. He gave a call for salvation, and 25 people raised their hands to accept Jesus.
Osbon suggests simple acts of kindness open communication links and earn ministry cred. For example, he urges appreciating law enforcement, fire, and emergency medical personnel by dropping off doughnuts or cakes. He also delivers chocolates to school office workers.
"We pastor more people outside our church than we could ever pastor inside our church," Osbon reflects. "Jesus has commissioned us to share the gospel with everyone, everywhere."