Equipping and Encouraging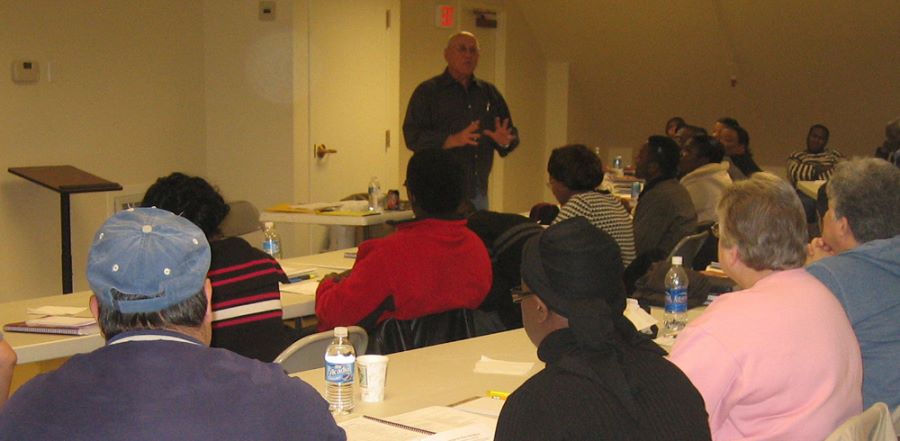 Don't miss any stories. Follow AG News!
U.S. missionary David C. McNeely divides his time between two dissimilar but flourishing ministries in Boston.
He equips and coaches promising pastors and lay leaders at the Southern New England Ministry Network School of Ministry (SNEMN-SOM). He is also a workplace chaplain with Marketplace Chaplains, a parachurch organization.
"Discipling and investing in people so they can invest in others is God's call on my life," says McNeely, who serves with U.S. Mission America Placement Service. "I follow Luke 10:2, praying that the Lord will send equipped workers into the harvest field."
McNeely, 74, has pastored Assemblies of God churches in Texas and Tennessee, as well as served as youth director of the West Texas District Council before moving to Massachusetts to plant an inner-city church. In 1989, he and his wife, Marsha, launched Christ the Rock Assembly of God (CTR), in the multiethnic Boston neighborhood where they still live. He began walking the streets with a team, learning the needs of people living in pockets of poverty and crime. Brazen thieves stole four cars from him.
While pastoring nine years at CTR, McNeely started the Urban Bible Training Center under U.S. Missions, which eventually transitioned into SOM. He joined the school as administrator in 2010.
According to Nick W. Fatato, SNEMN superintendent and SOM's executive director, more than 720 students have completed the three-year program since the school opened in 2007.
"Through this real-time learning ministry, we believe that God has an assignment for each student and we intend to resource that assignment," Fatato says.
Most students work full-time jobs and appreciate the flexible user-friendly training. They aim for pastoral ministry or layperson support positions in local congregations, such as worship leader or Sunday School director. Courses run the gamut: educational requirements for credentialing, Pentecostal doctrine, hermeneutics, leadership, conflict resolution, prayer, church administration, finance, and law.
Students study at home at their own pace and attend one class a month on Saturdays in two locations, either for English or Spanish classes. Because of COVID-19 restrictions, all classes currently are conducted via Zoom.
Deborah L. Moylan, 56, lead pastor of Sanctuary Ministry Center in Ashburnham, Massachusetts, credits her SNEMN-SOM studies and McNeely's encouragement for clearing the way to full-time ministry and planting Sanctuary in 2013.
Even though she earned a master's degree in theology and the arts from Andover Newton Seminary, Moylan sensed a need for additional practical ministerial training.
"SOM prepared me for what God had prepared well in advance for my life," she says. "I am exactly where God wants me to be."
Miguel E. Montesino co-pastors Christ the Rock Assembly of God in Readville with his wife, Michelle. He attributes SOM studies, plus McNeely's coaching and friendship, for leading him into ministry.
Montesino, 50, pastors while still working a dangerous secular job as a detective with the Boston Police Department. His double-shift arrangement frees him to preach every Sunday. Both church members and police colleagues respect him.
"I consider my police work a hobby compared to being a pastor," he says. "The Holy Spirit gives me the strength to do both jobs."
In 2016, McNeely entered a novel and needy mission field: the industrial workplace. Through Marketplace Chaplains, he joined 1,800 professional chaplains who serve more than 1,000 companies in the U.S. and Canada. He learned that 70 percent of employees in these companies have no local church affiliation.
His mission field covers five area companies employing almost 300 people working in heavy civil and marine construction, high voltage lighting systems, heating and plumbing, and hotel and restaurant cleaning. Although on call 24/7 for emergencies, McNeely visits firms weekly or biweekly, showing a friendly and caring presence. He counsels employees, prays for them, and conducts family funerals.
"I'm their friend and when they need prayer or have a problem, they call me," McNeely says.