Evangel Dedicates Coryell Field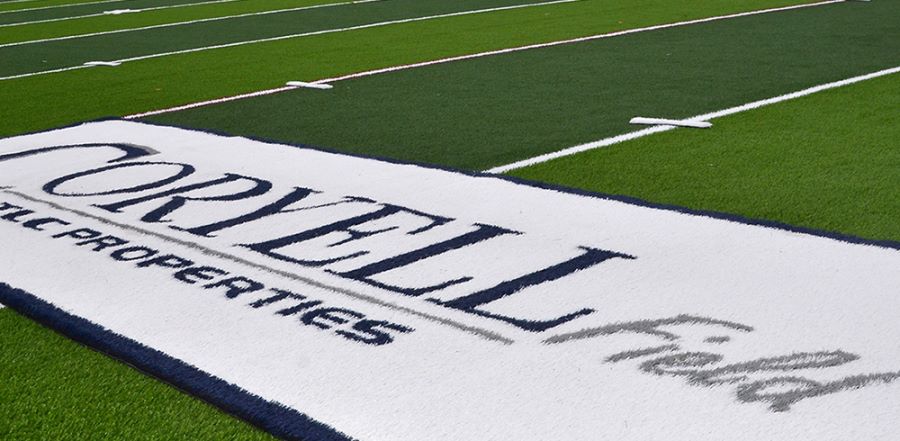 Don't miss any stories. Follow AG News!
Evangel University completed installing Coryell Field this summer, a state-of-the-art game and practice surface, on its Springfield, Missouri, campus and dedicated it in a special ceremony on Friday, Oct. 21, 2016.
The new AstroTurf field is now being used for men and women's soccer home games and practice, football practice, and for marching band rehearsals. It also includes bleacher seating for up to 300. The field is part of the first phase of development for Evangel's new athletic facilities.
"Coryell field is by far the best playing surface in the conference," said Bruce Deaton, director of soccer operations and head women's soccer coach. "The opportunity to train and play our matches on this field, not only enhances our ability to play the game, but will pay huge dividends in the recruiting of future Lady crusaders."
This development follows a successful first round of public and private fundraising, which included a generous gift from the Coryell family, through Evangel's Momentum Campaign for Athletics. The campaign utilized some rather creative and oftentimes funny videos to update alumni and friends of the University.
Head football coach Chuck Hepola shared his team's enthusiasm.
"Coryell Field has been both a blessing and asset to our football program," he said. "We have a beautiful well-groomed facility to practice on. It aides in recruiting future student-athletes, while showing commitment from our administration and alumni to Evangel athletics."
Several "phase one" enhancements are yet to be completed, including the addition of two grass practice fields for soccer, football, and intramurals; baseball and softball field repairs; and lights for the turf field.
"Phase two is the field house, which will house both academic and athletic offices, locker rooms, classrooms, and the basketball/volleyball courts," explained Hector Cruz, capital campaign manager.
When finished, the three-phase project is designed to benefit the entire student body, including more than 300 student/athletes.
"The turf field has been installed in a manner so that a stadium will eventually be built around it," said Dr. Michael Kolstad, vice president for University Advancement. "However, that is not in the immediate plans."