Evangel Students Earn Enactus USA Leader of the Year Awards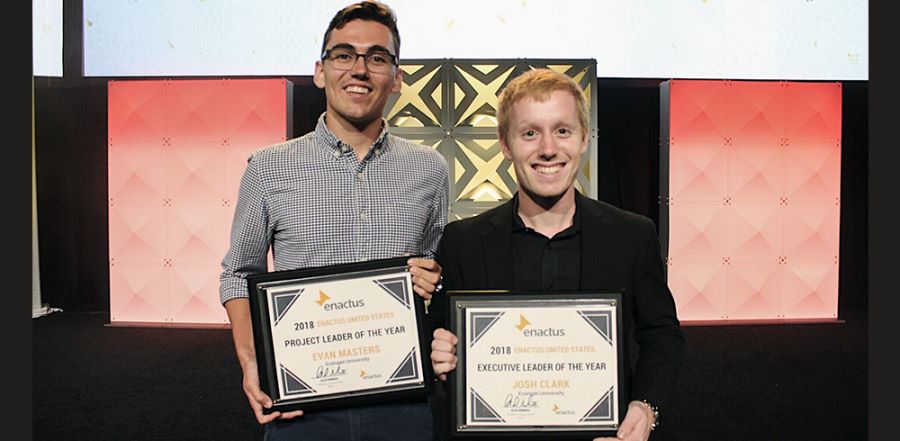 Don't miss any stories. Follow AG News!
Evangel University business students were recently honored to receive two of three new leadership awards presented at the 2018 Enactus USA National Exposition in Kansas City, Missouri.

Enactus is an international organization that helps college students connect what they are learning in the class room to real life through entrepreneurial projects and community outreaches. The annual Exposition draws 3,000 student, business and academic leaders from around the U.S.

This is the first year for the "Enactus USA Leaders of the Year" program. The students were recognized at the National Exposition on May 20.

Joshua Clark was named the first-ever Executive Leader of the Year. The award recognizes that Clark "has significantly impacted the overall sustainability, strategy, culture, and development of members and projects."

Clark, a senior accounting major at the Springfield, Missouri, university, has been the executive director of the Evangel team for the past two years, during which time membership has grown by 75 percent and team resources by more than 300 percent.

Evan Masters, a senior finance and management double major at Evangel, was named the first-ever Project Leader of the Year.

This honor recognizes that Masters "has significantly impacted a specific project or a portfolio of projects (i.e. by managing a team of project leaders)."

As community projects director, Masters contributed more than 500 hours, while providing coaching and oversight for eight projects, including two new community projects and one new international project.

RECOGNIZING LEADERSHIP

According to Enactus, the purpose of the awards is to motivate and reward excellence in leadership, and share best practices by example.

Josh Jones, senior regional program manager, team recruitment, elaborated, "While reviewing Josh's [Clark] and Evan's nominations, the judges could see an impressive depth and wide variety of best practices in action. The examples provide the makings of a case study on how to build and maintain a great Enactus team.

"We are very grateful to them, and to all our student leaders from teams of all shapes and sizes across the United States," Jones said.

Bernie Dana, Evangel's primary Enactus advisor, added, "These student leaders represent the outstanding work done by all 79 members of the Evangel Enactus team working on 12 projects this year. Their roles in Enactus enable them to develop leadership experience and skills while impacting the lives of people on the campus, in the community, and globally."

The remaining 2018 award was Human Resource Leader of the Year, which was presented to Cynthia Lin from Rutgers University in New Brunswick, New Jersey, recognizing that she "has significantly impacted one or more of the areas of recruitment, engagement, leadership development, team succession, and culture building."

A total of 30 students from 444 U.S. Enactus teams were selected earlier this spring as Regional Finalists for the three categories, including five Evangel University students. In May, Enactus named three National Finalists for each of the three categories. From those nine students, the three "Leaders of the Year" were announced on-stage at the U.S. Expo.

Founded in 1975 in the U.S., there are active Enactus groups on more than 1,730 college and university campuses in 36 countries around the world. According to their research, there are more than 72,000 students participating in Enactus programs, impacting nearly two-million people a year.

For more information about the Evangel University Department of Business contact Eveline Lewis at (417) 865-2811 ext. 4117.
IMAGE: Evan Masters (left) and Joshua Clark.