Evening of Elegance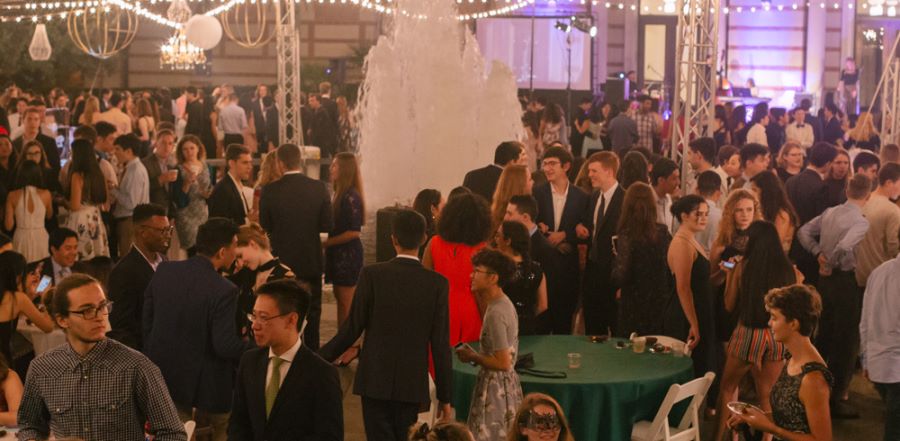 Don't miss any stories. Follow AG News!
When U.S. Missionaries Josh and Jamie Bell launched the Chi Alpha Campus Ministries chapter at Rice University in 2008, the biggest bash on the Houston campus was the Night of Decadence (NOD).

The bold name is an accurate description of the annual October event.

Students donning only their underclothes — or less — attend the iconic campus party fueled by an unlimited supply of alcohol. Many leave stumbling and drunk, often in tears. One year ambulances rushed 11 students to hospital emergency rooms with alcohol poisoning. Unwanted sexual encounters are commonplace.

A quarter or more of the private university's 4,000 undergraduate students attended the event, which has shaped campus culture since its inception in 1972. In 2010, NOD attendance peaked at 1,500.

From the huge influence of this deeply entrenched part of campus social life, the easier path for Christians might seem to simply avoid NOD and thank God when it's over. But six years after pioneering the U.S. Missions ministry, the Rice Chi Alpha staff had grown to seven. About 100 students attended weekly meetings, and even more participated in the ministry's small groups. Now the largest Christian organization on campus, Chi Alpha had sufficient team capacity to put on a larger, God-honoring event.

"In 2014, we asked the Lord, How do we answer this party?" Josh P. Bell recollects. The team began to brainstorm. The logical alternative to a Night of Decadence where people with little attire drink and dance recklessly appeared to be offering a free elegant celebration.

"The Lord has opened doors in so many ways," says Bell, 41. "We've been able to do things that were impossible."

For Evening of Elegance, attendees come dressed up, many arriving in horse-drawn carriages. A live jazz band plays 1940s swing numbers. Dance instructors teach swing steps to the uninitiated. Hors d'oeuvres and sparkling nonalcoholic drinks are served beneath canopies of twinkle lights. Donors for the $30,000 event are primarily Rice alumni and their parents, Bell says.

Three hundred students showed up for the first Evening of Elegance. For more than 40 years, to fit into Rice campus culture, students felt they had to attend Night of Decadence. But after the first Evening of Elegance, attendees at the alternative event posted their appreciation on Facebook.

"As soon as we gave people a valid, fun, legitimate thing to do instead of Night of Decadence, they were thrilled to go to it," Bell says. "We felt like we were setting free half the campus. That continues to be our goal."

The next year, 500 attended, and the year after, 650. Then in 2017, Evening of Elegance attendance hit 1,000, surpassing NOD by 200. Bell figures if hundreds of students are deterred from participating in Night of Decadence, it's worth it.

"We're placing ourselves in the middle of campus and inviting people to choose elegance over decadence," Bell says. "At the end of the day, we hope to inspire bigger questions about life, not just What can I do for fun tonight?"

Today, Rice's Chi Alpha chapter is thriving. The campus newspaper has published articles about Evening of Elegance party four times and the school administration is supportive.

"It's been an opportunity to serve the whole university in a very helpful way," Bell says. "It's an opportunity to explain: You are made in the image of God. We want to celebrate life in a healthy way."

Renowned Rice chemistry professor James M. Tour, who is a Christian, notes the alternative to NOD is particularly important for first-year students who believed attending Night of Decadence was essential for their acceptance on campus.

"Evening of Elegance is really first class," says Tour, 59. "What these students have pulled off is an amazing evening. It's extremely well done. I think it's terrific." Tour points out that today one of every 10 Rice undergraduate students is in a Bible study, and at least half of them are through Chi Alpha.

Bell sees the importance of being obedient to God even in the face of ostensibly overwhelming opposition.

"We should be willing to say yes to God, even if it's over our head," Bell says. "Stuff you never dreamed is possible is possible if you'll just obey God and be willing to do what He asks you to do."

That includes the amazing amount of donations that allows the Chi Alpha group to offer the event — which features six horse-drawn carriages — at no charge.
Photo Credit: Matthew Lim