Faith Comes to Big Pine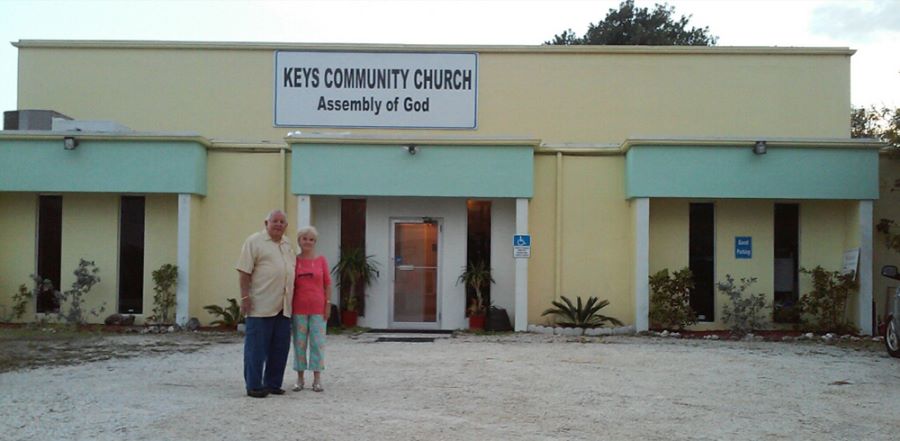 Don't miss any stories. Follow AG News!
When health issues led Ernie DeLoach to retire in 2012 as pastor of Glad Tidings Tabernacle Assembly of God in Key West, Florida, his desire to serve never faded. God restored him a year later with new strength and a new vision to plant an Assemblies of God church on nearby Big Pine Key.
"I was anxious to get busy for God again and realized that retirement was not for me," says DeLoach, 74.
He is a native "conch," an affectionate label worn by people born on Key West island, the southernmost tip of the continental U.S. Pink conch sea-snail shells line its sandy beaches.
DeLoach asked Jesus into his heart at Glad Tidings at age six. After serving as a missionary to the Bahamas with his wife, Kaye, for 24 years, DeLoach planted New Life Assembly in Kissimmee, Florida. He joined the Key West church as pastor in 1992.
During his illness, the couple prayed that God would open doors for a new ministry. At that point they recalled promptings years before, about pastoring a church on Big Pine Key, which DeLoach passed through many times on his way to the mainland.
Putting feet to their prayers in mid-2013, the DeLoaches drove to Big Pine almost every day searching for a facility. They found a vacant building in a wooded area, home to herds of Key deer, but five miles off busy U.S. Route 1. Although the $1,500 monthly rent seemed reasonable, they had no funds to start a new church. The AG's Peninsular Florida District stepped in with a gift of $5,000.
"I had the utmost respect for the DeLoaches and their ministry," recalls District Superintendent Terry Raburn. "There was no doubt of their ability and ultimate results, even though previous AG church plants had failed on Big Pine."
About the same time, the DeLoaches inherited $5,000, which they donated to the start-up fund. Several other AG churches also caught the vision, sending men's ministry teams to help with renovations. Keys Community Church (KCC) officially opened in December 2013.
Needing easier access, the church moved to temporary space in a funeral home on U.S. 1, and then finally to its current high-visibility location in a multipurpose building.
The sparsely populated Big Pine Key represents a serious spiritual challenge.
"We have never met so many people turned off by the church at large, and God," says Kaye DeLoach, 72. "But the Lord has called us to make a difference."
God is drawing genuine seekers in one at a time. Several months ago, a curious woman who had not attended any church since she was six years old walked into a service. On her second visit she accepted Jesus as Savior, admitting her futile search for salvation in all the wrong places. She has become a regular part of KCC, and is active in the women's Bible study group. She invited her brother-in-law to the church, and he also accepted Christ as Savior.
While going door to door witnessing in a mobile home park, Ernie DeLoach met a man fed up with the acceptance of same-sex marriage that his denomination espoused. DeLoach connected with the man, who now attends KCC and plays in the orchestra.
About 45 congregants worship at KCC on Sundays. Other activities include midweek Bible studies for men and women, a monthly potluck fellowship dinner, youth ministries (Kidz church and Kidz Club), and community outreaches.
Ernie and Kaye show no signs of slowing down. Living by faith, they receive no salary, just a $200 monthly housing allowance.
"We will continue serving as long as God gives us strength," Ernie DeLoach says. "We want to focus on discipling and maturing people in the Lord."