Family Adopts Foster Care Cause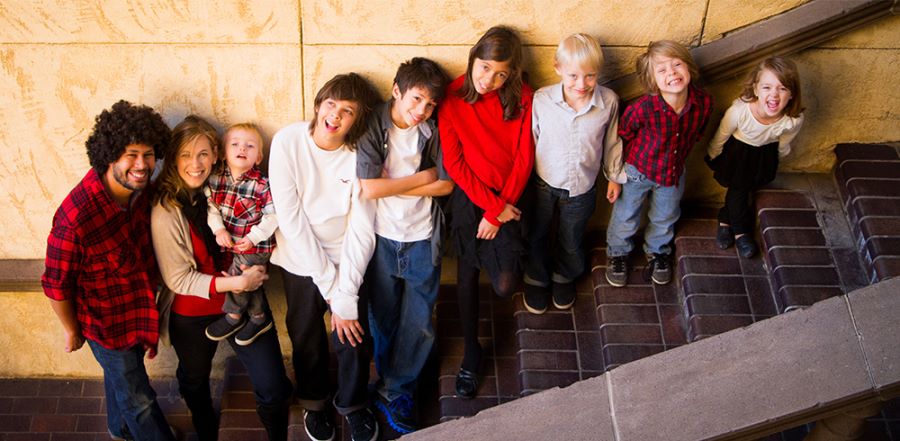 Don't miss any stories. Follow AG News!
Five years after Aaron and Sara Escamilla wed while students at Southwestern Assemblies of God University in Waxahachie, Texas, a 10th-grader moved in with them.
The 15-year-old Matt called the Escamillas, then in their early 20s, Mom and Dad. He became the first of many teens in need who found their way to the family's home. 
"All of that was God preparing us for foster care," Sara says.
That preparation enhanced the parenting adventure for the Escamillas, who today are birth parents to four and have become adoptive parents, both to Matt and to a sibling group of three. They're also certified as a foster care group home.
A year ago, Aaron became lead pastor of New Community Church , a Mesquite, Texas, AG congregation in the Dallas metropolitan area. Sara is a staff pastor. Together the Escamillas founded and led a foster parenting and adoption program called Rooted at The Oaks , an AG church in Red Oak, Texas. Rooted assists those in the congregation with training to become licensed foster parents and approved as adoptive parents, either internationally or domestically. Currently at The Oaks, the ministry is equipping 22 people.
Throughout the journey, the Escamillas have seen God lavishly and abundantly provide for their needs. And true to Scripture, they've seen favor not only with God, but also with humans. The Texas Alliance of Family Services named them as Adoptive Parents of the Year for 2013. Last year when the size of their family required two trips to transport everybody to church, The Oaks presented the Escamillas with a 2015 Nissan NV van.  
Scott Wilson, senior pastor of The Oaks, notes the depth of the Escamillas' impact on his congregation. Research by church staff found a huge social problem in the county involved children awaiting foster homes.   
"We made it our goal to wipe out that need in our county, that there'd be more parents waiting for children than children waiting for parents," Wilson says. "Scores of people became adoptive parents and foster parents just from watching what the Escamillas were doing. A lot of it had to do with Aaron and Sara and their passion and their leading the way."  
The church's ministry includes support for adoptive and foster parents and their children, such as respite care and regular parents' nights out with free child care. 
During their 4½ years serving on The Oaks' pastoral team, the Escamillas had a lasting impact on others. 
"We watched them sacrifice, give, and love," Wilson says. "We wanted to honor them and resource their whole family and bless them."  
To that end, people in The Oaks gave all the money needed to pay for the new van. On the Escamillas' last Sunday before moving to New Community, The Oaks' leaders told them of the gift.  
"It was a wonderful day of giving and generosity in the church," Wilson says.
The act of bringing a child into the nuclear family is powerfully symbolic, Aaron Escamilla says.
"God spiritually adopted me," Escamilla says. "We were distant from God's family, and by His grace, He loves me and brings me in."
The demand for families willing to take in children never has been greater, Sara says.
"There are so many sibling groups that need families," she says. "I'd love for people to get involved and help. We couldn't have done what we did if we didn't have such an incredibly supportive group of people around me."
Sara cites some ways others blessed her, such as walking into her kitchen to find somebody had brought groceries. Another time someone gave the family a new deep freezer filled with food. She recalled when somebody left flowers on her doorstep she broke into tears.
"It was just what I needed," Sara says.
Aaron and Sara Escamilla and their children (from left): Josiah, 15; Micah, 14; Angela, 12; Jaraan, 7; Gabriel, 7; Sophie, 4; Aidan, 2. Not pictured is Matt, 28.