Fast-Tracking for Missions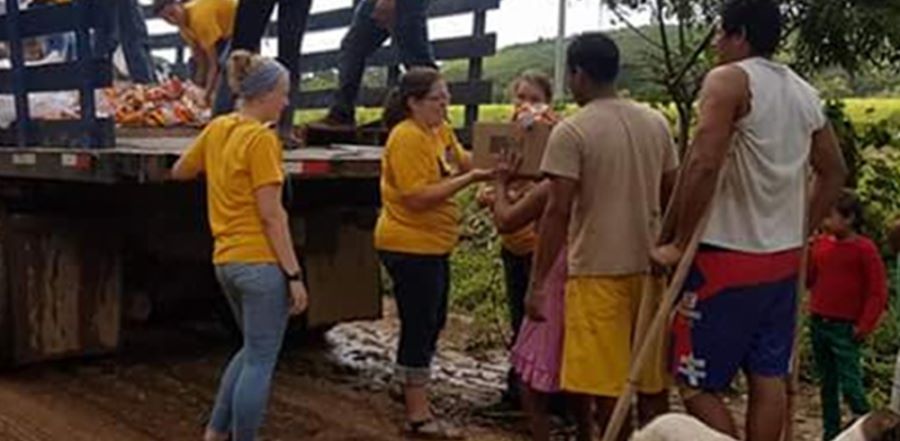 Don't miss any stories. Follow AG News!
From its inception, the Assemblies of God Theological Seminary (AGTS) of Evangel University has had a strategic partnership with AG World Missions. The first classes ever held at
AGTS
were in the summer 1973, and the students were
AGWM
personnel.
"The entire history of AGTS is intrinsically connected to AGWM and the strategic partnership is an enduring legacy to our mutual commitment to world evangelization," said
Tim Hager
, dean of the seminary and vice president of
Evangel University
, Springfield, Missouri.
The AGTS/AGWM relationship may best be viewed as a two-way street. On one side, for 46 years, missions personnel have served on the faculty, and on the other, the seminary has been a major provider of new missionaries to the Assemblies.
The leaders of these two organizations —
Greg Mundis
, executive director of AGWM, and Hager — recently met to reaffirm the process of the partnership where missionary personnel are approved and assigned to the seminary for faculty roles.
"Exceptional practitioners and academically qualified individuals are foundational to our programs at the seminary," said Hager.
"If there were ever a time where the Church needed ministers with missionary eyes to discern the culture and wisely apply evangelism methods and discipleship processes, it is today. AGTS degrees equip students to do this."
NEW FAST-TRACKING SYSTEM
Missionary associates (MAs), are the largest group that feed into the system and eventually become appointed general missionaries for the Assemblies of God.
Those MAs traditionally come to service with a bachelor's degree from one of the AG colleges, and, according to Hager, Evangel University has been the largest provider of MAs to AGWM for more than a decade.
In light of this, the AGTS intercultural program for bachelor's level students at Evangel has developed a system for fast-tracking students into AGWM by way of the Missionary (MAPS) and Missionary Associate (MA) programs.
Shepherding the students through the process is
Sandy Friesen
, professor of intercultural studies at Evangel who also oversees the AGWM Missionaries In Residence program at the undergrad level. One of her students was recently approved to work with the deaf in Latin America.
Naomi Lampke is a 2018 EU graduate from Attica, New York. She earned a bachelor's degree in intercultural studies and history, with a minor in biblical studies.
"As a part of the intercultural studies program, each student participates in an internship as a part of their practicum. For this, I chose to do the Engage Nicaragua program, which is a MAPS volunteer program," said Lampke.
"Without this experience, I most likely would not have pursued becoming an MA so soon after graduating. This was a process that I really enjoyed. It helps a person learn about missions, and helps introduce the student to the leadership at AGWM."
Lampke has since been accepted as an MA to Mexico working with Randy and Linda Lindsey. She is currently raising her financial support.
"In the next few years I will be learning from them about how to effectively minister in a cross cultural culture deaf community," she said. "In the future, I hope to be able to work alongside the deaf community in the Eurasia. My dream is to see the deaf go from having only 2% of the population around the world being Christian to having ministries created everywhere."
NAOMI'S BACKGROUND
At 6 months old, Naomi had pneumonia, which caused an extremely high fever and affected her hearing.
"The doctors told my parents that I would eventually go deaf," she explained. "When I was 5, I started to teach myself sign language, having made some deaf friends.
"When I was 12, I was called into missions, but didn't quite understand what that meant. I later started to understand that my love and passion for the deaf community fit perfectly with my calling to be a missionary.
"To pursue this calling, I went to Evangel University to study intercultural studies. My senior year, I went to Nicaragua with the Engage program and fell in love with the Latin culture. The last week we were introduced to a few different ministries around Nicaragua, including a deaf school run by AG missionaries," she explained.
"The moment that we stepped onto [the deaf school] campus my heart was overflowing, and at that moment I realized that this really is what I am called to do. Only a few months after graduating, I connected with the Lindseys and started the process of becoming a Missionary Associate."

KEEPING IT RELEVANT
According to Hager, the AGTS administration meets with the AGWM curriculum committee quarterly. Those ongoing discussions facilitate innovation, program monitoring for effectiveness, and overall relational goodwill.
"At last check, the consolidated Evangel, CBC, and AGTS, make up about 33% of all AGWM missionaries from AG schools," he added. "They are the largest single resource for AGWM."
The three Springfield-based schools of the Assemblies of God — CBC, AG Theological Seminary and Evangel University — consolidated in 2013.