Feeding the Vulnerable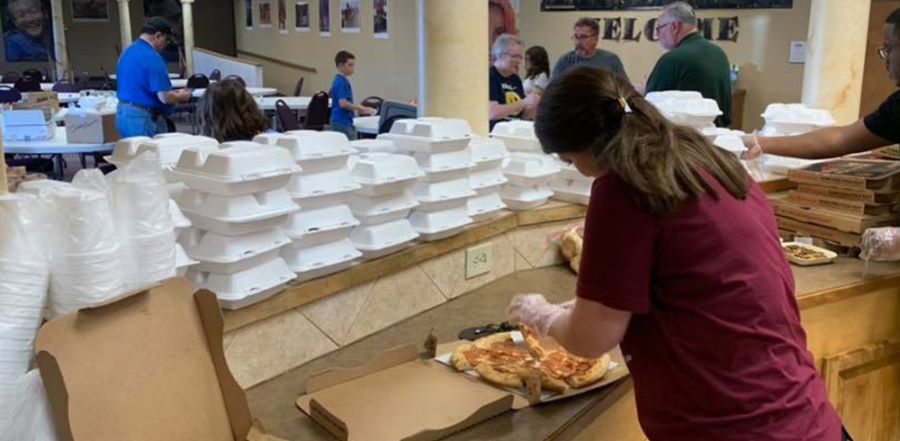 Don't miss any stories. Follow AG News!
An Assemblies of God church in Louisiana is feeding 400 people daily in response to the coronavirus pandemic.
D. Jack Osteen, pastor for the past four years of
Leesville First Assembly of God
, started feeding the vulnerable in the community of 5,700 soon after the COVID-19 lockdown started in March. He plans to keep doing so until the crisis subsides.
In addition, volunteers offer to pray for each person or families who receive food — all while following the social distancing guidelines.
After schools shut down,
Osteen
, 46, realized around three-fourths of the students in Vernon Parish received government assistance for school lunches. He says he sensed God leading him to help feed the kids.
Osteen also learned many homebound senior citizens in the town had stopped receiving regularly scheduled meal deliveries. Osteen says he felt the Lord's prompting to feed the elderly as well.
Osteen, who serves as the president of the local ministerial alliance, sought the help of the organization's partners: the restaurant
Veteran's Place
and
New Territory Christian Crisis Center
(NTCCC), which operates a food pantry. Quentin and Jackie Murray, the owners of Veteran's Place, and Susan Deemer, who operates NTCCC, attend
Leesville First Assembly
. The church has more than 400 adherents.
Veteran's Place began cooking meals, while NTCCC started distributing food. United Way then approved a $5,000 grant for the efforts.
"We began sharing the need and people began donating," says Osteen, noting that Leesville First AG has raised nearly $15,000 for the feeding ministry and will receive additional United Way grants. A delivery service heard about the kindness and is providing 20 volunteer drivers to deliver meals on weekdays to over 400 senior citizens for free.
David W. Stewart St. is a chaplain with the Leesville Police Department and a volunteer with Osteen.
"A lot of the folks I'm visiting are seniors and others who can't go out," Stewart says. "Some have seen nobody but me for weeks, and they want to talk for a minute."
There are 25 volunteers for the feeding efforts, which have included providing hot meals for all the first responders in Vernon Parish.
Word of mouth has allowed Osteen to reach more people. The
Food Bank of Central Louisiana
has joined the effort, which enables the church to purchase food at a low price. The feeding outreach also prompted huge donations of food from local restaurants. Additionally, the church has been given refrigerators and freezers.
Besides the feedings, the church offers a food drive on weekdays, including recently providing 110 families with groceries and toilet paper. Once the lockdown is over, the church will continue to partner with Veteran's Place to operate a soup kitchen.
Leesville City Council member Willie Kennedy, 73, is among the volunteers lending a helping hand.
"It's God's will for me to do this as long as I can stand and breathe," Kennedy says. "I've enjoyed doing this for all five weeks so far. Just when we think we are going to run out of food and resources, God shows up."
Klaus Hecht, facilities manager for Leesville First Assembly and its school, agrees.
"Our Heavenly Father spoke and I'm going to do whatever I have to do to fulfill the vision," says Hecht, who is also a volunteer. "I am so blessed to be able to serve."
Osteen notes Leesville First Assembly adopted the motto "That Church" in January 2018.
"We said we would be 'That Church' that would rise up, and be the hands and feet of Jesus to our region," he says.