Fine Arts Family Benefit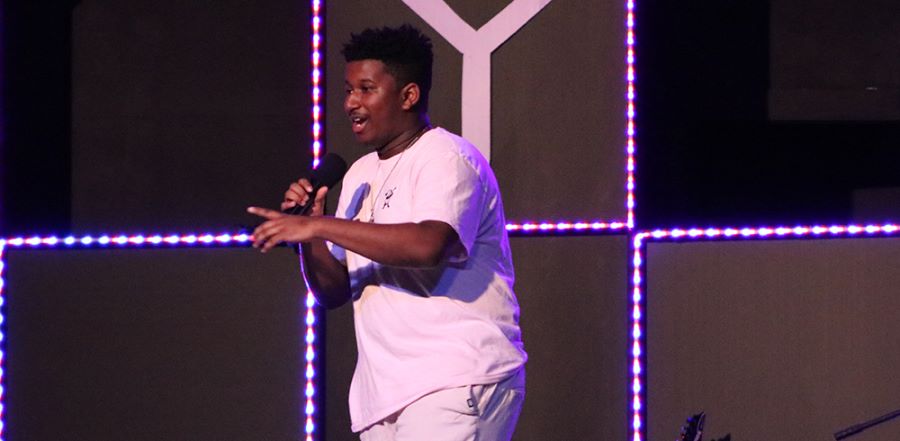 Don't miss any stories. Follow AG News!
Mavion L. Britton, an African-American teen from Kansas City, Missouri, found hope, community, and salvation through the Fine Arts program at his church.

Mavion, 17, started attending Native Youth, the youth ministry at Sheffield Life Center in Kansas City, three years ago.

"I heard about the youth center and started going because there were people like me there," Mavion says. He often participated in activities and visited with friends at the youth center, but the main youth service did not interest him at first.

Although Mavion attended Native Youth, he still managed to fall in with the wrong crowd.

"I started hanging out with people I shouldn't," Mavion recalls. He and his friends became affiliated with local gang members. Two of his close friends died because of their gang activities. That deeply affected the youth, who also struggled with difficulties at home.

"I knew that I needed to do better," he says. "My mom was going through a hard time, and I started to have some depression. A lot of things were getting harder."

In the midst of this difficult time, Mavion became more involved in Native Youth. He and his friends enjoyed writing and performing original raps for one another as they spent time at the youth center. The staff at Native Youth picked up on Mavion's talent and invited him to join Fine Arts.

"The Fine Arts group pulled me in like a family," he says.

"Fine Arts is not just about displaying your talent," says Jacob J. I. Brown, one of the youth pastors at Sheffield Life Center. "It's a chance for students to hear from God."

Brown, 31, accompanied Mavion when he took his first piece, titled "Let Go," to competition in 2018. Mavion worked on his rap almost daily for four months, taking first place at the district competition in Springfield, Missouri. Competing at the district level allowed Mavion to interact with other teens that shared his interests, experiences, and talents. He became more interested in encountering God on a personal level.

"I could see that God was working on him," says Brown.

"Participating in Fine Arts gives students a different perspective," says Raymond E. Clay II. Clay, 42, is one of the rap coaches at Sheffield. "Rapping is a good outlet for Mavion. It gives him a voice. It gives him a sense of belonging and purpose."

Mavion's first place performance at districts qualified him to perform at the National Fine Arts Festival in Houston in 2018. During one of the services at the National Youth Convention, Mavion decided to give his life to Christ.

"I saw all of these other people my age and heard the things that God was doing in their lives," Mavion says. "I wanted that. I wanted to accept Him. I'm going to stick with this."

Mavion took first place at districts for a second time in 2019 and qualified for the National Fine Arts Festival in Orlando, Florida, during General Council.