Flock of Flamingos Wins Favor for Church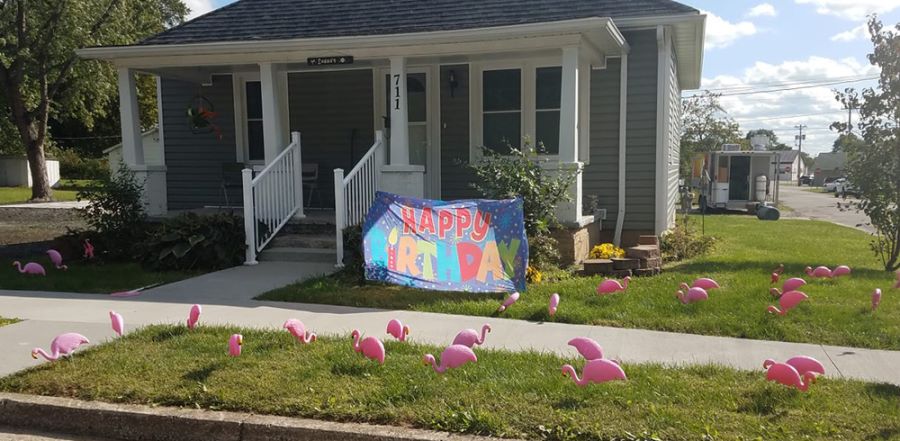 Don't miss any stories. Follow AG News!
Flamingos, with their unmistakable pink feathers, can periodically be found in the wild in Texas and the southeastern portions of the United States. But recently a flock of up to 80 flamingos has been "alarmingly" showing up in neighborhoods in California — California, Missouri, that is — and it has brought a lot of positive attention to a small, but growing AG church.
Thomas and Heather Medlin pastor
New Beginnings Family Worship Center
in California, a community of 4,500 located about 30 miles west of Jefferson City, the state capital. The church, which is in the midst of revitalization, has been focusing on meeting needs within the community, including twice partnering with Convoy of Hope's Rural Compassion to provide shoes for school children.
But the church has a challenge — it has a disproportionate number of youth and children attending. On a typical week, 12 to 15 teens attend along with around 15 elementary and younger children. With limited resources, scholarships to help kids go on missions trips, attend church camp, or go to the district's youth convention are difficult to come by.
Then Heather got a very bright — one might even say fluorescent — fundraising idea that they now refer to as "
Flock a Friend
."
"I saw on Pinterest someone doing this for another fundraiser, so I thought we should give it a try," Heather says.
Heather purchased nearly three dozen plastic pink flamingos, and the youth and church started spreading the word. For a donation to help kids go on a missions trip (later camp), they would flock a person's yard with the flamingos for 24 to 48 hours.
"When we first started doing this last year, we thought it would be a fun way to raise some money that the community would enjoy," Thomas says. "But the community really caught the vision for this — we'd flock one person's yard and they would want us to flock someone else's yard and then they would want us to flock someone else's yard."
Thomas says that no one has been upset by being "flocked," but instead it's become something desired in the community — a status symbol of choice, perhaps?
"When kids see our truck going down the road, which has a huge inflatable pink flamingo on it, they know what we're up to and they follow us to see where we're going just to watch," he says. "And recently, we has some ladies wanting to surprise their friend, who turned 80, by flocking her yard for her birthday – she loved it!"
The flock has grown to 80 flamingos this year, with the youth and the Medlins along with youth pastor Rita Rippee setting up and taking down the flock up to three times a week, week after week. They originally thought the requests would ease up after the summer, but that hasn't been the case. Heather says that this fall people have now started requesting yards to be flocked for special occasions, not just for the shock value.
"Most people donate around $40 or $50 to flock someone's home," Thomas says. "Everyone sees it as good fun for a good cause."
Heather says that in addition to providing funds, the Flock a Friend has brought the youth group together, creating closer friendships through shared experiences.
"We were flocking yards nearly every other night over the summer and the kids really got to know each other," she explains.
One of the characteristics of the New Beginnings church family is doing acts of kindness, whenever possible. The reputation of being a caring and involved church has led to the community responding to Flock a Friend so positively. In fact, recently the church, on the suggestion of the Medlin's daughter, Bethany, entered a "Flock a Friend" float into the city's parade and won first place.
"We've had opportunities to pray with people because of Flock and Friend and it has really given us favor with the community as it's become something they enjoy," Thomas says. "It's just been something really fun and has given the church an even more positive image in our community."