Food Ministry Banks on Accountability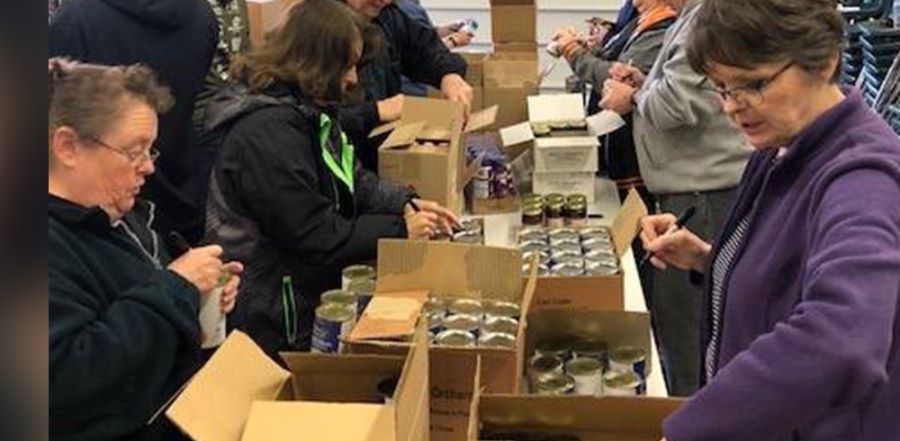 Don't miss any stories. Follow AG News!
Lake City Churc
h
in Coeur d'Alene, Idaho, built a beautiful, 2,400-square-foot food bank across the parking lot from the Assemblies of God congregation's sanctuary in 2011. It began drawing 700 needy people per week. But Joyce I. Dexter, director of the
Lake City Church Community Food Bank
, soon became discouraged.
"We were getting more people, but we weren't helping them long-term," says Dexter, 56. She prayed about the situation and came up with a plan for life coaches to help those coming in for food: to overcome longstanding problems that had kept them in poverty, to track their progress, and ultimately to limit the number of times they could receive food.
"We had not heard of holding people to standards before," Dexter says. "It would have been much easier to keep going the way we were. But we care too much to let them remain stuck."
Dexter began recruiting and training life coaches — many of them retired and with backgrounds in personal finance — to help people with résumés, job searches, interview skills, even how to buy clothing for job interviews. She drafted a letter and announced that everyone receiving food would have to sit with a life coach each time and show progress toward financial independence.
The immediate result? The number of recipients plummeted to 250 a week.
"Many people said,
There are other food banks; we're not going to do this
," Dexter remembers. "One person told me that I have an evil soul."
Meanwhile, in the lobby of the church, everyone seeking food checked in and met with a life coach who asked questions such as,
What brings you in
?
What's going on in your life
? The counselor then came up with a plan to help each person move to the next step.
"Our life coaches have difficult conversations," Dexter says. "People say,
I thought you were a church
. We are, but that doesn't mean recipients don't have a part in this, too. The Bible is pretty clear that if you want to eat, you must work. Those difficult conversations are done in love and out of respect to people who are tithing to this ministry and trusting that we are being good stewards of what they give."
Sometimes, coaching meant reminding those obtaining groceries that the food bank is designed to meet short-term, crisis needs, Dexter says. The nonprofit isn't a place to hand out food to the same individuals ad infinitum.
Mike T. Rima, lead pastor at Lake City, says the Assemblies of God church still likely will continue long-term assistance for those struggling with mental illness or other issues that make it difficult to survive on their own. But that is a minority of those who seek help.
"On the other side there are people who aren't interested in accountability," says Rima, 59. "They're just interested in a handout. Our heart has never been to enable someone in a pattern of dysfunction. We want to come alongside people and help them take their next steps."
Rima has been pleasantly surprised by some of the bonds that beneficiaries have developed with life coaches.
"People are responding to the idea that we care enough to understand them and spend time to help them get traction to the point where someday they won't need this," Rima says. "People sit with their coach, update their résumés and say, 'I got a job. I'm getting on my feet and won't have to come for very long.'"
The food bank also began allowing recipients to "shop" using a point system, as if they earned points for frequent purchases at a grocery store.
"The point system adds dignity to the process, empowers them to make choices, and gives them life skills," says Rima.
It also encourages better choices because healthier provisions cost fewer points than junk food. The food bank is laid out like a grocery store and has 100 items to choose from that are constantly changing.
Lake City's food bank accepts no federal or state funding, and still gives away more than the local government food bank. Dexter and her enthusiastic team of 80 volunteers also serve a continental breakfast and lunch every week on the same day the food bank is open, and teach people to make nutritious meals from ingredients they "buy."
The numbers of recipients has rebounded to between 400 and 500 per week.
"Now we're getting people who truly want a hand-up," Dexter says.