Fostering a Ministry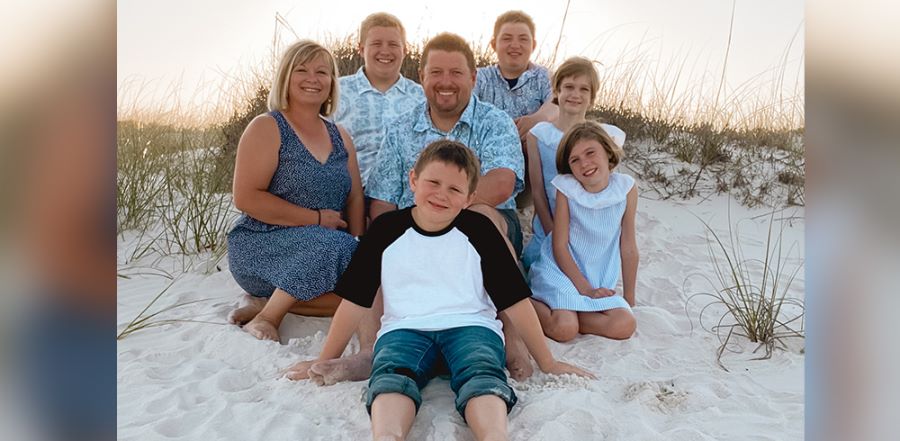 Don't miss any stories. Follow AG News!
As biological, foster, and now adoptive parents, chaplains and
U.S. missionaries
Lee and Gretchen Watson have experienced many facets of parenting. Now they use that experience as part of a growing network of Assemblies of God missionaries and ministries following the biblical command to care for orphans by helping individuals and churches come alongside foster and adoptive families with encouragement and support.
During 15 years in pastoral ministry, most recently a decade spent at
Coye Assembly of God
in Preston, Mississippi, the Watsons had two biological sons. That journey included difficult pregnancies, time in the neonatal intensive care unit, and an agonizing season when their oldest son received a diagnosis of a life-threatening tumor. God intervened miraculously to heal Levi, now a healthy 15-year-old boy.
That might seem like enough parenting stress for a while, but during a getaway to relax after the ordeal with Levi's health, the Lord began speaking to the Watsons about becoming foster parents. After training, they fostered for nine years and in 2015, received a sibling group placement of Wade, Abby, and McKenzie. The three were adopted in 2018 and are now ages 7, 8, and 10, joining Levi and 14-year-old Garrett.
During their typical foster parenting experience — including government regulations, court dates, and biological family/visitation issues — the Watsons became aware of the need for support. They began considering foster care ministry through U.S. Missions while browsing missions tables at a district council, a natural decision since Lee's parents, Melvin and Sherry Watson, have served for many years as U.S. missionaries with
Church Mobilization
. Following a conversation with Jay Mooney, then director of
COMPACT Family Services
and a force behind the newly formed
Assemblies of God Foster Care Network
, the Watsons entered U.S. Missions training in 2019.
Their ministry includes helping churches set up ministry to foster families. This can include developing "compassion closets" to provide supplies and equipment for new placements, giving social workers a much-appreciated referral source. Using resources developed by COMP
ACT
, churches can provide
wraparound care
for foster families, including food ministry following a new placement, laundry assistance, tutoring, and baby-sitting or relief care. Such services can make a big difference in reducing the large numbers of foster families who become discouraged and quit during the first year.
"The Watsons have been our go-to for getting our church foster closet ready to launch," says Laura McArthur, a foster parent for three years who serves on the compassion closet team at the church she attends. "Most people really have no idea what the inside of the fostering world is like, and we have been in contact with the Watsons several times as a resource to help answer questions or help us find answers."
Mississippi is one of many states with a need for parent training, both foster and biological, so
the Watsons
have found open doors for ministry. They help foster families learn what they can and cannot do, including ways to advocate in a child's interest. They also train in best practices for communication, education about court proceedings including youth court as children get older, what documentation to keep, and how to deal effectively and compassionately with biological parents.
As for the biological parents, some of whom have made bad choices but genuinely want to improve, training is needed to keep children out of the system. Parenting education helps break what is too often a generational cycle.
To help with communication, there is a support group page on Facebook and a
resource website
, where individuals and churches can find more information about
CompaCare
, plus suggestions for starting on the journey and answers to questions that commonly arise.
DivertCare
provides tools for congregations interested in training biological parents to help keep children out of the system in the first place.
Such ministry efforts across the AG often are appreciated by social workers, who might be assigned as many as 40 cases, making it difficult to communicate adequately with each one.
"I hold Lee and Gretchen in high esteem, as they not only advocate for children from hard places within their state, but advocate actively for the foster families that have stepped into the complications of caring for these children," says
Ted Stackpole
, a chaplain and U.S. missionary who also helps train and mentor other missionaries entering ministry in the CompaCare concept. "The Lord has used their experience as former foster parents and their relationships with child welfare professionals and lawmakers to provide clear direction for families connected with them."
"Through this ministry, we're trying to fix what we dealt with in nine years of fostering, including the need for better communication among the people in control of a child's life," says Lee. "While we believe God's heart is for reunification, it must be with everyone committed to the best interest of the child."