Free Preschool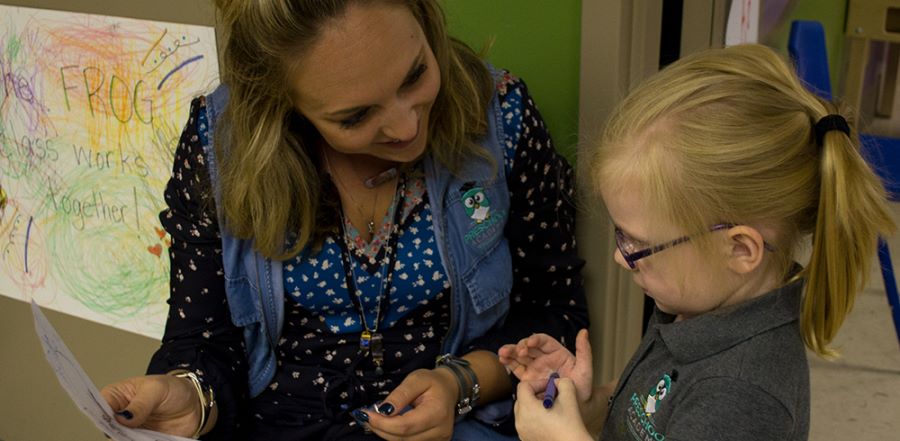 Don't miss any stories. Follow AG News!
Not only is it free, but a new preschool in downtown Springfield, Missouri, is as much an educational and growing opportunity for the parents as it is for the preschoolers themselves. James River Church, an Assemblies of God megachurch based in nearby Ozark, welcomed two dozen families to its new, faith-based Preschool Academy on Aug. 24.
Tami Parsley, early childhood director at James River Church, is also director of Preschool Academy.
"We don't want it to be a handout," Parsley says. "We want it to be life-changing."
A brightly colored rubric informs parents of the requirements they are expected to fulfill in order to maintain at least 80 points in a 100-point system so they can hold their child's spot in the program. It includes basic standards such as hygiene and getting students to school on time, but also more involved requirements such as weekly mandatory meetings in which one parent must attend.
John Lindell, James River Church lead pastor, proposed the preschool idea to Parsley in December 2015. At that point, James River already had two other preschools on its then two campuses — the church expanded to a third site on Sept. 11 — but those aren't free.
The church wanted to provide a free preschool off campus in north Springfield that would increase early education opportunities for families in need. Finding a building proved challenging, but First Baptist Church in downtown Springfield partnered with James River Church.
Preschool Academy is fully funded for the 2016-17 academic year and provides much more than just an education for 3- and 4-year-olds. Parsley says donations that helped start the program are a blessing. A local business owner who wants to remain anonymous provided all the necessary funds for Preschool Academy's first year, while others contributed lunches, coats, shoes, and even beef.
"Every piece of it has been a miracle," Parsley says through a wall of tears.
Despite the many contributions, getting the preschool up and running took hard work.
"You have to pray as if it depends on God, but work as if it depends on you," says Parsley. She says challenges arise especially when providing a high quality preschool at no charge.
The quality of education is notable. Cori Jett teaches science, art, and a parent class at Preschool Academy. Jett, who has a degree in English education and is working on a master's degree in literacy, wants to help equip impoverished parents with information they may not have to help them succeed.
"Many families that we work with are in a generational situation that they just don't know how to get out of," says Parsley. She is encouraged that parents attending the mandatory meetings are fully engaged in what is being taught, taking notes and staying late to ask questions.
"Their lives can be changed for generations to come," Parsley says. "God can change their situations."