From Black Panther to Black Fellowship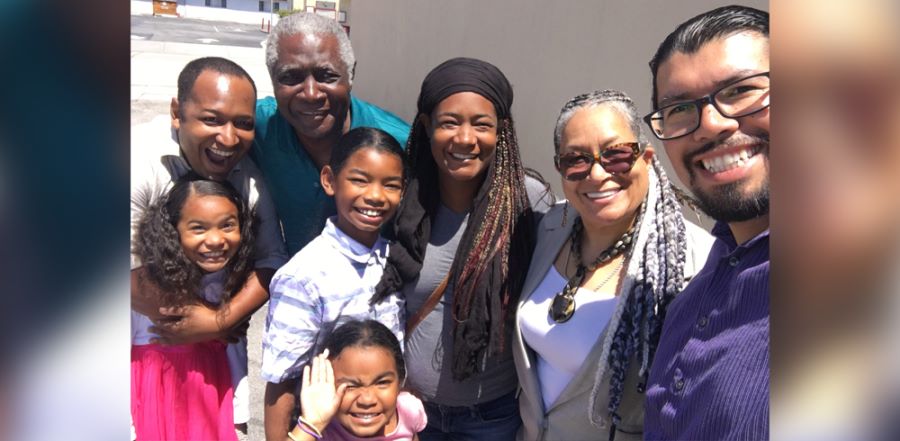 Don't miss any stories. Follow AG News!
Joseph Smotherman has served as Southwest region director for the Assemblies God National Black Fellowship for four years, helping to shape the NBF's strategy for restoring blighted cities. Improving race relations and ethnic diversity has been his mission his since his days as a disciple of the Black Panther movement.

"I was not raised in church at all," says Smotherman, who is pastor of FaithWorks in Gardena, California. "I was a member of the Black Panther party, so I was rather radical."

Reading The Autobiography of Malcolm X proved to be a turning point in Smotherman's life.

"This book opened my eyes socially," Smotherman says. "Malcolm's critique of the American social order resonated with me; his solution did not."

A second defining event involved Smotherman accepting Jesus as Savior.

"Christ provided the solution that was missing in Malcolm X," says Smotherman, who embarked on a journey as an African American Christian in an often racist society.
As a child growing up in a segregated South, Smotherman remembers being barred from eating in restaurants and attending whites-only community events.

"The adults told us to make sure we were in at night before dark because the boogeyman came out," says Smotherman, 69. "They were referring to the klansmen."

One night, members of the Ku Klux Klan hanged a black man at the end of a street in his neighborhood.

Smotherman's father, a U.S. Marine, moved the family to Oceanside, California, near where he was stationed at Camp Pendleton. Shortly after high school, Joe gave a white co-worker a ride home from work one evening and they ended up talking about Jesus for an hour.

"That conversation opened up a new kind of Jesus to me," Smotherman says. "On the way home I said, God, if you're real, if you can bring meaning in my life, I accept you as my Savior. That's when Christ changed my life. I had encountered a reality beyond myself."

CONVERTED THINKING
Smotherman stopped being active in the Black Panthers and began evangelizing the community with a group of white surfers known as the God Squad. A friend from First AG in Oceanside invited him to a youth camp at Pinecrest Christian Conference Center (where a new band called Andrae Crouch and the Disciples led musical worship), and Smotherman was baptized in the Holy Spirit.

"That was my real entry into the AG," he says.

He attended Vanguard University for two years and enjoyed the guidance of professors Murray Dempster and William Williams. Eventually, he became involved with the Church of God in Christ (COGIC) in South Central Los Angeles under the mentorship of bishop Charles E. Blake Sr. But while pastoring a small church in a difficult area, Smotherman felt the pull to a multiethnic setting.
During a harsh bout with cancer in the early 2000s, Smotherman says the Lord impressed upon him to find an environment where he could promote ethnically diverse churches. On the way home from an oncology appointment, he noticed an AG church and spontaneously pulled in to talk to the pastor. It turned out they had been students together at Vanguard. That conversation led Smotherman back into the AG, where he hoped to advance race relations, even when conversations proved difficult.

"I was keenly aware of the history of the AG particularly in terms of race," he says. Although many at the 1906 Azusa Street revival felt the blood of Jesus washed away racial disparity, Pentecostal denominations that formed in its wake — including the Assemblies of God in 1914 — soon followed cultural cues rather than biblical teachings on justice. African Americans in the AG began to gain a voice in leadership with the creation of the NBF in 1980.

"I felt that maybe God was using the National Black Fellowship to help erase the color line again," Smotherman says.

In a 1989 resolution, the AG called out racism as a sin. Last year, in the wake of the death of George Floyd, the AG Executive Presbytery — whose 21 members now include eight nonwhites — reiterated that racism in any form is sinful.

Smotherman points out that many churches are still essentially racially divided, and he encourages leaders to open doors for Black ministers within white churches and networks. He won't speak at a white church during February, the annual designated "Black History Month" in the U.S., because he believes doing so suggests it is the only time that a Black minister has something of value to say to predominantly white congregants.

"I say to my Black brothers and sisters: if you want a place at the table, get involved, show up," Smotherman says. "Organizations like the NBF and other ethnic fellowships are called to have a prophetic voice within the AG."

NBF President Walter F. Harvey appreciates that Smotherman is "a nonconformist."

"With his background somewhat as a revolutionary, Joe brings that energy and critical thinking perspective," says Harvey, 60. "He tends to ask questions that go beyond the surface relationship and how we feel about each other, to how we treat each other and how systems and society allow us to be treated."

Smotherman has been married to wife, Dion, for 43 years. Their daughter, Dijanna Figueroa, has a doctorate in marine science with an emphasis on hydrothermal vents, and her work with submersibles at the University of California at Santa Barbara has been featured on a documentary called "Aliens of the Deep," directed by James Cameron. The Smothermans' son, Jeremy, has a doctorate in education and is senior director of research and planning at Santa Rosa Community College.

Smotherman isn't the first onetime Black Panther to later play a role in NBF leadership. Ed Peecher served as president of the AG's Inner-City Workers Conference, the precursor to the NBF.