From Fighting to Faith-Filled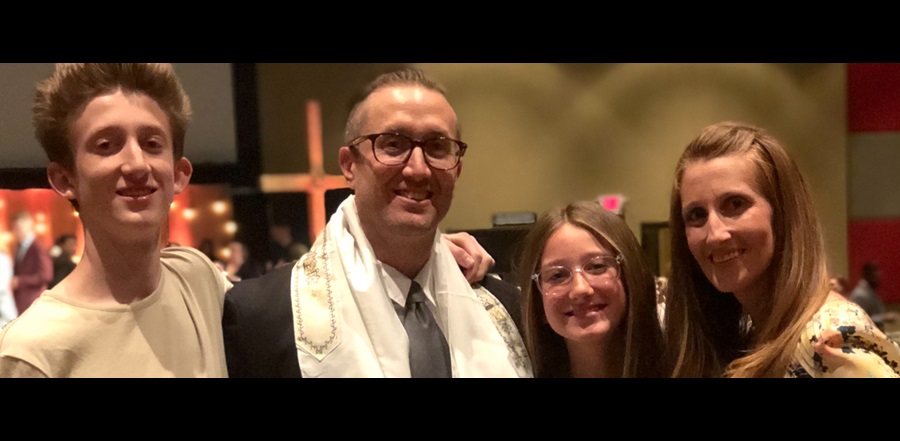 Don't miss any stories. Follow AG News!
Eleven years ago, Jimmy R. Phillips, now 41, made a living the hard way — by fighting on the mixed martial arts circuit, using every inch and ounce of his 6-foot, 6-inch, 280-pound frame. Despite success at mixed martial arts, his marriage and life were falling apart.
"I was chasing that lifestyle rather than spending time with my wife," Phillips says. "I was at bars, enjoying the notoriety — and alcohol and drugs."
Phillips had survived a rough upbringing in New Mexico and Arizona, surrounded by hard living, anger, and fighting as a way of life.
"I fought because I had a lot of rage in me," he says. "Then someone told me I could do it professionally and get paid for it, so I said, why not do it in a ring instead of getting thrown in jail for it?"
Phillips excelled in the violent sport.
"I've always had a high tolerance for pain," he says. "I was going to provide for my family that way because I could make quite a bit of money at it."
He trained three times a day and kept fighting despite broken ribs, fingers, and toes. One time an ex-National Football League player picked him up and slammed him to the ground. Still, he didn't lose many contests.
"I moved very well," Phillips says. "I was advancing quickly, but your body can only do so much for so long."
After seven years of fighting professionally, while working a full-time sales job as well, Phillips received a contract offer to train in Las Vegas. Then he came to a harrowing crossroads in October 2007.
After a day of drinking alcohol that accompanied strife at the lake with his family, Phillips fell asleep at the wheel of the car while driving home. At 65 miles per hour, the vehicle ran into a mountainside, flipped more than 10 times, ejected Jimmy, and injured his wife, Andrea, and daughter.
"For the first time in my life I understood there was a God," he says. "There was no reason we should have stayed alive."
Soon after, Phillips accepted an invitation to a Christian men's event, where he heard a man testify how he had been in prison for murder, but given his life to Jesus. After Phillips returned home, he took the family to church — though warily.
"The day he walked in, he was standoffish, very cold," says Brad W. Davis, 53, lead pastor of
Desert Springs Church
in Chandler, Arizona. "But God began to soften that hard heart."
Phillips — head shaved and weighing 300 pounds — remembers waiting for people to judge him. Instead, someone walked his children to the kids' area. After church, his son, Logan, said, "Dad, that was incredible. Can we come back again?"
They did, and Phillips surrendered his life to Jesus at a Wednesday night service.
"I must have cried for two weeks straight," Phillips says. "I felt all this love, and all this stuff lifted off me. I stopped drinking, smoking, and fighting in that moment. I almost didn't know how to process it. Life was a lot happier than it had ever been."
He and his son were baptized on the same day together, as were Andrea and their daughter, Katherine.
Andrea, 41, had struggled with many of the same addictions and angry issues as Jimmy. She had stayed married to Jimmy partly because of her commitment, but also because she was in survival mode.
"Our entire family dynamic changed," Phillips says. "My wife and I fell in love. Our marriage was restored."
Then Phillips felt a tug into ministry.
"His life began to radically transform," says Davis. "He had a gift of evangelism and talked to everybody — his old buddies, people he worked with. It was amazing to watch."
Soon, Davis invited Phillips to lead the church's men's ministry. Today, he's the associate pastor overseeing all assimilation, community groups, baptisms, local missions, and outreaches such as homeless ministry and prison ministry at the church with 600 regular attendees. He studied at the
Arizona School of Ministry
and is ordained with the AG.
"His heart is so tender to the things of God now," Davis says. "That's a work of the Holy Spirit, to take a heart so filled with rage and make it soft to the things of God."
Andrea worked at the church for eight years as an executive assistant and now serves in women's ministry. Logan, 17, and Katherine, 13, are thriving at Desert Springs as well.
Phillips says not a day goes by that he doesn't remember his previous lifestyle.
"I have a lot of scars and injuries, and my body feels the effects," he says. "But I don't recognize myself when I look back. The fire that drives me is I want everybody to experience Christ."
He has no stomach for watching mixed martial arts anymore. But one skill has transferred from his fighting days.
"Reading people is something I'm good at because I had to be," Phillips says. "In the fighting realm, you're always strategically looking at your opponent. I do that all the time now, watching people's actions, listening to what they say, but for the purpose of encouraging people to keep fighting and never quit."