From an Epithet to a Savior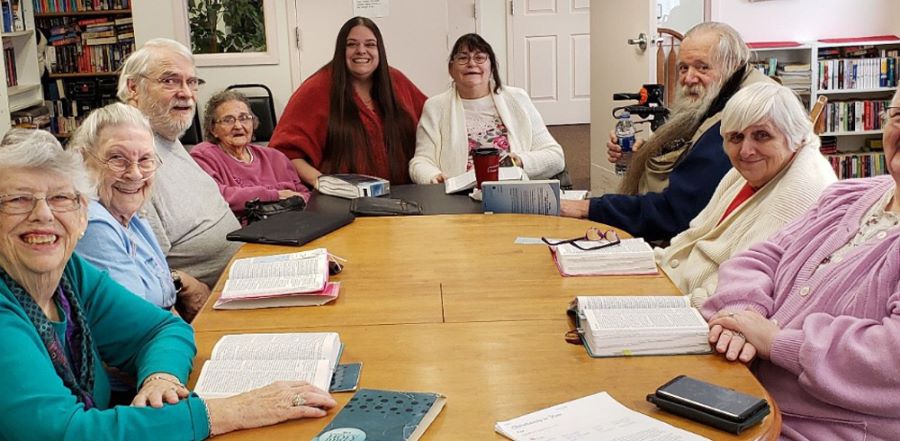 Don't miss any stories. Follow AG News!
Every week at the Gill Terrace Apartments in Ludlow, Vermont, a group of retired residents gathers to learn scriptural truths, pray for one another, and experience God responding to their needs.
Jessica Lyn Arnold, 45, co-pastor of Calvary Church in Proctorsville, Vermont, says the Bible study began in 2012 when one resident asked for a service in her retirement building.
Arnold and her husband, Joseph, both graduated from Northpoint Bible College and Seminary with bachelor's degrees in biblical studies. Joseph began the Bible study before returning to Northpoint to complete his master's in practical theology. Jessica took over in 2014.
The building contains 36 independent living apartments for seniors 65 and older. Every Thursday, about a dozen residents meet in the building's common room to hear Jessica preach and to partake in Communion.
Arnold says she has gone through a basic overview of all books of the Bible, but she also teaches deeper theological truths, including the gifts of the Spirit from a Pentecostal perspective. Through this teaching and the weekly prayer time, participants have seen God's healing hand.
Shirley, 67, became one of the first residents to attend. Her great-grandson Legend was born with multiple health issues, including heart and lung problems. He wasn't expected to live more than a few days.
"He had a breathing tube and a feeding tube and was in really bad shape," she says. "We prayed about it, and he's now better at home. It's a miracle that he's alive." Legend, now almost a year old, is no longer on a feeding tube.
Shirley says three years ago she invited her friend Janice to attend the study with her. Eventually Janice relented.
"Everyone else had a Bible, but I didn't feel right being without one," Janice remembers. Janice, 72 at the time, never had owned a Bible. She had known Jesus only as a word by which others swore, having no idea He existed in history as the Son of God. Arnold bought Janice an easy-to-read Bible. Every week since, Janice has attended the Bible study, learning more about Christ.
"I read my Bible every day," she says, "I believe there is a Jesus now."
"The first time she heard what Communion actually meant, we read the whole story of how Jesus died," Arnold says. "She thought it was a miracle that He would do that for her. Jesus went from a swear word to a Savior for her."
After Janice received her copy of the Scriptures, other residents wanted the same version, so Arnold has purchased over 15 Bibles for group participants. Some of the residents' workers, who help with baths and cleaning, also asked for a Bible to read.
Following prayers together, Arnold says residents have seen miraculous deliverances and healings, including family relationships repaired. One building resident, Cora, 87, hadn't come to the Bible study yet. However, she came into the common room after one week's study and said she had bladder cancer. But without a driver's license, she couldn't go to treatments.
Arnold asked if she could lay hands on Cora and pray. In faith, Arnold told Cora she would feel the power of God flow through her body and the cancer would be gone. The next week, Cora came to the study and announced that she had visited her doctor and the cancer indeed had disappeared.
The women's ministry at Calvary Church hosts monthly events at the retirement building so shut-in women can attend.
Photo: Jessica Arnold (in red sweater) holds a weekly Bible study at the apartment complex.