Fulfilling a Foreign Calling from Home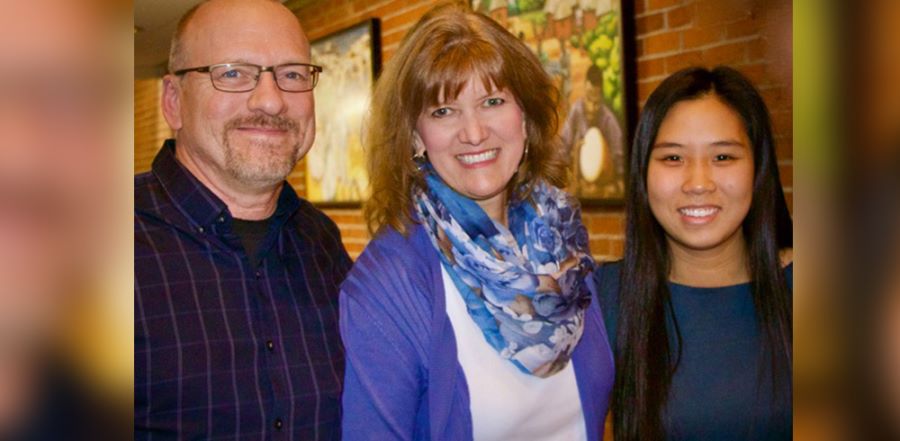 Don't miss any stories. Follow AG News!
As the daughter of Assemblies of God pastor Ron Keyser, Karen Keyser Hillyer marveled not only at how he proclaimed scriptural truths from an Oregon pulpit for a quarter century, but also how he then served 11 years as an AG world missionary, teaching in Bible schools in Liberia, Cameroon, and Ethiopia.

Incredibly shy growing up in Newport, Oregon, Karen didn't dream that God could use her in such a way. She set her sights on becoming a schoolteacher instead, graduating with a teaching degree from the AG's Northwest University.

Hillyer taught 4th grade for a couple of years, yet she had a nagging yearning to share God's Word as a vocation. She knew about Chi Alpha, the AG's ministry on mainstream college campuses. The notion of strategically reaching future business and political leaders of the U.S. and the world intrigued her.

Nevertheless, Hillyer remained an educator, obtaining her master's degree in counseling and working as a high school counselor for three years. She then went to a vocational seminar in which a theme fascinated her: What would you do if you knew you wouldn't fail?

Realizing she shouldn't determine career choices based on fear, Hillyer — at the age of 29 — yielded to the Holy Spirit's exhortation for her to become a Campus Missionary-in-Training (CMIT) intern at Western Washington University in Bellingham.

"I had hesitated in the past because I wasn't sure I was called — and I wanted to be married to a campus pastor," recalls Hillyer, a U.S. missionary. "But God told me to go make disciples on campus specifically."

After the CMIT, Hillyer spent seven years on the Chi Alpha staff at the University of Louisiana-Lafayette, serving as women's pastor, internship co-director, and internationals director, building a vibrant ministry to students especially from Central and South America. Then she moved to Washington, D.C., where she spent the next 13 years fulfilling her dream of focusing on international students at Georgetown University.

At the school, she had the opportunity to minister to the children of ambassadors and to connect students from overseas with AG adherents living in and around the nation's capital.

As a member of National Community Church, Hillyer read a book by her pastor Mark Batterson called The Circle Maker: Praying Circles Around Your Biggest Dreams and Greatest Fears. Still single in her 40s, Hillyer determined to persistently pray about marrying a Holy Spirit-filled widower.

Karen met respiratory therapist Terry Hillyer of Spring Hill, Kansas, on a Christian dating website, a year after his wife died. She visited the church he attended — and remarkably, the congregation happened to be studying The Circle Maker as well.

After a 1½-year courtship, Terry and Karen wed in 2015 and three months later they moved to Karen's native Oregon. Karen became the Chi Alpha international director at the University of Oregon in Eugene.

"God had a plan in my singleness and wanted me to be in that role for a season," Hillyer says. "I came to realize walking with Jesus, not getting married, is crossing the finish line."

INTERNATIONAL OUTREACH
Although Terry still works as a hyperbaric technician, he joins Karen in ministry in the evenings and on weekends, frequently playing guitar for international student gatherings. Outreach activities include gospel-centric parties, hikes, and Friday night Bible study with a meal.

"We have a lot of students over to the house," Karen says. "It's important to emphasize hospitality because often it's difficult for internationals to make friends. They don't know American culture and they are not invited into many homes."

With one-on-one discipleship, Hillyer's goal is to ensure that the foreign graduates — especially ones who previously had little to no Christian influence — return to their homeland ready to lead others to Jesus.

"These bright scholars from around the world are open in a way they wouldn't be in their home countries," says Hillyer, recently elected the first female presbyter in the AG Oregon Ministry Network. "The majority of these students have never understood or even heard the gospel."

That includes Jane Kamrath, a Malaysian student whose introduction to Chi Alpha came at an information table the first week of classes. Kamrath, who had no religious background, started attending Chi Alpha Bible studies and services regularly.

"I had been pretty happy with my life, feeling I could solve my own problems, and never thought I needed someone else to rely on," Kamrath recalls. "But there was one thing I was afraid of: death. I always wondered what would happen after I left this world."

At a 2018 Chi Alpha service of testimonies and worship, Kamrath says she sensed God telling her, Jane, don't depend on yourself anymore. She prayed with Hillyer and asked the Lord to forgive all her wrongs and to be adopted into God's family.

"Then I wasn't afraid of death anymore, because I knew I would go to heaven, a place where there is no sadness or worries," says Kamrath, who subsequently was water baptized and baptized in the Holy Spirit.

Kamrath then started leading worship and Bible studies for international students on campus. In 2020, she graduated with a degree in piano performance and married Shiloh Kamrath, a student leader in Chi Alpha Internationals. The couple now live in Tigard, Oregon, where Jane, 25, is a piano teacher and part of the worship team at their local church.

GRATEFUL DIRECTOR
Joey E. Kelly, who assumed the Chi Alpha directorship at the University of Oregon last year, is glad to have the seasoned veteran Hillyer on the otherwise young team, which now numbers six.

"Karen is an expert in international ministry," says Kelly, 32. "She is like a foreign missionary in our backyard, another John the Baptist. She is the biggest advocate on campus for international students."

A decade ago, Kelly did a CMIT at his alma mater, Western Washington University, then joined the Chi Alpha team at the school. He concurs with Hillyer that presenting the gospel to international students should be a priority.

"One of the heartbeats of Chi Alpha and the Assemblies of God is missions," says Kelly, a U.S. missionary. "We better be reaching the nations; otherwise we aren't fulfilling our calling to make disciples."

Although the University of Oregon had over 3,000 international students when Hillyer linked with the Chi Alpha group in 2015, that total has dipped to 1,250 as a result of COVID-19. Even so, that still represents a vast mission field.
TOP PHOTO: Jane Kamrath (right) got to know the Lord thanks to Terry and Karen Hillyer.

LOWER PHOTO: Erick Njue (right) and Selorm Fiata from Ghana are part of the Chi Alpha group at the University of Oregon.