Full-Circle Compassion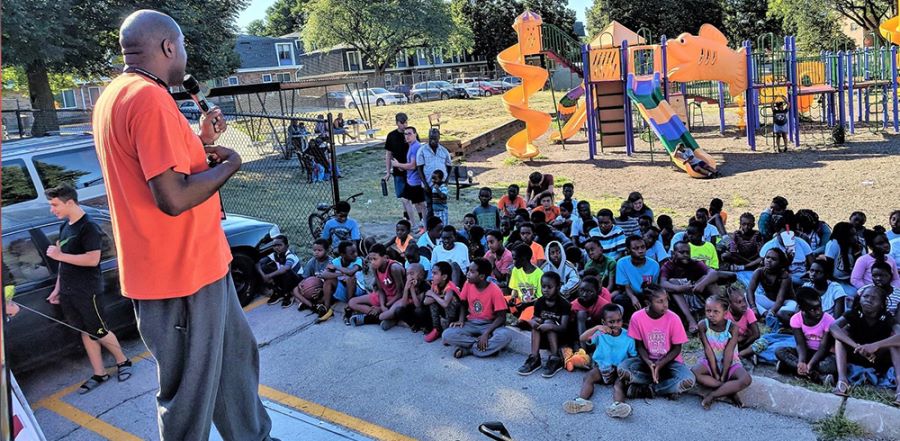 Don't miss any stories. Follow AG News!
Jamel Crawford and his three brothers grew up in the Brownsville Van Dyke housing projects of Brooklyn, rife with urban blight: gangs, drugs, crime, poverty, violence, overcrowding, single-parent households; New York full of souls in survival mode.
He didn't know his dad, who'd come home late at night clutching a liquor bottle. His father died of liver disease when Jamel was 6.
But the boy managed to break the cycle of despair. He decided at 8 years old to center his life on the "brown bus" Metro Ministry — the inner city outreach Sunday School that every week picked up 1,000 kids from Brooklyn's projects and took them to church. Soon after, he put his faith in Christ.
Crawford, 46, understands there's no life transformation like that which Christ offers. He graduated from
Central Bible College
, the Assemblies of God school in Springfield, Missouri, as the first male in his family to graduate not only from college but also from high school. Afterward, he worked with Sidewalk Sunday School in Des Moines, Iowa, before becoming executive director of the state capital's inner-city YMCA. In 2013, he began pastoring the
inner-city Des Moines
New Life Church
and later
founded
the
Des Moines Dream Center
.
Last year, as newly elected AG
Oklahoma District
Superintendent
Darryl E. Wootton
traveled the Sooner State, he recognized that many congregations lacked resources or opportunities to evangelize their communities through compassion ministries: assisting the hungry, orphan, widow, poor, imprisoned, and sick. He pinpointed the need for training churches to better impact their neighborhoods in evangelism and compassion.
Now he's tapped Crawford and his wife, Melissa Kay, as the district's first Compassion Ministries directors. In that role, they'll help churches develop outreach strategies tailored to their community and connect AG churches with existing compassion ministries, such as
COMPACT
foster care and adoption,
Project Rescue
, and
Convoy of Hope
.
"My goal is to provide opportunities for Jamel to network those churches with churches that are effective, and coach those churches to be effective in their own community," Wootton says.
Crawford, who found hope in Christ amid pervasive hopelessness of the inner city, is equipped with leadership skills and life experiences to help churches across Oklahoma bring Jesus' light to those in desperate need.
"If you live in the projects, you're in survival mode," he says. "People don't think there's a need for God when they get through it. But we can point people to Jesus Christ and it absolutely will change their life."
The Oklahoma District's ties to Brooklyn run deep. In 1989, Metro youth pastor Greg A. Lynn, an Oklahoman, took two vans of inner-city Metro kids, including Crawford, to a weeklong
youth camp
in his home state. This trip marked the New York adolescents' first time out of New York City.
Phil A. Taylor
of
Carbondale Assembly of God
in Tulsa visited the Brooklyn Metro program. The next summer, Crawford returned to Oklahoma and assumed a student leadership role in kids' crusades throughout the state. In 1991, two Carbondale families invited some Metro program kids to move to Tulsa for a year, where in 1993 Darryl Wootton became youth pastor.
"Immediately I saw his passion to follow Jesus," Wootton says. "He was so effective at leadership, even as a teenager. Students always followed Jamel."
In Tulsa, Crawford was baptized in the Holy Spirit. At 15 he sensed a calling to full-time ministry.
The Oklahoma District will study demographics to determine what needs to meet, Wootton says. If, for example, the study determines that a neighborhood has a population of single moms, churches may then opt to bring in resources for ministries to them.
"This is the Lord's timing," Wootton says. "Directing Compassion Ministries is suited not only for what Jamel does, but even more suited for who he is."
Crawford agrees.
"Part of my DNA is to learn how to better reach neighborhoods," he says. "When people have a poverty mindset bound by sin and sense of no hope, the answer is hope In Christ."