Fun, Discipleship, and Worship Abundant at 2016 Camporama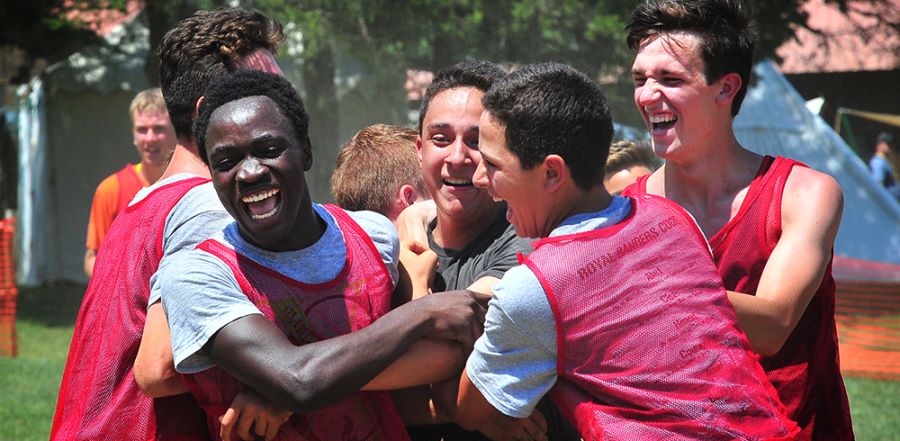 Don't miss any stories. Follow AG News!
Every four years, thousands of boys and their leaders from across the country make the trek to a remote location in Southwest Missouri to experience Royal Rangers Camporama. It may not have all the comforts of home, but Camporama has a level of fun, camaraderie, excitement, and spiritual impact that few other events can ever hope to equal.
This year, more than 3,000 boys and their leaders gathered for Camporama — called "The Ultimate Event for Guys — in Eagle Rock, Missouri. With wooded areas for adventure and vast wide-open fields for setting up hundreds of tents, the quadrennial Camporama got underway with a Sunday evening movie in the outdoor amphitheater on July 17 and ran through Friday, July 22.
"What's special about Camporama is that it's a 'community' event," says John Hicks, the Royal Rangers national programs coordinator. "Ranger guys like to come together, see each other — they do it at the district and, through Camporama, the national level. Camporama gives Rangers that unique opportunity to interact with other Royal Rangers and leaders from across the country — and even from other parts of the world." Hicks says 50 international Rangers attended this year's event.
Of course, July and warm temperatures go hand-in-hand in Missouri. This year was no exception.
"It was hot," Hicks says with a bit of a laugh, "the heat index was at or above 100 degrees each day. But we used misting stations, swimming pools, and water games to help keep campers cool and we provided trams to help reduce walking distances. But what was really nice was the temperatures dropped significantly at night, so it made sleeping comfortable."
Rangers started each morning off with regional devotions and then had a wide variety of activities and events to participate in throughout the day. Some of the activities included zip lines, clay target trap shooting, inflatables, soccer, flag football, archery, BB gun target shooting, high rope courses, repelling and climbing towers, swimming, paint ball, laser tag, and something new this year, archery tag.
"Archery tag is similar to paintball in that you wear protective gear," Hicks explains, "but you use customized bows and arrows with large pads on them."
One of the special features of this Camporama was the celebration of the 50th anniversary of the start of the Frontiersmen Camping Fellowship (FCF). This arm of Royal Rangers started in 1966 and was originally begun to give special honor and opportunity for men and older boys who wished to distinguish themselves in advancements, training, and camping.
"FCF is an integral part of Royal Rangers, and has played a significant role in the success of this ministry," says Karl S. Fleig, national director of Royal Rangers. "Our FCF members serve to inspire brotherhood among our members, promote continued personal development, as well as provide valuable service to the Ranger ministry and others."
"The best thing about Camporamas is what God does in the men and boys' lives," says Jim Allen, camp director, who credits feedback from the 2012 event for many of the improvements to this year's event. "It's an entire week of discipling as men work side-by-side with boys!"
But even with all the fun going on during the day, it didn't compare to what God was doing through the evening services.
"Paul Walters, president of Frontiersmen Camping Fellowship, spoke on Monday night and Karl Fleig, Royal Rangers national director, spoke the remaining nights," Hicks says. "It was powerful. Hundreds of boys came forward each night to dedicate or rededicate their lives to Christ or to seek the baptism of the Holy Spirit. And on Wednesday night, the presence of the Spirit was so powerful, Karl never presented his message — we went right into an extended altar time of prayer and worship."
Fleig says prayer was the reason for the powerful presence of God as many churches, outposts, and leaders have been praying for the event.
"I knew God was up to something when men and boys were telling me they sensed something as they drove through the front gates at registration," Fleig says. "Each night there was a building of anticipation and openness as God challenged all of us to not just go through the motions of Christianity, but really live the adventure He has planned for us. All the work and effort of this event was worth it, watching men, boys, and entire outposts seeking God hours after the altar call."
AG General Treasurer Doug Clay was impressed with his stay at Camporama. "It was thrilling for me to watch the mentoring of boys in action," he says. "Hundreds of men from all across the nation providing opportunities for thousands of boys to experience life change. No doubt the future of many these young men will now be on a different trajectory."
Following its conclusion, the 2016 Camporama has received numerous accolades from those who attended.
"Many have emailed, wrote, and called to let us know they felt this years Camporama was the best one ever," Fleig says. "Every part of Camporama was executed nearly flawlessly by the hundreds of volunteers and workers. Boys and men truly experienced the ultimate event for guys and went home inspired by the Holy Spirit to live the adventure God has designed for them!"