Girls Ministries Compassion Projects Continue to Impact Lives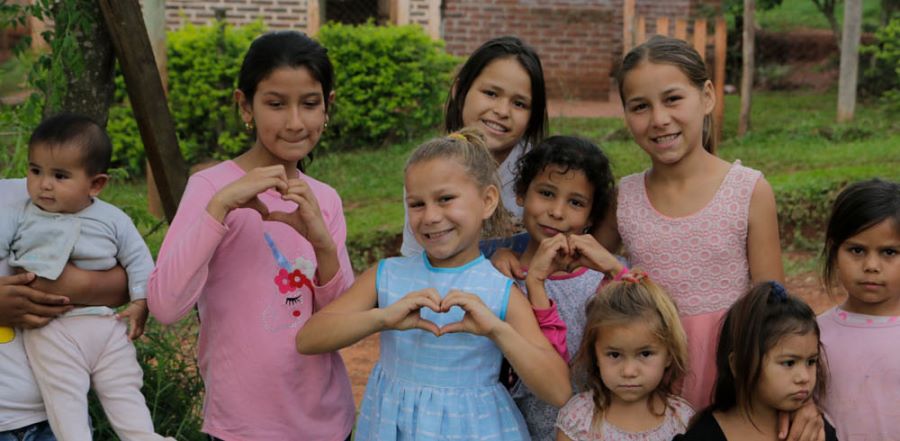 Don't miss any stories. Follow AG News!
If there was one word that could sum up the efforts of the
Girls Ministries
annual Coins for Kids projects, it may very well be the word
compassion
. Over the years, Coins for Kids projects have helped missionaries around the world compassionately meet the physical needs of children while also giving missionaries additional opportunities to share Jesus with them.
Coins for Kids
efforts have included projects that help build cooking centers to provide food and education to poverty-stricken children in South Africa, build up a campground for kids in Alaska, provide for unwanted babies in Northern Asia, help trafficked women and children in Europe find safety and be introduced to Christ, and the list goes on.
The 2017 project, Caring for Baneasa, was completed by the end of December 2017. As a result, many children in Baneasa, Romania, now have a community center that provides them with things they don't always have access to — hot meals, school supplies, a playground, tutoring, and most importantly, an opportunity to learn about Jesus.
"Coins for Kids is changing the lives of children all over the world," states Lori Warning, national Girls Ministries director. "Even when one project is complete, the impact is multiplied for years to come. It is amazing to be a part of something so much bigger than ourselves. Only when we get to heaven, will we see the impact and how God used Coins for Kids."
Giving to the Caring for Baneasa project broke all previous Coins for Kids efforts — as nearly $249,000 was raised. So, in 2018, when the Coins for Kids project, Wonderfully Made, was introduced, the bar was set at a new level.
Wonderfully Made benefited Special Touch Ministries. Founded by missionaries Charlie and Debbie Chivers, Special Touch ministers to those with disabilities that impact them physically and/or mentally. And just recently, Special Touch incorporated the AG Center for the Blind in its ministry.
"2018 was truly an Ephesians 3:20 year for Coins for Kids – God can do abundantly more than we can ever ask or imagine," Warning says of the record $282,701.32 given to Coins for Kids. "Special Touch is an incredible ministry that we have been blessed to work alongside, and we are excited and expectant to hear the testimonies in the months and years ahead because of this record year."
Recently, the
2019 Coins for Kids project
, Argentina Mission, was announced. According to Lauren Crump, National Girls Ministries curriculum and resource coordinator, the goal is to exceed $300,000 (another new record) as they work to assist missionaries to Argentina, Gilbert and Virginia Contreras, establish plazas/community centers in rural communities.
The community centers will be built in poor villages in northern Argentina in the Misiónes Province, which, coincidentally, translates to "missions" in English.
"People often think of Buenos Aires when they hear 'Argentina,'" Crump says. "These villages are nothing like that. Many people's homes have dirt floors and they don't have good access to clean drinking water."
Warning explains that in addition to being a place to gather and a source of clean water and food, the community centers will also be a location where girls and women can learn a marketable skill to help provide money for their families.
"What many people don't realize is that families in these small villages, in order to survive, keep their sons as they can work in the yerba mate (tea) fields, but too often sell their daughters into slavery," Crump says. "However, by teaching the girls a skill, such as sewing, cooking, or even carpentry, they are seen as contributors to the family finances."
The centers will be designed to weave the gospel message into all aspects of its services so that children hear about Jesus on a regular basis. But Christ isn't just for kids — adults and parents will also be a part of the community center ministry.
Based on the community center model already put into place by an Argentinian AG church, the center will draw adults in by supplying clean water and food items. However, parents are also drawn in as their children's newly acquired skills go on display.
"Girls sew dresses, are taught a simple dance, the parents come to see the results of their daughters' training, and then they too hear the gospel message," Crump says.
Warning says that she believes Coins for Kids can raise enough money in 2019 to put fully resourced community centers in at least two or three villages, if not more.
Even though missionaries and boys and girls around the world are being blessed by Coins for Kids, perhaps the real blessing is found in the lives of those who give. As Warning explains, girls are learning what it means to have a heart of compassion for those in physical need and spiritual need — and the result of that compassion.
"What we have now are tens of thousands of girls with hearts of compassion for the lost," Warning states. "What we will have in just a few years are tens of thousands of young women with hearts of compassion for the lost."