Gospel Focus on Native Americans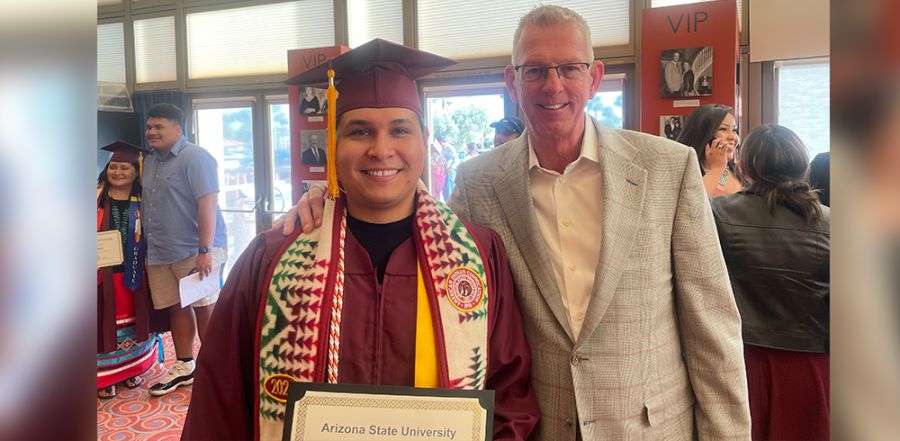 Don't miss any stories. Follow AG News!
A Native American once addicted, in trouble, and incarcerated as a teen, is working to bring the gospel to indigenous people worldwide and especially in the Phoenix area.

Isaac K. Durham is now 28, sober, and working in close partnership with the Billy Graham Evangelistic Association's ministry to Native Americans.

While Durham's father today is sober and serving the Lord, during Isaac's youth his dad struggled with sobriety, but periodically took his son to church with him. One day, the sermon challenged Isaac to ask God anything, which led to several weeks of spiritual searching. Though a short period in his life, he recalls the sincerity and desperation with which he sought God.

Nevertheless, Durham found himself in trouble and addicted, and ultimately incarcerated in juvenile detention. While there, Durham received mentoring from Frank W. James, a chaplain and art teacher who served in the lockdown facility. When Durham aged out of the facility, James extended an invitation to his home, where Durham stayed off and on over the next year. Finally, James took Durham to Arizona Teen Challenge in Phoenix at age 19.

"It wasn't until I entered Teen Challenge that I truly surrendered my life to God," Durham says. After graduating from the program, he completed a six-month internship with at Arizona Teen Challenge as a peer mentor and earned his General Educational Development diploma.

Durham has been serving God ever since. Following the internship, he worked in various roles an additional seven years at Arizona Teen Challenge, a part of Adult & Teen Challenge. During this time, Durham also finished both an associate's degree and a bachelor's degree, focusing on American Indian studies and nonprofit leadership and management.

Now he is in graduate school at Arizona State University, studying global management and entrepreneurship, with the goal of developing business models and social services models for ministry to Native Americans.

"When it comes to sharing about Jesus, contextualization is so important," says Durham, who is a member of the Hopi Tribe. "I want to see indigenous people worldwide thrive. And ministry models that are built to fit this culture is what will make that happen."

Dave M. Robinson, 66, served as one of Durham's mentors during his time at Arizona Teen Challenge.

Robinson preaches each Monday at the center and usually mentors one or two young men each year, helping them learn about finances, budgeting, modeling the character of Christ, voting, and other aspects of responsible adulthood. He witnessed Durham overcome impossible odds, including a difficult background and family issues that still impact his life.

"Isaac is completely transformed from the old into the new," says Robinson. "It's breathtaking to see what God has done in his life, as he is radically changed. Now his personal mission is helping his tribe."

Robinson notes that during several Christmas seasons Durham organized special events for different tribes where all the children who live on the reservation received gifts and heard the gospel. Durham handled everything, from designing the poster describing the event to wrapping the gifts.

Now, Durham is employed with Chief Inc., a ministry for indigenous people.

"There's always a tension between tribal religions and honoring our traditions as Natives with our faith in Jesus," says Durham. "And there's a dark history there, too, that many Native believers struggle to reconcile and overcome."

Durham says that studying the history of forced Christian conversion and the treatment many Native children suffered at government-run boarding schools that taught Christianity can be difficult. But he says that talking about these issues, rather than ignoring them, is key. Durham says that once this history is discussed openly, it helps to blaze a trail into Native communities where the gospel can be shared.

"We can come to faith in the person of Jesus without endorsing the painful history associated with Christianity in Native communities," Durham says. "Partnering with others who want to bring the gospel to my tribe and others encourages me."
PHOTO: Dave Robinson (right) mentored Isaac Durham.