History Marked as Leadership Conference Resonates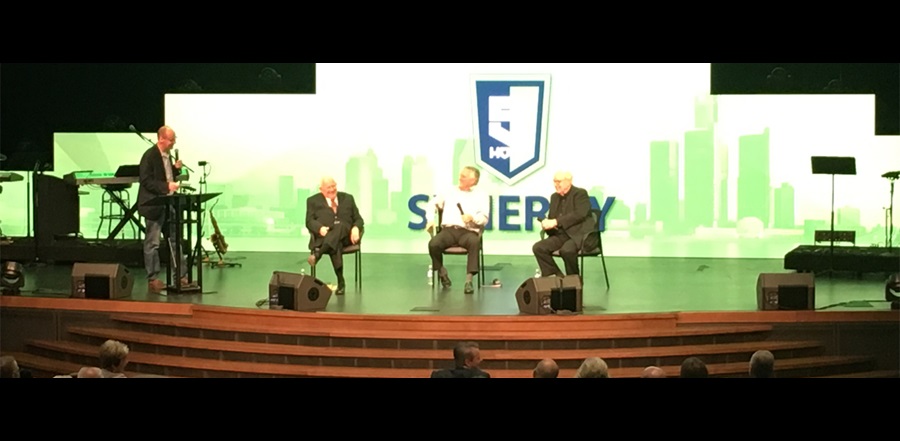 Don't miss any stories. Follow AG News!
For the first time in nearly a half-a-century or more, three consecutive AG USA general superintendents — General Superintendent Doug Clay with former general superintendents George O. Wood and Thomas Trask — were brought together to speak at a single event.
The general superintendents ministered at the 5-Hour Synergy: The Power of Spiritual Shadowing conference held Thursday at
Brightmoor Christian Church
in Novi, Michigan, located just northwest of Detroit. The result? Scores of Assemblies of God ministers and leaders flooded the altar in response to the day's messages.
The 5-Hour Synergy conference, orchestrated by Bradley Trask, pastor of
Brighton (Michigan) AG
, and host pastor Jamie Kjos, focused on investing in leaders' spiritual and relational growth. The trio of superintendents each shared a message on influence and leadership and also spent time participating in a Q&A session — all of which were livestreamed on the Assemblies of God USA
Facebook page
.
Clay took the stage first, speaking on integrity. "Character always trumps charisma in spiritual leadership," he stated. Using examples from his own life and others, he pointed out how a spiritual leader's integrity "casts a shadow," positively or negatively, upon the lives of those he or she influences.
In his message, Clay explained that perfection can't be demanded or expected, but leaders should make every effort to live a life of integrity, forgive those who hurt them, be an encourager with their words, promote unity, and grow through learning in order to cast a shadow worth emulating.
He left leaders to contemplate the question, "If everyone I lead lived their life the way I'm living, would we accomplish our mission?"
The second message of the morning was brought by Wood, who spoke about the people whose words shadowed him in life and ministry.
Wood reflected on the lives of his mother and father, who were missionaries to China and state-side ministers. He recalled his mother's counsel: "When we stand before the Lord, He will not ask us if we've been successful, He will ask us if we've been faithful."
Citing examples from his college years and years as a pastor, Wood shared examples of how words, written and spoken, had influenced his life — with some continuing to influence his life even today.
He also shared and cited how sometimes God takes people to places they do not want to go to, do not intend to go, and are surprised by where they are — all in order to ultimately fulfill His will. "Remember, God is with you in the unintended places," he said.
Following a break, the Q&A session found the trio urging leaders to be intentional about discipleship, to encourage young people to be receptive to God's call into full-time ministry, and for the AG to remain Bible-centered and doctrinally pure in order to experience God's best.
Trask offered the concluding message. "I challenge you to become a person of prayer," he told leaders. "Nothing of any significance is going to happen in the kingdom of God if it's not prayed through and prayed over . . . there's not a problem in the church that God can't remedy."
Noting that prayer is to the Body of Christ what the heart is to a person (can't live without it), Trask stated: "The Assemblies of God should be the most powerful church on the face of the Earth because we believe in the person and the work of the Holy Spirit."
After identifying several products of prayer, such as God's favor, anointing, and learning the will of God, he shared that making prayer a priority results in the Lord's Church being built.
Trask closed by asking for leaders wanting to covenant with God to become people of prayer, to come forward. Many leaders responded to the call.