Hope After the Disaster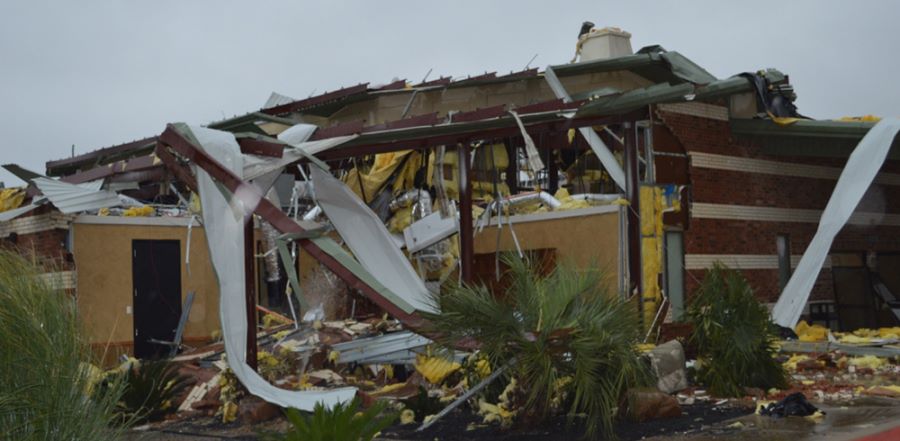 Don't miss any stories. Follow AG News!
Barney Huie says he sees the disaster that struck the church he pastors on the day after Christmas as a launching pad for evangelistic outreach.
A Saturday night EF4 tornado destroyed Oasis Church at Lakeview, an Assemblies of God church in the northeast Dallas suburb of Garland, Texas.
"Everything that comes out of this will make us into the church that God has destined us to become," Huie says. "We are extremely optimistic about the future and the impact we can make in this community and neighborhood."
No church personnel were allowed on the property until Monday as emergency crews removed downed power lines and stopped gas leaks. By Tuesday, the church parking lot had become a staging area for recovery efforts. Around 200 volunteers showed up Tuesday for cleanup efforts. Huie says there has been an outpouring of support from nearby churches.
Mercy Chefs on Tuesday started providing up to 1,500 breakfast, lunch, and dinner meals.
A series of nine tornadoes killed 11 people in the region Dec. 26. Although a prayer meeting normally takes place at the site Saturday evenings, the event had been canceled because of the holiday weekend, and no one was inside the church at the time.
The rear of the 12,000-square-foot building, constructed in 2004, bore the brunt of the damage. Although no damage estimate has been made yet, adjusters have informed Huie that the structure is a total loss. He says the church, which has around 300 regular attendees, recently had updated its insurance coverage.
"Some metal beams were pulled out of the foundation, there is twisted metal everywhere, walls are leaning inside, and bricks have fallen," Huie says. "The entire building is stressed. Even the foundation will have to be replaced."
On Sunday, Oasis Church Lakeview will meet in the gymnasium of Connection Pointe Church in Mesquite, the adjacent suburb to the south. Michael Pettitt pastors that AG congregation.
Huie had considered moving the services to Oasis Church's branch campus pastored by his son, Lindsey. But Oasis Church Caddo Mills, which has 100 regular attendees, is 25 miles northeast of Garland. In addition, the facility is too small to accommodate an influx without adding services.
In the meantime, Huie already is looking into meeting place options, including a high school auditorium.
"We are praying for revival to come out of the rubble," Huie says. "In times like these we are reminded that the Church of Jesus is not a building, but a body."
Huie planted Oasis Church in 2004 in his home in Rockwall, Texas. After meeting in a school for a while, Oasis Church moved to Garland in 2008 when it merged with another smaller AG congregation that met on the site.
The Assemblies of God North Texas District Disaster Response and Relief Ministry has sent a request to district churches for help for families impacted by the disaster. Items still needed include water, nonperishable food, new blankets, and diapers.
Convoy of Hope is responding to the simultaneous disasters of the tornado aftermath in Texas and flooding in Missouri. Click here for an update on the organization's relief efforts.