Hope Through Hand Cycling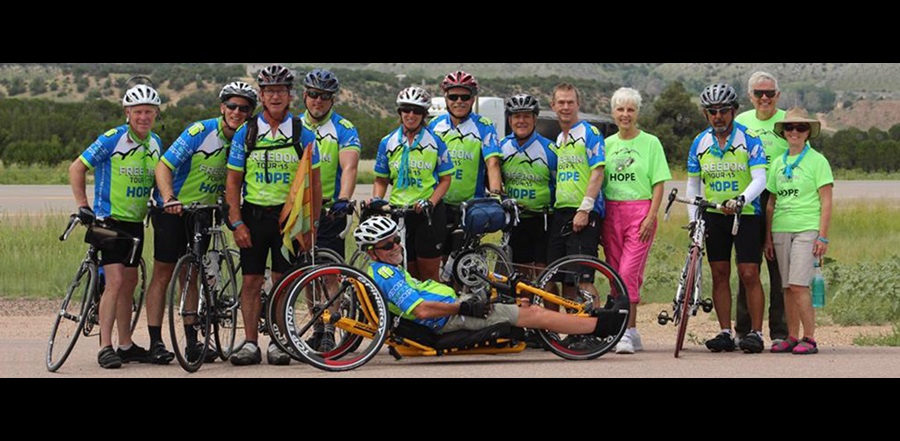 Don't miss any stories. Follow AG News!
Rich R. Dixon's journey of finding hope started in 1987, when all hope seemed to be stripped away from him.
That year, Dixon fell from a roof, which left him paralyzed from the chest down. Subsequently, the junior high math teacher also fell into despondency.
Although Dixon no longer had any zest for living, God began placing people in his path who would help him climb out of depression.
Some of these new friends urged Dixon to try hand cycling, a specially designed bike peddled with hands and arms rather than feet and legs.
When Dixon ultimately agreed to try hand cycling in 1999, he immediately fell in love with the sport.
"God used the hand cycle to get me to stop looking back at what had happened — and to start looking forward," Dixon says. "And through that, I found hope."
Dixon spent a decade gaining strength and rediscovering faith. During that time, he also married his wife, Becky. His newfound optimism led to a dream of completing a cross-country bike ride. While enthused about the plan, Becky also had doubts.
"I kept thinking of obstacles, like his health, finances, logistics, and my job," says Becky, who worked as executive director of a nonprofit at the time.
However, after praying and receiving encouragement to do the ride from pastors Dick B. Foth and Mark A. Orphan, then on staff at Timberline Church in Fort Collins, Colorado, the Dixons took a step of faith and embarked on the cross-country ride.
In 2011, Becky resigned from her job in order to assist Rich — then 60 — in a 1,500-mile ride the length of the Mississippi River. Before the trip, Foth cautioned the Dixons that they would feel empty if they focused the outing solely on completing the bike ride.
The Dixons then determined to make the ride about sharing their story, and to raise support for Convoy of Hope. At the beginning, the Dixons only had a handful of speaking events scheduled for the eight-week journey from Lake Itasca, Minnesota, to New Orleans. But God had a grander design.
By the end of the trip, the Dixons had raised $60,000 for Convoy of Hope and spoken at 40 locations. The Dixons happily celebrated the success of what they thought would be a one-time ride. But afterward, both sensed God telling them they had more to accomplish.
In 2012, the couple went on a 500-mile group bike ride to raise funds for International Justice Mission's efforts to end human trafficking. This ride sparked an idea in the Dixons to organize their own group bike ride in Colorado that would bring hope to victims of human trafficking.
The Dixons connected with Project Rescue, a ministry affiliated with Assemblies of God World Missions. The Dixons resolved that their next ride, called The Freedom Tour, would benefit Project Rescue, which rescues and restores victims of sexual slavery.
In 2013, seven people participated in the 500-mile bike ride from Cheyenne, Wyoming, to the top of Raton Pass, a summit on the boundary lines of Colorado and New Mexico. By the end of that ride, they had raised nearly $10,000.
By 2014, The Freedom Tour had turned into an annual event. It is now preparing for the sixth yearly outing, drawing an average of 15-20 riders, and raising $150,000 for Project Rescue overall. Dixon has written two books about his experiences.
"This is all about joining in something bigger than yourself, and sharing that hope changes what's possible," Dixon says.