Hurricane Relief Ongoing in Haiti, Cuba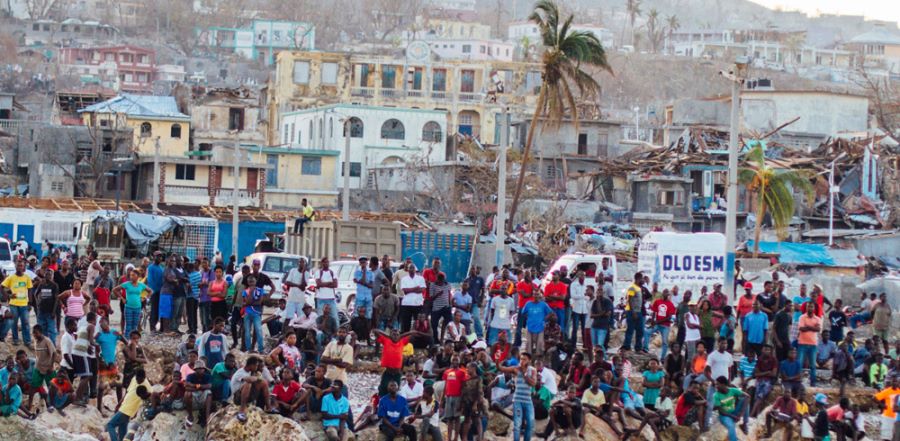 Don't miss any stories. Follow AG News!
As Caribbean nations continue to reel from the destruction of Hurricane Matthew, AG World Missions and Convoy of Hope are deploying personnel and distributing relief supplies to hurricane victims in Haiti and Cuba.
More than 1.7 million meals have already been distributed since Matthew struck nearly 10 days ago, and several million more have been shipped from the Convoy of Hope warehouse in Springfield, Missouri. AGWM missionaries, COH personnel and national church leaders are partnering on the field to quickly and effectively minister to the suffering.
"The human need is overwhelming in Haiti," COH President Hal Donaldson states. "Fortunately, when Hurricane Matthew struck, God enabled us to already be prepared to respond because of Convoy's ongoing feeding program in Haiti. Our warehouse already had meals we could distribute, and our personnel were already there."
On Oct. 12, a truck of relief supplies was delivered to AGWM missionary James Courter, who is serving as distribution coordinator in the especially devastated area of Les Cayes. An airdrop of relief supplies is expected to occur in Les Cayes today.
"Every one of our church buildings in the south received damage or is completely destroyed," Courter says. "A high percentage of our AG constituents have had their shelters or homes severely damaged or completely destroyed. The Arise Transformation Center, which houses the School of Ministry in the south and the district office for the region, sustained much damage as well."
Richard Green, an AGWM missionary serving in Haiti with Builders International, is working with Haiti AG General Superintendent Calixte Fleuridor to assess damage and need around the island nation. Their work has been significantly hindered while the main bridge in the Tiburon Peninsula remains only partially restored from the damage it sustained.
"There are no words to describe what the hurricane has done to this land, or more importantly, to its people," Green writes. "We've spoken with a lot of locals, and what they are going through is just heart wrenching."
In Cuba, AGWM personnel and Cuban church leaders have only recently been able to reach damaged communities to begin assessments. The hardest hit areas of Cuba are still inaccessible. Once full reporting is possible, it is expected many Cuban AG churches will be found completely destroyed.
Cuban church leaders are purchasing basic food supplies to repackage for distribution, and also asking all church members to donate food, clothing, and whatever else they can for the relief efforts.
AGWM Executive Director Greg Mundis concludes, "AGWM and Convoy of Hope will continue standing with our missionaries and national church leaders to do all we can in both Haiti and Cuba — as extensions of our Master's love to these suffering people who are so precious to Him."
To help AG World Missions/Convoy of Hope joint relief efforts, please mail checks to Assemblies of God World Missions, 1445 N. Boonville Avenue, Springfield, Missouri 65802. Designate on your check that it is for "AGWM/COH Disaster Relief 410946 (64)." Or, you can give online at giving.ag.org.