In the City and For the City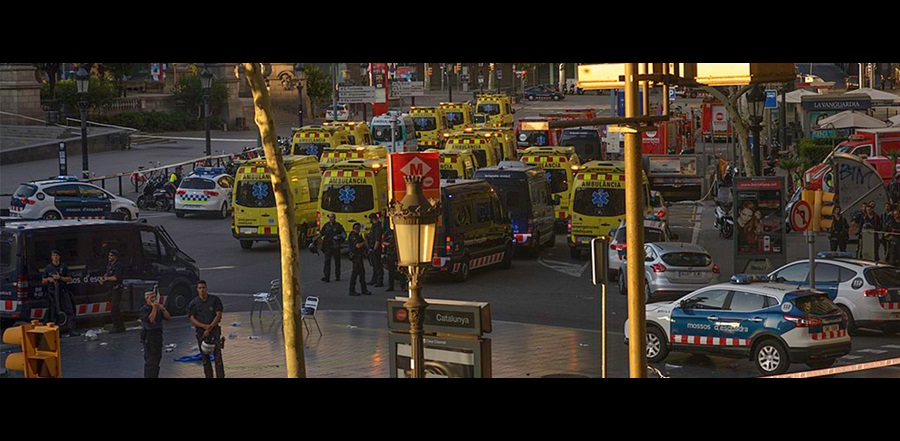 Don't miss any stories. Follow AG News!
John and Brandi Carrano are veteran AGWM missionaries who have been pastors of the International Church of Barcelona since 2014. Following is an account of the church's response to the Barcelona terror attack on Aug. 17 from the Carranos and church team member, Nick Seders, and how that response has impacted lives.
Police officers and paramedics rushed to Las Ramblas, the main downtown promenade in Barcelona, Spain, just before 5 p.m. on Thursday, Aug. 17. Barcelona was in the middle of a terrorist attack; while taking in this news, we couldn't help but consider our own responsibility to the city as the International Church of Barcelona (ICB).
Following the attack, with assailants still at large, Barcelona was struggling to process the tragedy. It was evident in the countenance of almost every resident – uncharacteristically expressionless and withdrawn.
Our church put out a call to prayer. We knew that our Sunday gatherings could provide an unprecedented opportunity for people to find peace in Christ. Just as we had prayed, hundreds of locals, expats, and tourists came to our three gatherings. Due to the Holy Spirit's work in each individual, worship was marked by dependence and expectation, and the words of Psalm 46 brought tangible comfort. Countless people expressed just how healing it was to be sheltered in God's presence with a group of believers, and to process their grief with the support of others.
As people left, ready to comfort others with the comfort they had received, the hired security guard (who had just completed her first shift with ICB) walked to the information table. She spoke of our sense of community, our worship, and our hope she had witnessed; she wanted to experience those things for herself. "My sister and I were on Las Ramblas during the attack," she explained. "Could you please pray for me?" After prayer, she asked if she could come back, as an attendee rather than as a security guard. "Of course," we replied. "We're always here for you!"
The ICB congregation immediately accepted the challenge to care for our broken city. Some went to donate blood, others offered translation for the foreign victims; some participated in solidarity marches and vigils, and still others eagerly awaited an organized opportunity to reach the community. While assisting in all of these efforts, our team prayed for wisdom and waited to see how God would direct us to respond as a church.
It became clear that God was urging us to reach out to first responders and healthcare providers. Both groups had served our city nobly, experienced unique traumas, and deserved personal expressions of thanks and honor. ICB leaders and volunteers assembled over 300 gifts bags with handwritten notes of gratitude, and personally delivered them to six police stations and six hospitals. We wanted as many of these public servants to know that, just as they had been there for us, we are here for them. They needed to know we are grateful for them, we care for their well-being, and they are always welcome to seek refuge and strength within our worship community.
In one police station, when the receptionist notified the captain of the gift bags, the captain came out of the office with a huge smile on her face! It just so happened that the exact same team member visiting her station had spoken with her just after the attacks, and she still had the church's information in her pocket! After bringing all of the officers out to meet the ICB volunteers, she expressed just how much the gesture meant to them. "I had no idea that she was at that station, or that she was in charge!" our team member said. Yet God knew exactly who needed to be blessed when and where.
Police officers responded with tears of gratitude. Pediatric wards of hospitals invited us to return and minister to their children more regularly. The stories go on. We continue to pray that God will open doors of effective ministry, and give us increased access to the government, schools, hospitals, and other agencies. God truly turns even the most evil of situations into opportunities to share His love and goodness.
ICB's response to the terrorist attacks has been all about caring for the individuals God has intentionally placed in each of our lives. We believe that we are not only in our city, we are for our city. Whatever the circumstance, our mission is to let our city know that hope and help can be found in Christ, and that His body – the Church – truly cares for Barcelona.
Image by Jikatu