Influence Conference: Messages from the Heart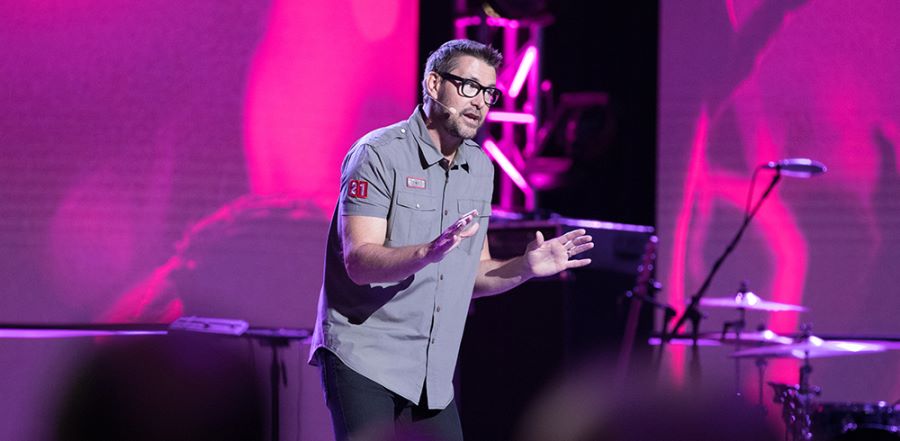 Don't miss any stories. Follow AG News!
In the concluding service of the Influence Conference held Tuesday morning in the Anaheim (California) Arena, approximately 4,000 attendees gathered to hear three true influencers in the Assemblies of God — Mark Batterson, Rod Ketterling, and Dick Foth — share not only inspirational messages, but at times, their shortcomings as well.
Batterson, who was surprised with the Young Influencer Award in the Monday evening Influence Conference service, weaved the biblical story of the Italian soldier Cornelius and the power of his one prayer with the impact of focused prayer in today's believer's life.
Pointing out that the disciples knew how to pray prior to meeting Jesus, he explained the reason they asked Christ to teach them how to pray was that they had never heard anyone pray with His kind of passion, authority, or familiarity — and they wanted that in their lives.
Batterson also spoke about his failure in his first attempt to plant a church, but how that his failure also led to God's success when planting National Community Church in Washington, D.C., which has grown to more than 5,000 members and eight locations.
"The more you pray, the bigger you dream; the bigger you dream, the more you have to pray," he said.
Referring to prayer as building a memorial to God, Batterson added that believers can't just hit their knees in prayer, they also have to get up and take a step of faith. "We want God to do something new while we keep doing the same old thing," he said.
In concluding, Batterson made it clear that a prayer uttered by Cornelius (a Gentile) and the response of Peter (a Jew) were two reasons that there are Gentile Christians in the Anaheim Arena (and around the world) today. He then urged each person to pray the bravest prayer they could pray.
"Your prayer life is going to change your future," he said. "Think better, dream bigger, pray longer."
The founding pastor of River Valley Church in Minneapolis more than two decades ago, Rod Ketterling spoke to the conference audience from the position of being a former backrow leader.
He identified backrow leaders as those who sit in the backrow and destructively criticize those who should be in authority over them – choosing to cause harm rather than coming under authority.
That's when Ketterling admitted that he was a backrow leader, taking pot shots at AG leadership. He also confessed that at one time he had the goal to literally split the Assemblies of God in two, having gone as far as talking to lawyers to help make it happen, before God changed his heart. Ketterling then stepped aside and publically apologized to AG General Superintendent George O. Wood and repented of the critical things — that were too numerous to remember — that he said.
"God blesses apologies and He loves forgiveness," Ketterling said, urging others who were — or had become — backrow leaders to apologize to those in authority above of them.
He then listed several characteristics of being a front row leader: gets in proximity (similar attitude) of leadership, brings solutions to problems, pays attention, speaks life (not criticism), is energizing, follows through, is patient, handles criticism without dishing it out, brings people along, is able to do over and above, moves forward, and has a "yes, we can" attitude.
Ketterling urged leaders struggling with a backrow mentality to move to the front row by bringing their gifts, talents, team, treasure to those in authority over them, apologize, and then join in being part of solutions.
As he drew his message to a close, Ketterling also called on pastors of large churches to be a part helping other churches succeed; sharing their gifts, talents, and finances to help them achieve success. "Don't take an attitude of 'me and mine, we are fine,'" he urged. "If you got something good, it's not enough — you need to pass it on."
Dick Foth, who was part of surprising Batterson with an award Monday night, had his own surprise this morning when he was called upon to speak after scheduled speaker Rick Warren came down with the flu prior to the morning service.
Foth, who was presented the Lifetime Influencer Award on Monday evening, didn't miss a beat as he offered a compelling and inspiring message that urged believers to tell "their story" to reach their world for Christ.
Referring to Jesus' response to critics who asked Him what the greatest commandment was, Foth noted that in Matthew 22:34-40, Jesus didn't just answer with one (Love the Lord your God . . .", but added, "And the second is like it: Love your neighbor as yourself."
Foth reasoned that Christ combined the two commandments because when you love your neighbors, you are loving God; and when you love God, you will love your neighbors.
The focus of Foth's message was for each person to share their story with others (their neighbors). He observed that when believers tell their story, they end up telling Jesus' story as well at the point He intersects their lives.
"When you tell your story, it's a Velcro ribbon to which people can connect," Foth says, explaining that even the smallest common ground can be the start of a connection and relationship.
Foth also reflected on his ministry, saying that a key change took place in how he spoke when God told him to "stop telling people what to do and tell them Who I am and let Me tell them what to do."
In a closing thought, Foth addressed what he believes is at the heart of who believers are in Christ, referring to John 6:28-29 (. . . The work of God is this: to believe in the one he has sent).
"What man considers the process, God considers the goal — trust in God," Foth says. "That is what changes the world."
The next Influence Conference will be held in Orlando, Florida, 2019. However, General Council services begin tonight at 7 p.m. (PST) with General Superintendent George O. Wood presenting the opening keynote message. All General Council services will be livestreamed at generalcouncil.ag.org.