Influencing the Nation's Capital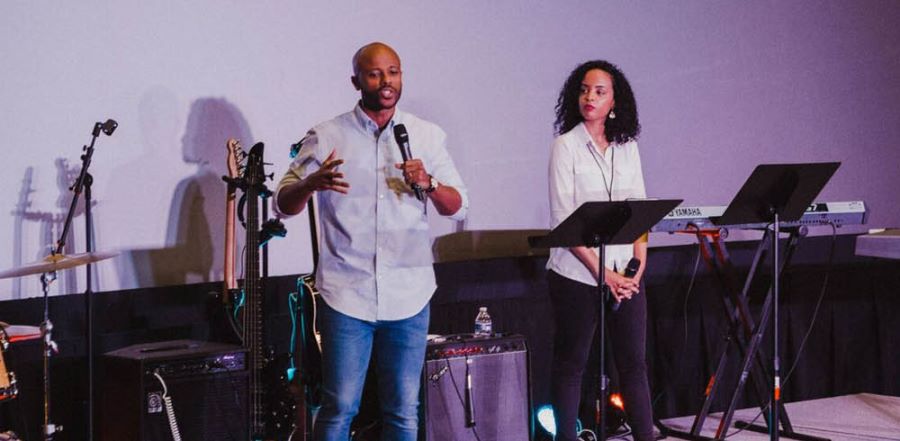 Don't miss any stories. Follow AG News!
Paul Hanfere
worked as a project manager for Dell when he felt God call him into ministry. He quit his job, sold his car, and gave away possessions. When he began attending a ministry school, he had no idea God would use him to start a church that would attract 431 attendees its first Sunday.
"Pastoring was never on my grid," Hanfere says. "I thought I was going to be in the marketplace. I thought leading a Bible study or small group would be a stretch."
Hanfere felt the call to full-time ministry during a small worship service.
"God began to show me the distinct faces of people I had never met," Hanfere recalls. "I felt He was saying,
I want you to gather My lost sons and daughters
."
Hanfere began pastoring a young adult multiethnic service at the congregation where his father, Aligaz, pastors. The main location of
International Ethiopian Evangelical Church
is in Washington, D.C., with six additional branch campuses in the region. Paul and his wife, Christina, led the international service to help young adults transition. Many individuals from that service eventually became part of the launch team for
Overflow City Church
in Silver Spring, Maryland.
Aligaz Hanfere told his son he should consider attending a leadership training coming to the area. Paul didn't realize he had signed up for church planting training until he registered for the
Launch event
. In retrospect, the timing seemed just right.
"Planting was on our hearts, but we didn't even know where to start or what to do," Hanfere says. "It was exactly what we needed when we needed it." The training event so impressed them they returned a second time and took six others from their team with them.
Greater Washington, D.C., is one of the nation's wealthiest and most-educated regions, yet it also contains among the highest rates of addiction, divorce, and homelessness.
"If education and money could have solved these problems, they would have done it by now," Hanfere says. "We believe the gospel is the answer. There is no such thing as a successful church in an unsuccessful community. We have to make a difference in the community we are in."
Overflow City Church held its first service on Sept. 9, officially making it the
500th congregation
to open using Matching Funds from the AGTrust. Through AGTrust, the
Church Multiplication Network
matches what planters raise during prelaunch, up to $50,000. Planters such as Hanfere participate in an assessment, go through training, are assigned a coach, and develop a ministry plan in order to receive the financing. There has been a 90 percent success rate for churches that go through the process.
"Paul and Christina represent hundreds of other people just like them," says Church Multiplication Network Director
Chris Railey
. "They are a great story, and there are hundreds of these stories of courageous leaders who have risked everything to start healthy churches."
In 2017, Railey unveiled a
vision for 10,000 AG churches
to be planted within a decade. CMN would like to finance 2,000 of those congregations.
"That would change the landscape of our country by helping to launch healthier churches," Railey says.
Overflow City Church is in a
parent-affiliated church
relationship with
Oaks Church
of Red Oaks, Texas. Scott Wilson, lead pastor of The Oaks, is a CMN lead team member.