Inspiring European Women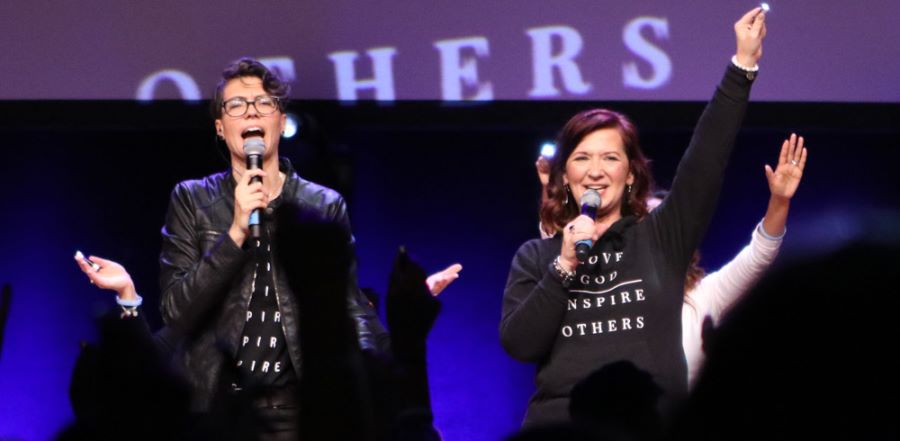 Don't miss any stories. Follow AG News!
Slightly over half of all Western European adults describe themselves as "neither religious nor spiritual," according to Pew Research Center. Melinda F. Henderson, an Assemblies of God world missionary, strives to change that percentage through her Inspire Project to reach the women of Europe.
A few years ago, Henderson — although she believed in ministry to women — preferred preaching or kids' ministries.
"But the Lord began to show me a ripe harvest field — the women of Europe," Henderson recalls. "I began to understand that when I reach one woman, I also impact the spiritual destiny of women she influences — her friends, her colleagues, her neighbors, her family."
Henderson was 13 when she heard a thought-provoking question at an Alabama District youth convention: If God could use your life for missions, would you be willing to say yes?
"I jumped to my feet without hesitation," Henderson remembers. "From that moment, I knew I would see God in missions." Her father, Howard Reynolds, was a long-standing Alabama district youth director. He included Melinda on missions trips and cultivated her heart to reach the lost at a young age.
Henderson attended Southwestern University in Waxahachie, Texas, and became an ordained Assemblies of God minister. Larry D. Henderson and Melinda met in 1983 at Alabama Youth camp, and married in 1990 at First Assembly in Montgomery. By 2001, the Hendersons, with three young children in tow, became appointed missionaries.
Today, the Hendersons are lead pastors at Vienna Christian Center (VCC), a multicultural ministry center that serves the international population of Austria's largest and capital city with five campuses, 13 services, and over 2500 attending each week. The Hendersons also serve as Northern Europe area directors for AGWM, overseeing 11 countries.
When Henderson attended a missions leadership luncheon in 2016 in Springfield, Missouri, she became motivated to reach women through conferences and events. The luncheon presenters were Sandie Mundis, wife of AGWM Executive Director Greg Mundis, and Debbie Lindell, co-lead pastor of James River Church in Ozark, Missouri. Lindell directs Designed for Life women's conference each year with 10,000 attendees.
Henderson launched the first Inspire Conference in Vienna in 2018. Over 1,100 women attended the first conference. "We must believe the message of Jesus can reach every girl," she says.
By 2019, the Inspire Conference had earned the Austrian government's Award of Excellence for Outstanding Conference. The Austria Center, where the Inspire Conference is held, is connected to the United Nations and is known for hosting world-renowned conferences.
"We have the attention of our city, because Inspire was the first-ever conference for women held in the nation," Henderson says. Inspire Conference is held annually on the second weekend of November in Vienna, and has branched out to Almaty, Kazakhstan, and more locations as doors open.
Henderson also has launched prayer luncheons for diplomats or wives of diplomats to Europe. Invitations were hand delivered to every embassy in Vienna.
"We have become a 24/7 prayer partner for women in the diplomat community who are in need of a spiritual family while serving their term of duty," Henderson says.
Prayer luncheons for diplomats are typically held in a private room at a local restaurant. After lunch, a culturally relevant musical guest — an opera singer or violinist —performs. A guest presents her personal testimony of following Christ, after which table hosts lead attendees in discussion about the message they have just heard. Each hostess then prays for attendees at her table.
Two new women diplomats, one from Asia and one from South America, attended the most recent prayer luncheon in March. And a woman who works at the World Trade Center in Stockholm, Sweden, asked for Henderson's help in launching a prayer luncheon there.
"We must be pro-active to be sure that this gospel message is truly heard by all," Henderson says.
The Hendersons say that although ministry looks different right now because of COVID-19 and restrictions on large group meetings, the ministry to people in Vienna has grown. Life Groups have gained a lot of attention as they have moved online to Zoom and conference calls.
"We've also seen an increase in acts of kindness from our church people — which is resulting in people coming to know the Lord," Henderson says.
The Hendersons' goal of building community and discipling believers remains consistent during this time. To that end, they've started an Inspire Vienna YouTube channel and a Facebook page as well, where they broadcast on the 13th and 14th of each month at 10 a.m. CST.
The 2020 Inspire conference is scheduled for Nov. 13-14. For more information, or to become an Inspire Project partner, visit www.inspirevienna.com.