International AG Churches: Great Needs Produce Great Miracles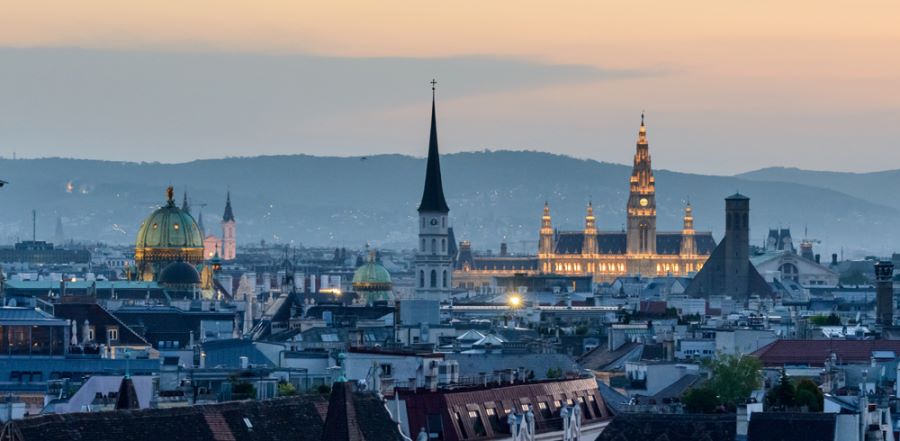 Don't miss any stories. Follow AG News!
For Assemblies of God international churches around the world, COVID-19 has resulted in stay-at-home laws that have led to suffering — emotional and physical — in their churches and communities. But despite churches being unable to gather and individuals daily encountering the challenges that accompany isolation and fear, God has been at work.

In consulting four regions of the world, AG News has learned that churches overseas are facing distinct challenges, many dealing with lockdown laws more stringent than in the U.S. AG missionaries currently leading international churches in Austria, Panama, Africa, and Thailand recently provided insights to what the COVID-19 pandemic has brought to their churches and communities — and God's response.

AUSTRIA

Larry and Melinda Henderson have served as missionaries since 2001, moving to Vienna, Austria, in central Europe from the Canary Islands to serve as lead pastors of Vienna Christian Center in 2012.

Vienna, the country's capital, with about 1.9 million people and a college student population of over 91,000 is known as a cultural and business center. Unknown to some, it is also a welcoming haven for refugees — the city demographics revealing less than half are Austrian.

Larry Henderson says that on average, 2,000 people attend services at Vienna Christian Center, but the country's lockdown due to the pandemic has brought some unique challenges for the church.

"The big challenge has been that we have to record all of our services from our homes and cannot meet with anyone outside of our household," he says. "So, no media teams, worship teams, or pastors meeting and recording together."

This may not sound like that much of a challenge, until Henderson points out that normally the church hosts 13 services each weekend in eight unique languages.

Some of the restrictions in Austria include only leaving the home for groceries, going to the pharmacy, to walk a pet, or short walks for children. Masks must be worn whenever entering a store and people are not allowed to be with anyone other than their immediate household.

When the lockdown of the country took place on March 16, Henderson says few if any international people returned to their homelands, as they have established themselves in Vienna. He adds that some internationals are in a highly stressful situation because their families back home are financially dependent upon them, and if a family member gets ill or dies, they cannot get home to see them. Singles also struggle as they have little face-to-face interaction for weeks on end.
However, that hasn't stopped the Hendersons and Vienna Christian Center from impacting their community for Christ. Recently they organized a "Day of Kindness," asking those who are a part of the church to do something to bless those around them.

One family chose to write a note and deliver a streusel cake to each apartment in their building. At one couple's door, no one answered, so they left the cake and the note at the door. Later, the husband came by, very thankful and appreciative of the cake and note, when translated read, "Please receive this as an act of kindness. We hope that you have a nice day. God Bless you from your friends in apartment 6" and was signed by the family.

"The door has now been opened both physically and to a new friendship," the family reported. "Thank you, pastors, for encouraging us to reach our neighbors during this pandemic. It is working!"

Although financial challenges for the church and caring for the church's members — many who have lost their jobs and no longer have a way to pay for rent, bills, or even food — are issues never far from the Hendersons' thoughts, they have also seen God at work.

"We've seen our small groups grow to over 75% of the congregation meeting weekly," Henderson says. "We're also reaching Austrians who are more open to the gospel, asking for prayer, and willing to have conversations."

Leadership development is continuing through online connections as well as membership/water baptism classes and discipleship initiatives.

"We're seeing more people involved even though we're limited to online ministry," Henderson says. "We've also seen many family members come to Jesus through conversations and relational moments we did not have before."

Henderson also notes that the pandemic has led the church into learning critical competencies with online media, and he and his family have taken this time to strengthen their relationship with God, with each other, and those they have been called to serve.

"Most of all," he says, "we recognize our dependence on the Holy Spirit."

PANAMA

For Nelson and Amy Lugo who lead Paint Church, the AG international church in Panama City, even though the lockdown is extensive, the church is experiencing growth.

The Lugos have been ministering in Panama since 2008. After their first term, they accepted the leadership of the international church, which averages about 250 people and 15 different nationalities in attendance.

Located in the heart of Panama City, the church has the benefit of a strong internet, allowing the church to upload services to their YouTube channel and have ongoing weekly life groups, youth, kids, young adults, and other ministries connect and meet through Zoom.

However, the limitations enforced due to the pandemic are strict. No gatherings of any size are allowed, all nonessential businesses are closed, airports are closed to domestic and international flights, and people can only leave their homes at appointed times based on their gender and the last digit of their identification number.

"For example, women can leave on Mondays, Wednesdays, and Fridays for two hours to go to the supermarket or pharmacy," Nelson Lugo says. "Men are allowed to leave on Tuesdays and Thursdays. No one is allowed to leave their house on Saturdays and Sundays at this time."

During the pandemic, the Lugos and the church have been doing their best to reach out to Saman and her two brothers who are living with five other recent refugees from Pakistan in an apartment.

"Saman tells us that they don't have enough resources, but she's been praying that God will help them — and so many people have," Lugo says. "We're now wanting to buy them a new stove because they're currently cooking all their food on a hot plate. Pray for the restrictions to be lifted soon so we can get them a stove and her friends and family can find work. They don't have a home church, but we are believing they will find a home with us!"

As with many churches throughout the world, the financial and emotional challenges of the pandemic-caused shutdown are the difficult realities facing Paint Church, its members, and those they minister to.

But even with police checkpoints and arrests being made daily for people breaking quarantine, the Lugos see God working within the church even in the midst of the struggle.

"We've had more people watching our services online than people attending our services on pre-pandemic Sundays," Lugo says. "In addition to that, our life group attendance has grown. We have new people who have connected with the church and are now a part of our life groups. Many people searching for answers are turning to Christ in the middle of this crisis."

AFRICA

Of the four continents represented in this article, Randy and Dezra Freeman's possibly have some of the more unique challenges. Randy is the director of AGWM's Urban Tribes initiative, which focuses on developing international churches in major urban/commercial areas throughout Africa.

In brief, many young people from different tribes are moving to urban areas for jobs and a better life. These individuals, no longer a daily part of a tribe, become an "urban tribe," not connected by blood, but by commonalities. These people are the focus of the Freemans.

Randy Freeman says that COVID-19 has had a significant impact on much of Africa — the Church and communities — possibly more than most continents as so many nations are developing nations.

Freeman recognizes that the pandemic affects everyone, but he notes that it has also served to highlight the tremendous social economic disparity that exists in Africa — among those within urban centers as well as compared to much of the rest of the world.

He explains, for example, that financially safe families and individuals can afford the unusually high cost of internet service to their homes, allowing children to continue their education, adults to possibly work remotely, and enabling people to stay socially connected online. Those who don't have the resources, suffer.

"The wealth gap in urban Africa is massive and right in your face," Freeman says. "In this time, that gap produces a great deal of pain."

But even those financially secure in Africa have found it difficult — beyond the lockdown where people are mostly limited to going to the grocery store or to seek medical care.

"The internet infrastructure is so poor," Freeman says, "that the connection for those working remotely from home makes it exasperatingly impossible to keep up with their work versus competitors from other parts of the world with good online access."

Freeman also brings to light what takes place in Africa when people are not allowed to work or can't work remotely as for many, poverty is only a day away. "There are so many who live hand-to-mouth," he observes. "Therefore, one day of not working literally means one day of not eating."

The struggle to communicate isn't limited to remote workers, but to churches, including the international churches Freeman oversees in Kenya, Tanzania, South Africa, and Ethiopia.

"All of our churches have been forced to move to an online model for the main weekly meeting," Freeman says. "We are using internet apps for small groups and one-on-one connections. However, most of our churches had not started trying to tackle online broadcasting before the pandemic so we did not have the proper equipment and could not buy it quick enough before the lockdown."

Freeman admits that the pressure of producing services with spotty internet and less than ideal equipment, caring for people who are isolated, and the financial pressures all weigh heavily upon him as a missionary and church planter, yet he does see hope.

"I see the churches arising and stepping up to the plate when it comes to technology," he says. "The churches have been very creative in the ways they are doing things. And in this time of great need, I see people practicing great generosity."

THAILAND

After ministering as pastors for 25 years in the U.S., Dana and Brigette Metcalf felt called to international ministry. Since 2018, the couple has been leading International Christian Assembly (ICA) in Bangkok.

With a population of more than 10.5 million, Bangkok is bigger than New York, and the student population of 435,000 attending just one of Bangkok's many universities outsizes more than 99% of incorporated U.S. cities.

ICA ministers regularly to about 250 attendees representing 40 different nationalities in downtown Bangkok.

Although less stringent than some, the lockdown policy has closed all businesses except for grocery stores, pharmacies, and gas stations. Also, no gatherings larger than 10 are permitted.

As with the Vienna and Panama City international churches, ICA ministers online to its members and others through posted prerecorded services, while making "personal" contacts by phone, email, and social media.

Although the financial status of ICA has been greatly affected, including staff working just 50% of their work hours, Metcalf says that outreaches continue and lives are being impacted for Christ.

"We have weekly outreaches to homeless Thai people and give food, face masks, and Bibles to the poorest of the poor," Dana Metcalf says. "My wife, Brigette, has an outreach to the Red Light District. They still do prayer walks and help many sex workers with physical needs and encouragement."

With a vision of seeing every obstacle as an opportunity to preach the gospel, the Metcalfs have seen God working through the pandemic by uniting the church online. They've also received testimonials of new converts coming to Christ as they watched an ICA online sermon and responded to the altar call.

Metcalf says the church is also experiencing unexpected growth and reach through the pandemic.

"Before the pandemic, our average physical attendance was 250," he says, "but as we have engaged online ministry, our average Sunday morning attendance is now over 2,000 people who are viewing our service each week. We have testimonies of people from other countries who have made a decision to follow Christ. Our reach has extended to many nations now and we are preaching the gospel to a much larger audience than ever before . . . God is not isolated and is still working powerfully in the midst of this crisis."

Metcalf readily admits the challenges can be daunting, but he sums up what this crisis has made evident: "Great needs produce great miracles."