Jaylens Challenge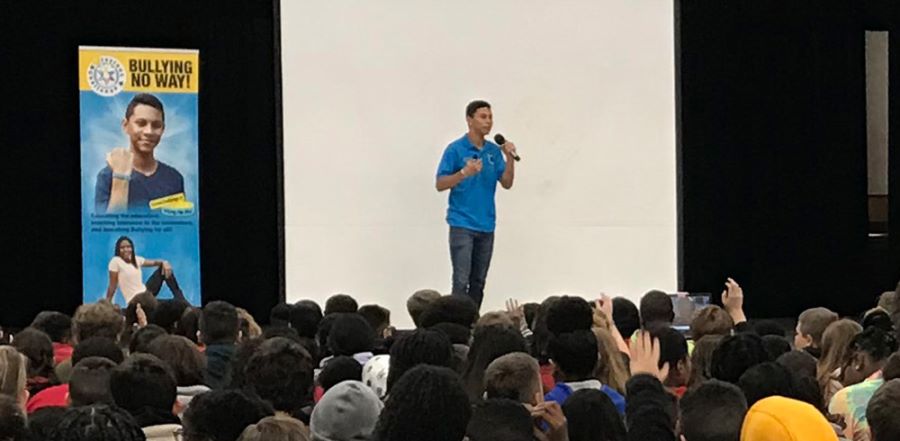 Don't miss any stories. Follow AG News!
Twenty years ago, Robin Arnold was in a hospital chapel begging God to spare her infant son's life. Stricken with meningitis, Jaylen's grim prognosis, if he lived, included blindness and deafness. As other Christians joined her in prayer, Jaylen received a healing touch. He is now a sophomore at
Southeastern University
in Lakeland, Florida, and a well-known activist through
Jaylens Challenge Foundation
, which he founded to battle bullying.
Although Jaylen is neither blind nor deaf, he was diagnosed with
Tourette Syndrome
,
Obsessive-Compulsive Disorder
, and
Asperger's Syndrome
. He deals with the constant reality of tics — involuntary vocalizations and movements associated with Tourette's.
Jaylen attended
Victory Christian Academy
, affiliated with
Victory Church
in Lakeland, where the family worships. The small-school environment proved supportive, but family circumstances necessitated a larger public school for second grade. As Jaylen tried to conceal the tics from other students, the stress made the situation worse. Other children started mocking and eventually bullying him.
Jaylen resumed classes at the Christian school, but as part of his healing journey, Robin took him back to the school where he had been bullied. In an effort to educate former classmates of her son's about his various diagnoses, she spoke of the reasons for her son's difficulties, and how bullying made him feel. Many of the children asked questions. The exchange led to other speaking invitations, local news coverage, and eventually Jaylens Challenge Foundation.
Although nervous at the time about sharing his experiences, Jaylen looks back on it as a positive experience.
"I realized it was part of God's plan for me," he says. "My mom told me I can't ever go wrong telling the truth."
The foundation's website shares stories and photos from an impressive array of invitations and awards, including the Give A Little Awards sponsored by the Discovery Channel, the TLC Network, and
Redbook
; a social media campaign with basketball star LeBron James; and trips to England to receive the Princess Diana Legacy Award for philanthropy. Jaylen has appeared on talk shows on major networks.
Victory Christian Academy continued to be a supportive environment as Jaylen's popularity and responsibilities increased. Principal Karla Collins says Jaylen's dedication to the cause amazed her. "We tried to keep school a calming routine where he could just relax and be Jaylen," she says.
Along with growing in his ability to share his story and facilitate positive change, Jaylen also grew spiritually. At age 15, his faith became "my relationship with God, not just something my family did." He also enjoys acting and has participated in drama, human video, musical theater, and spoken word categories at the Assemblies of God
National Youth Ministry Fine Arts Festival
.
His activism and philanthropy through Jaylens Challenge Foundation led to scholarship opportunities at Assemblies of God schools across the United States. Although he explored options farther from home, a visit to the Southeastern University campus convinced him to enroll at the Florida school. Majoring in film production, Jaylen eventually hopes to pursue his love of acting; meanwhile, he is acquiring skills in the production side of the industry.
Jaylen appreciates the support he receives at Southeastern University for continuing his activism alongside his studies. He travels regularly for speaking engagements and school assemblies geared toward awareness and prevention. With help from community grants, Jaylens Challenge provides an entire curriculum for workshops and intervention programs to address bullying.
Robin Arnold, who serves as the foundation's executive director, notes there are multiple components to bullying. Beyond the students who bully and those on the receiving end, there are angry parents on both sides. Attempts to address the issue often just result in more ire. The bully frequently is transferred to another school, where he or she simply finds a different victim. The foundation workshops incorporate the key element of a neutral party bringing all stakeholders together for solutions. In addition to curriculum, the Jaylens Challenge Foundation website offers free downloadable resources.
Robin says it is vital to address bullying early, as the practice starts to become a problem around second grade and escalates in middle school. Often bullied students fear it may become unbearable in high school, which leads some to suicide attempts, she says.
"Jaylen has an amazing gift for connecting with the kids who need help," says Collins. "He can scan the room and know who is struggling."
One girl planned to take her own life after school the very day of a Jaylens Challenge assembly, but after hearing Jaylen, she decided to confide in him. The young girl received help she needed, and now Jaylen says, "instead of being wilted and trampled on, she has blossomed."
Another student, Jhonelle Bean, now 26, began following Jaylen's work after seeing him on a Discovery Health Channel documentary on Tourette Syndrome.
"When my tic disorder started to develop in high school, Jaylen's story reminded me I'm not alone," Bean says. "His perseverance and heart for the work remind me of Jesus' words in Matthew 5: 'Blessed are the peacemakers, for they will be called children of God.' Jaylen has inspired me to show the same kindness toward others."
Both Jaylen and Robin urge teachers to be proactive in addressing any malicious behavior they observe. They also caution parents to be intentional about communication, watch for changes in their child's behavior, and stay aware of social media use.