Jesus Above All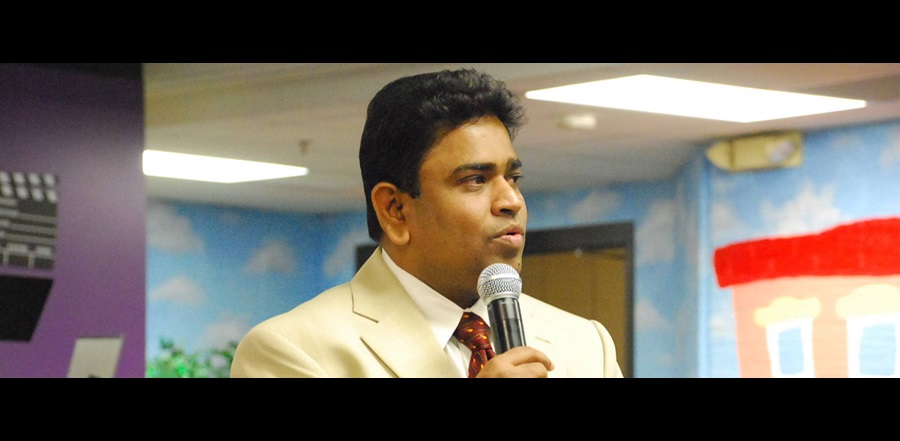 Don't miss any stories. Follow AG News!
Planting a new church is the Christian equivalent of opening a new restaurant. The failure rate is daunting.
But in greater Chicago, Austin R. Albertraj has achieved a breakthrough with his focus on an underserved ethnic group — highly educated India-born immigrants, many who come to the U.S. with H-1B visas to work in high-tech or health care.
This spring, Albertraj launched his third congregation to this ethnic group. Calvary Indian Church is located in suburban Naperville, 30 miles from Chicago and the state's second largest city, and nested on the campus of the Assemblies of God suburban megachurch, Calvary Church Naperville.
On a sunny Sunday in March, about 200 people gathered for the launch service at Calvary Indian Church. Worshippers came from a wide cross section of India's cultures. So Albertraj decided that five of India's 22 major languages would be represented. Throughout the service, women in elegant, saffron-colored saris sang worship songs in each of those languages with a praise band.
The sermon text emanated from John 14, that believers in God's peace have no reason to live in fear.
"Do not be afraid, God has a great plan," said the 50-year-old Albertraj, a third-generation Christian. "You can have all the money you could have and not have joy and peace that comes from God. If you are not a believer, now is the time of salvation. Begin a new journey with Jesus."
Albertraj shared a personal story with the congregation. As a young teenager, a mysterious illness afflicted him, confining him to bed for three months. Four people had to carry him around. One day, his mother knelt beside his bed and prayed, "God, heal my son. I submit him to you."
That marked a turning point, and a short time later, Albertraj overcame his illness. It also set him on a path toward Christian ministry. He graduated college and seminary in Chennai, India, beginning his ministry there before immigrating to the United States.
"I can testify that God is my healer and He is your healer," Albertraj says.
After the Calvary Indian Church service, there was a lavish celebration with home-cooked Indian food. Jayanthi Benjamin, who taught counseling at Moody Bible Seminary for 11 years, has known Albertraj and his wife Jamuna, for many years.
"This is part of God's vision for evangelism for the Indian community," says Benjamin, who was born and raised in India. "We want to bring the message that through Christ God can redeem."
CULTURAL BONDAGE
Benjamin believes many Indian American families face significant psychological and spiritual struggles.
"Cultural bondage is there," Benjamin says. "We have to be sensitive to that and bring the spiritual aspects so those bondages can be broken." She and her husband had a traditional arranged marriage, which is still common today among Indians. Later in life, this presented worrisome challenges for them. But she says their mutual Christian commitment guided them through.
Numerous new arrivals from India do not have the problems typical of other immigrant groups. Indian Americans often are well-educated, speak English fluently, and have high-paying careers in medicine and technology. There are about 3.4 million Indians, mostly Hindus, living in the U.S., more than at any time in history.
This means so much more than watching Bollywood feature films, being vegetarian, wearing a sari, or living with three generations under the same roof. Many families fill their homes with small shrines to Hindu gods. They might also worship at one of the new Hindu temples built in the past 30 years. One of the largest temples is in Bartlett, Illinois, a short drive from Albertraj's home.
Albertraj says many Hindus have no problem accepting the divinity of Jesus.
"To have Jesus as their eleventh god is no problem for them," he says. But they find the exclusive claims of the Bible and monotheism unacceptable.
After years of outreach to Hindus, Albertraj has developed a strategic approach that begins, not with an invitation to Sunday worship, but rather to a weekday small group — a meal followed by a short Bible study. He also introduces Indians to traditional American-style Thanksgiving and Christmas celebrations, typically including a gospel message.
Yet there is suspicion. More than once, Albertraj has heard the words, "I know you are trying to convert me." One story he shares concerned a husband named Mahesh
who drove his wife, Tansia, to the Bible study, but waited in the car. After the same pattern for several weeks, Mahesh came inside for the meal. Then, he listened to the teaching. Next, Mahesh asked a question. One night, Albertraj stayed to answer the Mahesh's queries until 3 a.m. Albertraj gave him a Bible. Mahesh read the entire book in seven days. One day, he came up to Albertraj and declared, "We are ready to take the baptism."
Today, this man and his wife host similar Bible studies for their Indian friends at their home in California, the state with the largest number of Indian Americans.
CHURCH MULTIPLICATION
Albertraj has seen the conversion process take months, even years. He's earned a reputation for persistence, according to Ron W. Heitman, pastor of Evangel Church in Hanover Park. The two of them met about nine years ago and soon discovered a mutual passion to reach the Indian Americans living in the Chicago suburbs.
In addition to Calvary Indian Church, Albertraj is pastor of Chicago Indian Church Assembly of God in Mount Prospect and Evangel Indian Church in Hanover Park. Evangel Indian Church is a parent-affiliated church in relationship with Evangel Church in Hanover Park.

"This is what burns in Austin's heart, not to plant one church, but to multiply," says Heitman, who also is Illinois District assistant superintendent in charge of Chicagoland church multiplication. "You are not stopping with one church." Albertraj recently started a new Bible study for immigrants from India at Oakbrook Community Church and, if all goes well, this will become a fourth startup.
For Heitman, too many U.S. churches are willing to send money and missionaries overseas, but not to the "uttermost parts of the earth" in their own back yard. At Evangel, in addition to the typical American church service, there are worship services for Indians, Spanish-speakers, and Mongolians.
"When we reach the demographic around us, we see a little bit what heaven's going to be like," says Heitman, no stranger to church multiplication. "Love your neighbor and reach your neighbor. The Hindu people are our neighbors whether we like it or not."
Albertraj says he realizes ultimately that conversion happens one person at a time. In one case, a Hindu man began attending small-group meetings and eventually was baptized. But his wife, Velliaiammal Ramanathan, told Albertraj, "We don't want you to come to our house because I know you will convert me, too."
Six years later, Ramanathan became deathly ill, lying in a coma in a hospital. Albertraj and church members came and prayed over her. He put headphones on her ears so she would hear Bible passages continually. Then something miraculous happened. The next day, Ramanathan awoke and said, "Get me a cup of coffee."
Astonished, her physicians checked her out and, finding no sign of illness, soon discharged her from the hospital. Several evenings later, Ramanathan met with Austin and said, "I am alive today because of your God and not my gods."