Keeping Faith After Amputations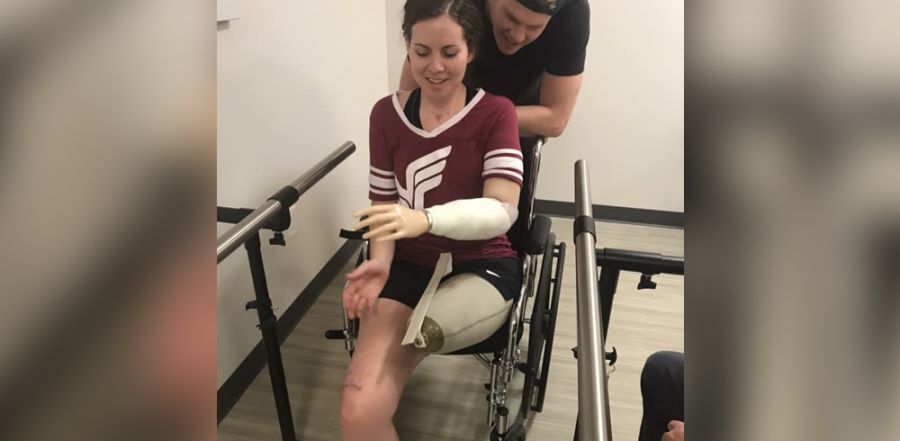 Don't miss any stories. Follow AG News!
Kaylene Murphy doesn't remember the moment the five-foot slab of rock gave way, amputating her left leg and crushing her left hand. In fact, she remembers very little of the accident that forever changed her life on June 30, 2018.
Murphy, 32, and her boyfriend, Josh Baker, were climbing at Natural Bridge, near Big Timber, about 60 miles east of Bozeman, where Murphy works as a U.S. missionary associate discipleship coordinator with Montana State University's Chi Alpha Campus Ministries chapter. Avid rock climbers, the pair made several climbs that day and decided to tackle one more before they returned to Bozeman.
Baker took the lead, while Murphy served as the belayer, the person who climbs second and keeps friction on the rope to ensure the first climber doesn't fall. About 40 feet up, as Baker placed his hand in a secure crevasse, the giant slab broke away and careened to the ground — directly hitting Murphy. The rock's force caused immense damage to her body: it amputated her leg just below the knee; smashed her hand; broke her back in multiple places; fractured her nose, sternum, scapula, collarbone, and ribs; punctured a lung; dissected an artery in her neck; and injured part of her brain.
Murphy was airlifted to a hospital in Billings, where medical staff worked to save her life. Doctors ended up amputating more of her leg, above the knee, as well as her hand. For three weeks, staff kept her sedated, unsure of her cognitive condition because of the brain injury and the ministrokes she continued to have due to the dissected artery in her neck.
But Murphy's mother, Crystal Christison, refused to consider negative possibilities for her daughter.
"I never thought she'd be paralyzed, I never thought she'd be a vegetable," says Christison. "The same power that raised Jesus from the dead lives in us, so I knew she was going to live and she was going to be OK."
Christison called on her relatives and friends, as well as Murphy's church family, Bozeman Christian Center, an Assemblies of God congregation of nearly 300, to pray. Soon, as word spread of the need, people around the world prayed for Murphy's recovery. Not only did Murphy survive, she retained her cognitive abilities.
After two months of hospitalization, followed by three months of rehabilitation, Murphy is now staying at her mother's home in Helena, continuing outpatient therapy to recover and build her strength. Baker has postponed his graduate studies and has moved to Helena to help care for his girlfriend.
Murphy has a prosthetic leg and hand and has relearned how to do many activities once taken for granted, such as dressing herself and buttering toast.
"There are moments when I'm still frustrated because I'm not where I want to be in my healing," says Murphy, who is naturally right-handed. "But those moments pass quickly."
She says her faith has made all the difference in her recovery. Before the accident, she consistently read her Bible, prayed, and journaled. Now she's using what she experienced in those times to draw strength. Murphy calls it a spiritual bank system.
"All those times of praying and worshipping that God used to refine me, teaching me about trust and love, made deposits into my spirit," she says. "Since the accident, I'm able to draw on that."
That attitude has impressed MSU Chi Alpha director Tim R. Anderson, who also is Murphy's friend.
"Kaylene loves God deeply and is always concerned that everything she does needs to glorify God and point people to Jesus," says Anderson, a U.S. missionary associate. "Even in the midst of her worst time, she was in the hospital praying for the Chi Alpha staff and for students in our ministry."
Murphy continues her therapy, knowing she still has a lot to overcome. But she is keeping her sights on returning to her work at Chi Alpha — where she has been on staff for a decade — by the fall. Murphy still has some remaining issues from her brain injury. The most pressing is a left lower quadrant field cut, making her unable to see anything in the lower left of her field of vision. That prevents her from driving. But Murphy is hopeful that full vision will return eventually.
In the meantime, she has started sharing her story, speaking to high school students and at women's retreats, about God's faithfulness and lovingkindness. Though some people might blame or question God for what happened, Murphy is adamant that she isn't a victim. She chooses to focus on God's goodness rather than her circumstances.
"Bad things happen, but God is good and has been gracious to me," she says. "He's going to keep sustaining me through this."