KidMin Conference Results in Cheers and Tears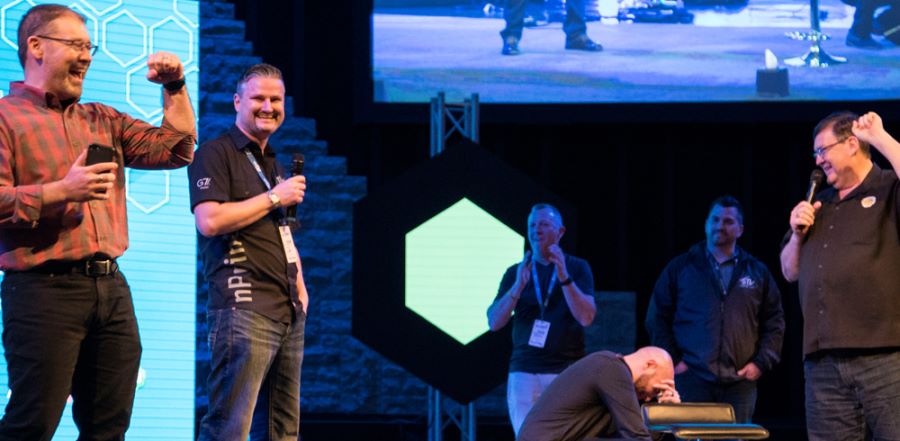 Don't miss any stories. Follow AG News!
By the time Josh Holdeman crumpled to the Central Assembly of God stage floor, overwhelmed with gratitude and weeping, few if any dry eyes could be found in the packed auditorium as the genuine emotion of the moment touched nearly every heart.
Holdeman was attending the 2018 KidMin Conference held April 11-13 in Springfield, Missouri. He had experienced a great week through connecting and reconnecting with many of the more than 1,200 children's pastors and workers, participating in some of the nearly 120 workshops offered, and being blessed by inspirational messages.
But on Friday the 13th, a day Holdeman will never forget, his week went from great to somewhere north of Mary Poppins' famous supercalifragilisticexpialidocious.
Unknown to Holdeman, who has been children's pastor for the past 11 years at Lighthouse Assembly of God in Richmond, Indiana, he had been nominated and selected to receive the Children's Ministries Big Impact Award. Mark Entzminger, national Children's Ministries director, explains the award is given to a children's pastor who sees obstacles as opportunities for God to do something big.
As Entzminger began to describe the ministry of the children's pastor who won the award — creating a meal program for kids, working with schools, working with children in poverty, Holdeman began to subconsciously check off the descriptors.
"I'm sitting there," Holdeman recalls, "and Mark [Entzminger] starts talking about the bus ministry, and I thought, That's odd, not sure how many other churches are in bus ministry… , but at the same time I knew there were all kinds of amazing children's pastors here who are involved in bus ministry."
When Entzminger finally called Holdeman's name, it took a moment for it to sink in. Amidst cheers and a thundering ovation, Holdeman came to the stage, swiping tears from his eyes; he could hardly believe he had been chosen to be honored with the award.
But what he still didn't realize was that the Big Impact Award came bearing gifts!
On stage, Entzminger introduced Holdeman to Jeff Anderson from Convoy of Hope. Anderson promised to deliver a pallet of food to the church to help with the children's feeding program Holdeman had begun.
Holdeman's seeping tears turned to streaming tears.
Next, Steve Furr from the Indiana District Council was introduced. He provided Holdeman with a $2,500 voucher for gas and repairs for the five buses the church uses to pick up children.
Stunned, Holdeman buried his face. "I was a mess," he admits. "I was just so overwhelmed."
But there was more!
John Fugitt of Imprint Graphics then let Holdeman know that he would wrap all five of the church's buses in graphics, plus provide customized graphic signage for the church for a year.
At this point, Holdeman's emotions and senses were struggling to comprehend what was taking place. He looked almost like a defenseless boxer, being rocked by punches — only these punches weren't causing any pain.
Then, with a personal hero of his, David Boyd, national director of Children's Ministries and BGMC, by his side, Holdeman was given the knockout punch. Boyd began to explain how Children's Ministries had turned to Speed the Light for help.
As Holdeman swayed, Boyd shared Speed the Light was providing Holdeman with some new wheels — and a bus to go along with them! A picture flashed onto the giant viewing screen revealing a 2014 Starcraft Starquest 14-passenger bus in top condition for his ministry.
Holdeman collapsed to his knees, falling forward with his face in his hands to the floor, weeping — many in the audience joining him in shedding tears, while clapping and cheering.
"The whole time I was up there, under my breath I was praying in the Spirit, thanking God," Holdeman recalls. "But they kept on going and going with the blessings, so I just kept on praying and thanking God . . . but it was all so overwhelming!"
Even then, the surprises weren't done. Because the bus was located in Florida and someone was needed to drive it to Indiana, Holdeman and his wife, Kristin, are going to be flown down to Florida for a week of vacation — and they can drive the bus back on the way home!
"Kristin was at the doctor's office with our two-year-old and six-week-old children and she was watching the event unfold live online," Holdeman says. "She knew ahead of time that I was getting the award, but didn't have any idea of all the additional items — she was sitting in the waiting room crying with me."
"There's a backstory to this," Emtzminger says. "Josh almost didn't come because he committed to doing a wedding on Saturday, but we were able to work it out with his pastor (who's also his dad) to cover things and convince Josh to come." (Josh was able to fly home Friday in time for the wedding rehearsal at the church.)
According to Entzminger, the presentation of the Big Impact Award was just one of many incredible moments and happenings at the 2018 KidMin Conference.
Other key events included the Prayer Experience, which was so popular and ministered to so many children's pastors that the plans for building one and the script at every one of the nine prayer stations were emailed to attendees following the conference; General Superintendent Doug Clay's message on the Holy Spirit was so outstanding that the altar was filled shoulder-to-shoulder with leaders seeking God long after the conclusion of the service; and BGMC celebrated $8.3 million in giving in 2017 with two 11-year-olds, Cadyn Entzminger and Emma Hoffman, sharing their stories of how they raised thousands of dollars for missions.
The AG KidMin Facebook page also saw numerous positive posts concerning the conference. A portion of Greg Dickinson's post read: "Being a part of AGKidmin18 and experiencing such great wisdom, support, and love being poured out was the experience that validated all what I was hoping for. I love being a part of the Assemblies of God." A post by Kimberly Horton read in part: "I loved the classes & learned so much!! I am so thankful I was able to attend!"
"There were three objectives for the KidMin Conference," Entzminger says. "We wanted to give children's pastors time to connect with God, spend time with likeminded leaders, and have access to training that can help them raise the effectiveness of their local church. Judging from our feedback, we were over the top in meeting our goals."
Two other awards were also presented during the conference. The Lifetime Impact Award designated for those with at least 30 years of children's ministry, was presented to Jim Calvin, the Southern Missouri district Christian Education and Children's Ministries director and Barry Jorris, children's pastor at First Assembly of God in Fort Wayne, Indiana. Nina During of Calvary Christian Church in Lynnfield, Massachusetts, was presented the Young Leader Award.
The 2020 KidMin Conference, "God Is," will be held March 11-13 at The Oaks Fellowship in Red Oaks, Texas. Although registration is not available until March 2019, conference information is already posted.