Laymen Honored for Service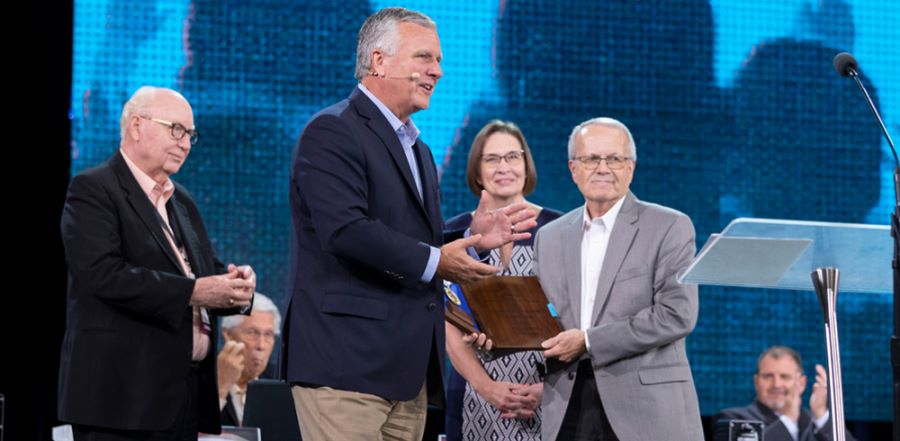 Don't miss any stories. Follow AG News!
ORLANDO, Florida — Larry Kolsky and Jimmy "Baldy" Boyd on Aug. 3 received the general superintendent's Medal of Honor, the highest award presented to laypeople in the Assemblies of God. The honor goes to individuals who have distinguished themselves through meritorious service to God, the Church, the community, and others.
Kolsky, 68, recently retired at the AG National Office in Springfield, Missouri, after over 32 years of employment. He worked as an electrician, lead maintenance technician, maintenance shop supervisor, and ultimately as administrator of the Buildings and Properties Department. Kolsky worked closely with the engineering, carpentry, and night maintenance staff to keep the national campus in shape.
General Superintendent Doug Clay said Kolsky displayed gifted leadership as well as technical skills, all the while modeling Christlike servanthood.
"His servant leadership has been an outstanding example to all who have worked with him," Clay said in presenting the award. "Larry displayed a lifestyle of the highest level of integrity, leading his staff to higher excellence." He noted that Kolsky often volunteered to stay at the national office overnight during inclement weather to ensure that generators would run properly if needed. George O. Wood, who served as general superintendent for a decade ending in 2017, joined Clay in making the presentation.
Kolsky and his wife, Sandra, attend Praise Assembly in Springfield, Missouri.
Boyd, 73, served as Light for the Lost director in the Peninsular Florida District for 13 years, raising more than $15 million during his tenure. Wayne Blackburn, who served as Boyd's pastor at Victory Church in Lakeland for 15 years, cited his magnetic personality, outstanding leadership qualities, and undeniable presence in any room in nominating him.
Recently, Boyd retired from his insurance agent career and he and his wife, Glo, moved to Oklahoma. He now is active at The Assembly in Broken Arrow. Ron K. Woods, who pastors at The Assembly, calls Boyd a modern-day Barnabas because of his faith and his encouragement to others.
"Baldy takes a vision and advances it with passion," Woods says. "He is a pastor's dream!"
Clay thanked Boyd for making life better for those around him.
"Baldy has an amazing gift and connects with people of all ages," Clay noted. "Baldy never fails to use his life gifts, time, and resources to advance the kingdom of God."