Leading with the Left Together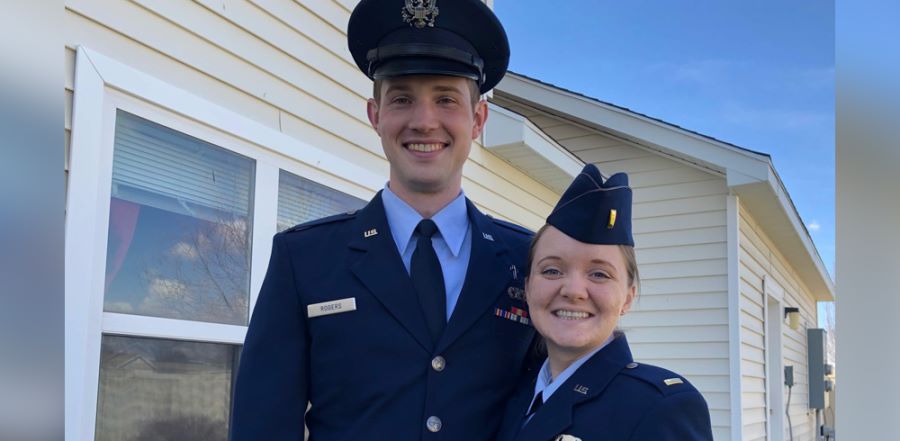 Don't miss any stories. Follow AG News!
When Emileigh Beth Rogers approached her husband, Jacob Edward Rogers, to help her co-author a blog aimed at ministering to dual-military couples, he hesitated. He didn't write blogs; she did. But soon, God gave them an opportunity to "Lead with the Left" together.
Jacob, 28, and Emileigh, 27, met while attending college in Springfield, Missouri. They married in 2014 after Emileigh received her Bachelor of Arts in International Multicultural Studies from Evangel University and Jacob received his Bachelor of Arts in Bible and Theology from Central Bible College, while serving in the Air Force Reserves.
While in college, Emileigh began blogging about her love for vintage and multicultural fashion.
"It was a way for me to explore my vintage intercultural style," she says. "It was a way to connect with people around the world around a common interest."
During their time dating, Emileigh decided she wanted to join the Air Force. Jacob immediately supported her decision, saying he felt she'd fit well into the military lifestyle.
Emileigh, commissioned as a second lieutenant in the Air Force in May 2018, is now working as a public affairs officer. Jacob received his Master of Divinity from Assemblies of God Theological Seminary (AGTS) in 2018, and he commissioned as a first lieutenant and fully appointed Air Force reserve chaplain on March 31. They currently are stationed at Mountain Home Air Force Base in Idaho. Jacob is an endorsed U.S. Missions chaplain with Chaplaincy Ministries.
The couple dealt with hurtful comments from church members, friends, and relatives about deciding to work as a dual military and dual credentialed minister team. Emileigh says she couldn't find a lot of online information or support for women in the military, male spouses, or dual military couples.
Drawing on her ongoing vintage blogging experience, Emileigh asked Jacob to help her co-author a blog for dual military couples — from a Christ-central perspective. Although hesitant at first, Jacob says he realized the need.
"A lot of military blogs were just very spouse-oriented or filled with cursing," says Jacob, who is an ordained Assemblies of God minister. "Either the military wife or the hardcore military member, and nary the two shall meet. We saw this gap where we thought we could be this spiritual voice not only about marriage, not only dual military, but what the life of a strong marriage in the context of being built on a relationship with Jesus looks like.
Leading with the Left officially launched in February 2017. The blog's name refers to the military practice of marching with the left foot first to keep everyone in sync. Emileigh says many of the blog's audience members are either already in the armed forces or about to join.
"It helps us connect with those who are the minority fringe, male spouses or females in the military or dual military couples," she says. "Even people who want to become chaplains or public affairs officers."
Molly Barclay met Emileigh in 2015 through a chaplain spouse Bible study while her husband, Andrew, an Army chaplain, attended AGTS with Jacob. She follows the blog.
"A lot of blogs and Instagram accounts for military wives are similar," Barclay says. "I refer people to Emileigh and Jacob's blog because between the two of them, they can cover so many aspects of the life: spouses, chaplains, officers, dual military."
Barclay, stationed with her husband at the U.S. Army post in Fort Riley, Kansas, believes online ministry opportunities for military members will only grow, especially to communicate with those who might not come into a base chapel.
Emileigh says the blog helps bridge the divide between military and civilian life for those not in active service.
"Blogging is our way to explain what this life is like," Emileigh says. "We hope that as people learn about our military life and the community it goes with, that they would pray for the military community. Maybe they will be called into the military community or chaplaincy like we were."
The couple will welcome their first child in September. Jacob says he will continue to co-author blog posts with Emileigh because he sees it as a way to minister as a chaplain.