Learned Lessons Paid Forward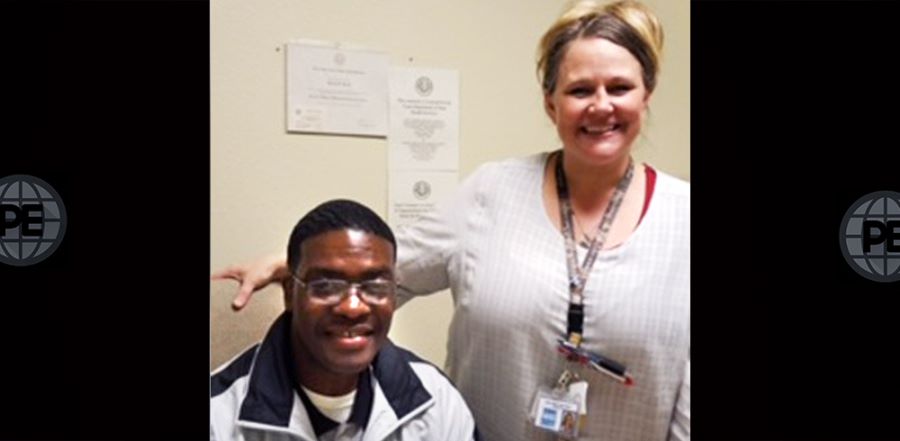 Don't miss any stories. Follow AG News!
Jimmy Doyle Smith spent 17 years incarcerated in Texas prisons. Now he voluntarily goes behind bars daily as part of his job.
Smith, 49, is a Management and Training Corporation (MTC) substance abuse counselor at the East Texas Treatment Facility in Henderson.
Yet from 1994 to 2011, he served time after being convicted of three felonies.
Smith says he began hanging out with the wrong crowd of peers after his parents divorced when he was 12. Smoking crack cocaine became his favorite recreational activity by his junior year of college, replacing the alcohol binges and marijuana highs of his teen years. He dropped out of college because he couldn't stay awake during classes.
"I started doing wild and crazy things I never dreamed I would ever do," Smith recalls.
That included selling drugs and hanging out with dangerous people.
"Street life became more addictive than the drugs," Smith says. "I kept telling myself to get out, but I became an evil person, terrorizing others."
Rival gang members beat him in a fight over a woman, requiring Smith to seek treatment at a hospital. Later that night at his home, Smith heard noises outside his door and figured the thugs had returned. He began shooting.
It turned out the people outdoors were members of a police task force waiting to arrest him on drug-selling charges. No one was hurt in the scuffle. However, in addition to a charge of possession with intent to deliver cocaine, Smith now faced aggravated assault and attempted capital murder felonies.
Despite the prison time awaiting him, Smith felt God had shielded him in the skirmish because the police didn't return fire.
"Usually if you shoot at the police they shoot back," Smith says. "This was a turning point for me, because I realized somebody greater than man was protecting me."
Smith also sensed a supernatural defense by God at the four prison units where he served his sentence. In prison, Smith connected with volunteers from Calvary Commission, a ministry founded by Assemblies of God U.S. Missions Chaplain Joe Fauss.
"Calvary Commission volunteers took a liking to me," says Smith, who finished his associate's degree in prison. "They have been a great support to me, right to this day."

Upon being placed on parole in 2011, Smith immediately moved to Calvary Commission's aftercare program in Lindale. During his 2½-year stay, Smith says Fauss trusted him implicitly, and acted as a shepherd and older brother to him.
Since his release, Smith has completed his bachelor's degree in social work and become associate pastor of Whitehouse Church of God in Christ. He is working on obtaining his master's degree in social work.
For the past year, Smith has worked as a full-time substance abuse counselor in the lockdown prison treatment facility in Henderson. His role includes instructing offenders how to overcome negative behaviors such as managing anger. Smith says he is able to supplement the curriculum with many personal examples.
Smith teaches 56 men in a dorm setting and has a caseload of 25 inmates he meets with in individual sessions. His contacts include some of the men with whom he served time.
"Some of the guys hate me," Smith says. "They see me as one of their own who got out and crossed the line to the other side."
But Alicia Dovel, the MTC program director who hired him, has no regrets.
"One of the things we learn in recovery is that in order to keep something we've been so freely given, we need to give it away," says Dovel, 43. "Mr. Smith freely gives it away. He has great passion for the field."
Dovel says the fact that Smith had a "street degree" that provided him firsthand experience helps in his job.
"We need more people in the field who are comfortable in their own skin," Dovel says. "They know they have been forgiven, they know they are living a better life."
Dovel appreciates that Smith has a history to offer that is instructive.
"I wish we had more people like Mr. Smith," Dovel says. "If everybody was unashamed and knew they could move forward past hurts and hang-ups, there wouldn't be so many people staying in their addictions for years."