Lending Helping Hands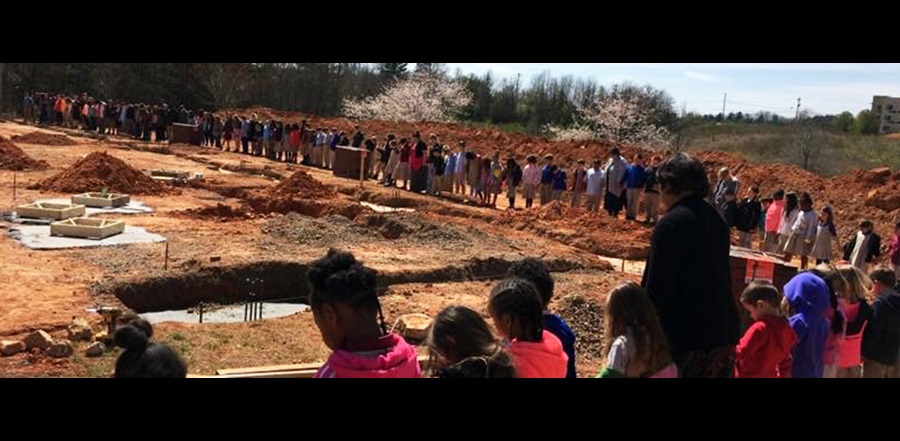 Don't miss any stories. Follow AG News!
Leaders of an Assemblies of God church in North Carolina are counting their blessings after receiving several helping hands for a major building project.
Cornerstone of Victory Church in Statesville recently completed a 16,775-square-foot, two-story addition to its school, thanks to assistance from U.S. Mission America Placement Service (U.S. MAPS) RV Volunteers. U.S. MAPS is a division of U.S. Missions.
"The U.S. MAPS team was an invaluable and integral part of this project," says Renee Griffith, principal of Cornerstone Christian Academy. "There is absolutely no way this project would have gotten completed without the U.S. MAPS team."
"The U.S. MAPS team worked in 100-degree heat in the sun," says Griffith's father, Grover Crosswhite, pastor of Cornerstone, which has an average of 100 weekly attendees. "They worked harder than the paid contractors. The job was completed with quality workmanship and integrity."
The first phase of the overall $2.1 million project, completed last summer, added five classrooms, a library, two restrooms, an office, and a storage room. Before the construction expansion, the school housed 160 students — 65 fewer than now — in temporary classrooms in the sanctuary and the lunchroom for two years.
Griffith says the U.S. MAPS team made the initial $1.4 million phase operate more smoothly.
"The MAPS team saved us hundreds of thousands of dollars," she explains. "On the electric work alone, they saved us $75,000. We now have the space we need for the school to grow."
After hearing Griffith give a presentation of the project in October 2016, U.S. missionary with U.S. MAPS Mark P. Rittermeyer "felt the Lord directing us to assist."
"We saw God make provisions in so many areas, including His prompting seven other couples to volunteer," says Rittermeyer, who along with his wife, MaryAnn, assisted on the project. "He provided safety for all of our team, favor with building inspectors and the general contractor, and provided the funds to complete the project."
Averaging 30 hours per week, Mark Rittermeyer, 65, built interior walls and ceilings, installed electrical and information technology wiring, and textured and painted. Meanwhile, MaryAnn worked 15 hours per week assisting with the school library's books and new shelving.
"The greatest satisfaction was the look on the faces of the congregation, students, teachers, and staff of Cornerstone upon completion of the project," says Rittermeyer, who lives in Lakeland, Florida, but spends up to six months a year on the road.
Phase two of the building project, set for spring 2019, will feature the construction of a new sanctuary and entrance, more classrooms, and four extra restrooms. The Rittermeyers plan to be on hand.
"We have not worked with anyone so excited about a project as Renee and her father," says Mark Rittermeyer, who has worked on 15 construction projects in the five years he has been a U.S. missionary with U.S. MAPS.