Life Lessons from Rodeo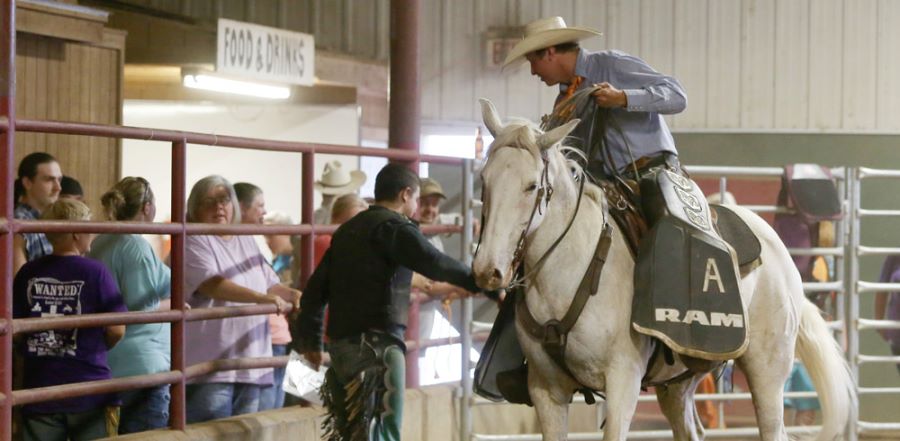 Don't miss any stories. Follow AG News!
U.S. Missions
rodeo chaplains
Joe and Kayla Kissel
agree with Winston Churchill's onetime observation that there is something about the outside of a horse that is good for the inside of a man.
So do the volunteers and donors who partner with From the Arena to the Cross Cowboy Ministries for
summer rodeo Bible camps
in Arkansas, Missouri, and Oklahoma. As campers learn skills and do chores, practical discipleship complements Bible classes and worship services.
Lyle Sanke
y
, a longtime professional who has qualified for the National Finals Rodeo in saddle bronc, bareback bronc, and bull riding, is a regular camp instructor. Joe Kissel, who is from Jasper, Arkansas, serves as chaplain and bareback riding instructor at his rodeo schools. Sankey believes there is no better place to learn hard work, perseverance, and how to handle both success and failure.
However, because travel and events can conflict with involvement in a traditional church, youth aspiring to rodeo careers need a strong faith and Christian friendships.
Paul Roten, horsemanship instructor from Harrison, Arkansas, finds multiple ways to correlate the Bible with skills learned at camp. For one thing, rodeo life can be dangerous. Safety is a priority, with campers wearing helmets and protective vests, but speed and skill also are involved. In some events, campers must try to stay on a large animal tasked with bucking them off. Roten says campers are often fearful, not just of a new sport, but from social or family problems. As he teaches skills and common sense, he reminds campers that God provides courage to climb back on an animal after a tumble as well as for life's other challenges.
Instructor Larry French, who also works for a group foster home, uses horses to demonstrate submission to authority. New campers quickly learn a ride goes better with a cooperative horse rather than a balky one. A well-trained mount is essential for roping and barrel racing. French, who lives in Morrilton, Arkansas, points out that Christians accomplish much more when totally surrendered to God. Correct procedures are also key. Just as approaching an animal carelessly or putting tack on incorrectly creates potential for serious injury, ignoring God's commands puts Christians at risk.
In addition, campers learn to serve. French believes youth who learn to manage their time, use tools, and care for animals develop important leadership skills.
Other volunteers work behind the scenes, in the kitchen or setting up the arenas. Some have a more personal investment. JoAnne Whisenhunt of Huntsville, Arkansas, volunteered at the 2018 and 2019 camps after her son Tyler, a former camper, died in a car crash. Grateful for his closer walk with the Lord after camp, she serves and provides scholarships in his honor. Whisenhunt's older son Cooper also volunteers.
Pastors Rod and Andrea Madding of
First Assembly of God
in Eureka Springs, Arkansas, have witnessed maturity in their daughter Melea, who has attended multiple camps over two years. Shyness made it hard to find new friends after the family moved from Wyoming, but the camaraderie at camp and encouragement from staff members helped her come out of her shell and push herself to learn new skills.
"Now Melea contributes to our family devotions and is bolder about sharing her faith," says Andrea. "She even played guitar for worship at camp." After being matched with a mentor camper her first year, Melea served as a mentor herself this year. Her parents received compliments about her reaching out to other campers and praying with them.
Another parent, Jeremy Ware of Willard, Missouri, says his daughter Madison's years of camp have been such a blessing that he decided to volunteer. Although rodeo training can be dangerous, he views it as a confidence booster.
"Camp provides an environment of faith for these kids," Ware says. "I've seen kids, including Madison, go from near tears to being ready to try again. You never know what future life experiences it's preparing them for." Lyle Sankey encouraged Madison to tackle bull riding, something few girls do. Her hard work paid off with a second-place ride at the closing rodeo.
At a 2018 camp, Madison responded to an altar call, realizing she needed to trust God.
"God's always there spotting you," she says. Not naturally outgoing at school, she has gained self-assurance and even produced a local rodeo as a "passion project" for an English class, raising funds for the ministry. Madison recently gave her testimony in which she admitted to being "uncoachable." Learning to accept correction in rodeo skills helped her realize she needed spiritual correction, too.
At 2019 camps, 70 people made salvation commitments to Christ and 53 water baptisms occurred.