Lights Up!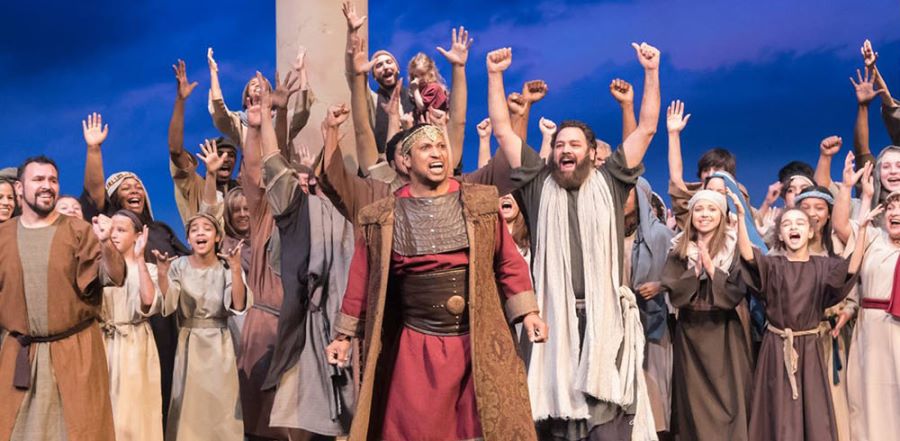 Don't miss any stories. Follow AG News!
Brent Grosvenor began preparing to perform on Broadway while still in high school. And his Lewiston, Idaho, regional theater director, Fred Scheibe — who had performed on Broadway for 14 years — saw real talent in Grosvenor. Scheibe predicted Grosvenor would be a star three years after arriving on the Great White Way.
"He'd groomed other performers who went on to Broadway or Hollywood, so he was convinced I would do the same," Grosvenor says.
After Grosvenor accepted Jesus as Savior in his senior year in high school, however, he felt he needed to leave behind dreams of attending Julliard and stardom to pursue more God-honoring endeavors, even though he didn't know what that would look like. His director took it hard and told Grosvenor to tell God that the world needed his talent.
God already knew. As Scheibe prepared Grosvenor for stardom, God prepped him for a different purpose. While studying for the ministry at Trinity Bible College in Ellendale, North Dakota, and then at Northwest University in Kirkland, Washington, Grosvenor sensed God leading him back to the stage — this time to use his talents not for his own fulfillment, but to introduce unreached people to the gospel and to disciple and strengthen Christians.
In 1997, Grosvenor and his wife, Tami, whom he met at Northwest, founded Lights Up, a professional theater company/ministry, based out of Crossroads Community Cathedral. The East Hartford, Connecticut, church has a 900-seat, state-of-the-art auditorium. Lights Up also travels throughout the United States and Europe, sharing the good news through the performing arts.
Grosvenor intentionally founded Lights Up as a musical theater company because, he explains, music and storytelling are simultaneous powerhouses.
"When you put music and stories together, you have the most effective way to influence someone's thinking and behavior," Grosvenor says.
He has the proof to back up his claim. In the thousand shows Lights Up has performed since its inception, thousands of people have dedicated their lives to Christ or made recommitment decisions. After each performance, the cast offers an opportunity to respond to the gospel, whether through a traditional altar call or, if performed at a theater, through a more conversational approach. In those instances, Grosvenor shares a brief message, based on the particular show running, and invites people to consider inviting Jesus into their lives.
"When people hear and experience these shows, their lives are touched," says his wife, Tami. "It's incredible to be part of it and to feel God's presence infused through the whole thing."
Even though Lights Up has experienced tremendous success in reaching people for Christ, keeping the ministry going financially has proved challenging.
"It's expensive to produce a Broadway-quality show," Grosvenor says, regarding the 35 yearly performances of various full-scale "runs" put on locally and on the road. As a nonprofit ministry, Lights Up relies on donations from organizations and individuals who have caught the vision.
An ordained Assemblies of God minister, Brent acts as the company's creative director — writing, directing, producing, and performing each show. Tami, content to be behind the scenes, serves as the production manager who handles sound, lights, and the set.
Lights Up's productions include annual holiday offerings, such as the Christmas shows The Richest Man in the Valley and Prince of Peace plus Easter's The Passion of the King. In addition, contemporary offerings, such as Lost in Vegas and Mystery, focus more toward reaching secular audiences. Lights Up also licenses the musicals to churches and theater companies. During Lights Up's 20th anniversary, the Grosvenors in June will take a new show, The Keys, to Poland, where they performed in 2016 to rave reviews and sold-out houses.
While Grosvenor may not technically be performing on Broadway, he is content knowing that all that preparation long ago has led to a more lasting and eternal glory.
"If I can use my talents to help people find answers to the real meaning of life, that's better than what Broadway could ever provide," he says.