Live Nativity Draws Church, Community Together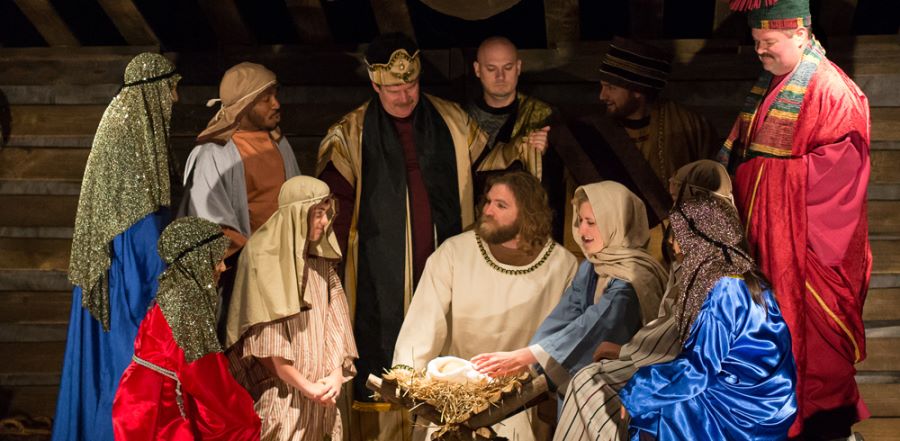 Don't miss any stories. Follow AG News!
Hope Crossings Assembly of God
in the small community of Jefferson, Georgia, typically has a congregation of about 125 people — though four times a year you can add a somewhat self-willed donkey, some sheep, and a pair of lamels (llamas masquerading as camels) to the tally.
In 2010, under the guidance of pastor Chris and Lisa Stephens, the church began offering its community a live nativity with multiple 20-minute performances in December. The idea for a live nativity first blossomed when a kindergarten teacher mentioned that when she asked her class what Christmas was all about only one child responded with "Jesus."
"We needed to do something about that," Chris Stephens says. "We needed to present Jesus in a way where a child could understand." And so, the live nativity was born.
The nativity story the Hope Crossings' congregants share with attendees comes from the perspective of a boy who is building an animal food trough to show his friends and family the next day, but then, Jesus needs it.
Although the purpose for the nativity was to share the true meaning of Christmas with children and the community, Stephens says that there have been some unexpected and even surprising
benefits that have resulted.
"When we originally started out, I was basically the one caring for the live animals, picking them up with a truck and a trailer and letting them stay in a pasture," Stephens says. "Then one year, the donkey decided he didn't want to go anywhere — I had a lead rope on him and he just didn't want to move out of the pasture."
Looking to avoid that frustration in the future, he contacted the local school's FFA (Future Farmers of America) advisor. Not only did the FFA want to help, they offered to house, feed, and deliver the animals to the church for each presentation, then return the animals back to their barn afterward.
Desiring to involve even more of the community in the event, Stephens made another call to the school; this time to the choral teacher.
"I asked if the choir might be willing to come and sing some Christmas songs for about 10 minutes before each show — they accepted!" Stephens says. "Now we have families, parents, and grandparents coming to watch their children sing and staying for The Live Nativity program."
This year
The Live Nativity
has a cast of 18 rotating actors and actresses from the church performing twice nightly on four different nights (Dec. 13-15, 18). But it's not just acting talent that's being utilized — many other congregants are needed to make the presentation a success.
"In addition to the actors," Stephens says, "we have people setting up three different structures for the production, setting out about 140 bales of hay (to sit on), people directing traffic, greeters, people making and distributing hot chocolate and cookies, sound and light technicians, as well as people dressed in black to move scenes as needed."
With so many of the congregants involved in the production, Stephens says the effort has helped bring the church together, building camaraderie across generations. He also notes that the school and businesses' generosity within the community have also been a part of the nativity's success.
One of the church elders initially was not excited about the nativity idea, but when he saw how it affected people, he became one of its biggest supporters.
"One of the things God revealed to him was how years act like insulation . . . and there's more than 2,000 years of insulation between the birth of Christ and people today," Stephens says, "but through a live nativity, the insulation is removed and it's just like being there — it impacts people's lives."
Since 2010, attendance has steadily grown, starting out with about 400 its first year to where about 1,500 attended last year.
A visitor posted to the production's
Facebook page
: "A family tradition for us. The story is told well. The music accompaniment is great! The live animals! You won't want to miss this! Bring blankets to sit under while you sip hot chocolate!"
Although the church didn't initially see an increase in attendance due to The Live Nativity, in recent years people have started to seek the church out and attend due to their exposure to the church through the annual program.
"We are now known throughout Jefferson and the county as The Live Nativity Church," Stephens says with a laugh, "and that's all right with me."