Living Free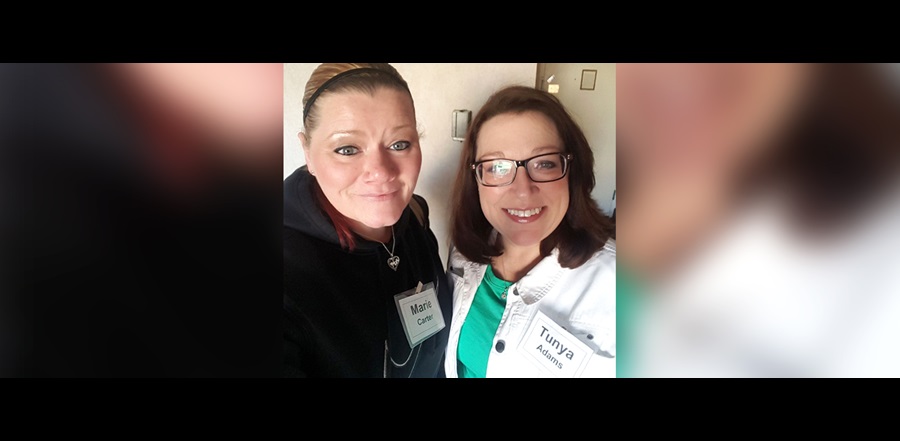 Don't miss any stories. Follow AG News!
For Marie Carter, addiction was so powerful it didn't matter who she hurt.
She began abusing drugs and alcohol at 14 years of age and by 17 had gotten pregnant in the hopes that starting a family would help her escape problems.
"I wanted to be a good mother, but I was selfish and wanted to party and be young," she says. "By this time in my life I was feeling hopeless and incapable of being a good person."
Continuing to struggle with addiction into her 20s, Carter used stronger drugs with more frequency. In a new relationship, and with more children to care for, she and her husband, Mason, spent tens of thousands of dollars to support their habit.
"We were nearly broke and selling everything we had, including our home," Carter says. "We were such a mess, and our children had to face the consequences of our actions."
Even after being arrested for stealing money from her sister-in-law, losing her job, and being threatened with losing custody of her children by social services, Carter still didn't feel motivated enough to turn her life around.
Finally, in the summer of 2013, Carter went to mandated treatment after being arrested. She says she sensed God telling her to reach out to Tunya Adams, who had ministered to her over the years, as pastor of Living Hope Assembly of God in Cynthiana, Kentucky.
At Living Free everything changed.
"My heart and my mind opened to God and what He had planned for my life," says Carter, 39. "I have many positive people in my life that are willing to help me when I struggle. I know what I must do to remain free from drugs and the lifestyle that once disabled me."
Clayton Arp, vice president of Living Free Community, says churches must be at the forefront in responding to the opioid crisis impacting the U.S., and nonresidential treatment options are an important piece of solving the epidemic.
"The statistic of addicts going into residential programs is only 11 percent," says Arp, who is a U.S. missionary. says. "We've got to take this out of these walls."
Living Free started almost 20 years ago, when Arp and John DeSanctis, then with Teen Challenge, saw the need for a nonresidential recovery program. They created Lifeline Connections using the Living Free curriculum created by Jimmy Ray Lee, a U.S. missionary and now Living Free president emeritus. In 2005, the program became the preferred nonresident ministry model for Adult & Teen Challenge.
Joseph S. Batluck Sr., president of Adult & Teen Challenge International USA, says Living Free is a dynamic program.
"They are on the front lines of community engagement and impact the lives of addicts and family members with the message of freedom and hope through Jesus Christ," Batluck says.
The Living Free model is required to be used in a community for two years before opening a residential U.S. Missions Adult & Teen Challenge facility, Batluck says.
The small group approach helps churches reach out to people experiencing life-controlling problems, including substance abuse, to find Christ-centered solutions.
The organization says the program is in more than 50 countries and nearly one million people have participated. Around 40 Assemblies of God churches in the U.S. have implemented nonresidential Living Free small group curriculum.
As drug use and overdose deaths grow nationwide and among churchgoers themselves, Arp says pastors must begin to address the issue directly. The Centers for Disease Control and Prevention estimates 64,000 people nationwide died from drug overdoses in 2016.
"The rural areas of America are hit the hardest," Arp says. "In the cities, we're used to some of this stuff, and there are programs."
The main ways Living Free helps an addicted individual are referral to residential treatment for someone who needs and chooses more intensive services; relationships that provide small group support for recovery; realignment to help families support the change in lifestyle; and re-establishment that focuses on those coming out of prison and residential programs to ease the transition into their communities and into a church.
"This opioid crisis is real," Arp says. "This is the heart of the church to reach out to the hurting."
Today, Carter, mother of four, works in Kentucky at a nonprofit called Bluegrass that provides outpatient support to individuals and families in the areas of mental health, substance use, and intellectual and developmental disabilities.
She advocates for people facing the same drug court from which she graduated.
"I live free from the bondage of addiction, but I never forget how quickly my life can get back to the bottom of that barrel where I was just four short years ago," Carter says. "I am grateful that I made the choice to walk into that church and was led to the Living Free program."
Adams continues to lead the Living Free class that Carter attends.