Living the Miracle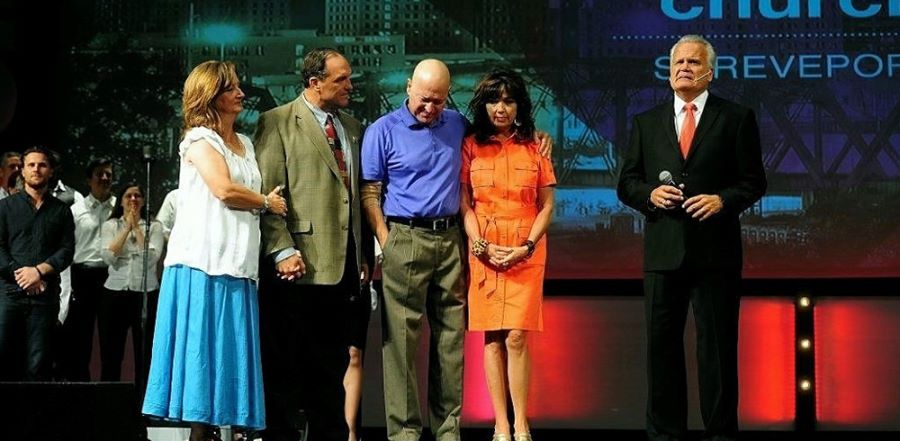 Don't miss any stories. Follow AG News!
When energetic and boisterous Assemblies of God U.S. Missions Chaplain J. Durell Tuberville strolls the halls of Christus Schumpert Cancer Treatment Center, he feels a special affinity with the patients. Tuberville is living with stage four of the disease himself.
In 2012, doctors gave Tuberville a maximum of two years to live. He's outlived his prognosis by twice that long.
When he heard the grim news at the age of 54, Tuberville determined to live out whatever remained of his life with as much gusto as he could muster.
Although Tuberville still is regularly receiving chemotherapy treatments, the rectal cancer in his body isn't growing, and he is considered "stable." Meanwhile, he is maintaining a full schedule.
Tuberville makes his living as a licensed professional counselor and licensed marriage and family therapist at Personal Solutions, the company he founded in Shreveport, Louisiana.
He also is chaplain for the Caddo Parish Sheriff's Department. Plus he is on the pastoral staff of Shreveport Community Church as a counselor. And he makes weekly visits to the cancer ward, talking with patients as they endure treatments. There he distributes copies of the book he published last December: Living the Miracle: How I Learned to See Miracles Along My Journey Through Cancer.
"They like talking to a survivor," Tuberville says. "I don't have anything to be embarrassed about. I just have cancer."
Tuberville's positive viewpoint has opened doors to discussion with cancer patients regarding living in the darkest days and eternity. Tuberville says he maintains an upbeat outlook because of his friends at church and his family, including Susan, his wife of 39 years.
"My work is with the people who are discouraged and downtrodden," Tuberville says. "But I have no reason to have a negative attitude. I've never questioned why I had cancer. I've always asked, Lord, what do you want me to do?"
TERMINAL DIAGNOSIS
For 28 years, the exuberant Tuberville has worked as an emergency response chaplain. His own crisis began in 2012 with the discovery of rectal adenocarcinoma stage-three cancer. Tuberville determined not to focus on circumstances, despite the prospect of a permanent colostomy, chemotherapy, and radiation.
In a one-week stretch, seven friends and relatives impressed by the Lord independently urged Tuberville to visit MD Anderson Cancer Center in Houston. Doctors there revealed that the cancer had metastasized to the lungs and advanced to stage four, the terminal level. Physicians gave him between 20 and 24 months to live.
But Tuberville placed more trust in God than medicine. He believed God could heal him.
Tuberville's friend Ernest Mitchell organized a two-hour prayer rally outside Tuberville's home. Around 125 firefighters, sheriff's deputies, police officers, emergency medical technicians, friends, and relatives gathered in a circle to pray against the cancer and for the chaplain who had impacted their lives.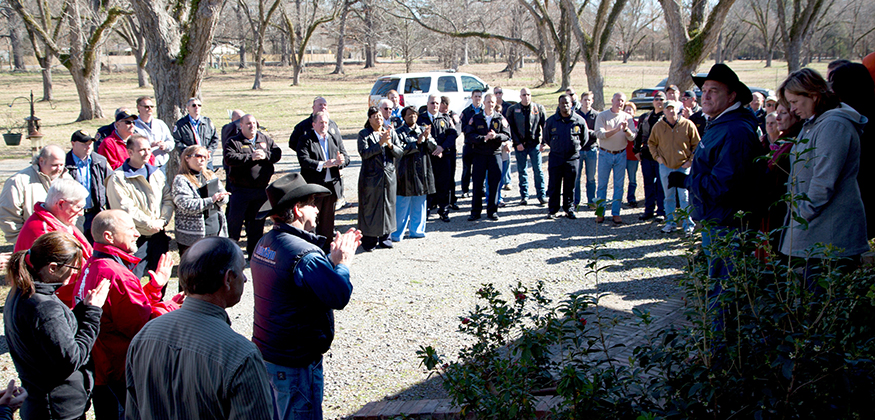 "I welcome the prayers of people all the time," Tuberville says. "I believe it when Scripture says the prayers of the righteous change things."
However, immediately afterwards his medical condition worsened. Tuberville lay near death for five days in 2013, in and out of consciousness, with clostridium difficile colitis. C. diff plagued Tuberville for four weeks, leaving him dehydrated and malnourished. He went home from the hospital with 17 prescriptions.
The amiable Susan, who started going steady with Durell in eighth grade, tenaciously grilled doctors about her husband's treatment. She cared for him through weeks of vomiting and diarrhea. Tuberville learned to lean on others to help maintain his five-acre property and to assist paying his medical bills.
Shreveport Community Church Lead Pastor Denny Duron already had experienced another staff pastor, Rick Berlin, enduring cancer. Duron relayed a word to Tuberville he said he received from the Lord: cancer wouldn't take Tuberville's life. Duron also told his associate pastor that he had made an idol of trying to prove himself to the Lord.
Tuberville realized he had tied his self-worth to being successful, that he thrived on the emotional gratification of inspiring others. Yet in his weakened condition in 2013, Tuberville couldn't accomplish any good works for the Lord.
"Pastor Denny was right on target," Tuberville says. "I wanted the Lord to be proud of me, but my pastor helped me to fully comprehend that God loved me no matter what. My pastor told me I needed to focus on my relationship with God, not so much on serving Him."
HEALING TOUCH
One Sunday Duron called Berlin and Tuberville to the church stage, anointed them with oil, and urged the 1,700 attendees to pray aloud for their healing.
"As people begin to pray in unison and agreement, it changes things," Tuberville writes in Living the Miracle. "God hears and answers according to our faith in His promises."
Tuberville and Berlin recovered enough to return to work as staff members.
"We watched God come through in a powerful demonstration of His healing and His sustaining power with both of these men," Duron says. "It's been a great experience for our church to walk with these men through their toughest season of life and to see them prevail."
Duron says Tuberville relies on God's Spirit for the energy to accomplish so much as an emergency response chaplain, associate pastor, and counselor.
"No one has impacted our city the way Durell Tuberville has," Duron declares. "There is no segment of our society that he hasn't touched in some way. He's the most full-time part-time guy you'll ever see."
Susan marvels at the journey her husband has taken. The couple married when they both were 18.
"He lives and leads by faith," says Susan, who is a school counselor at Evangel Christian Academy, which is affiliated with Shreveport Community Church. "No matter what's going on with him, he is an inspirer and encourager to all those around him."
Through the ordeal, Susan's faith has been strengthened.
"Circumstances are sometimes bleak, dire, and overwhelming," she says. "But whatever happens, God is faithful."
Tuberville's experience is an example of churches that are taking a more proactive role in helping congregants through their cancer journey.
Meanwhile, Tuberville welcomes reports from those who continue to intercede for him.
"People tell me all the time they are praying for me," says Tuberville, now 57. "That encourages me."
Tuberville's testimony is available at https://www.youtube.com/watch?v=z2Y4q9Dv6EE
Pictured: Emergency service workers encircle the family yard to pray for Tuberville (at right in cowboy hat)