Long-Distance Bookmobile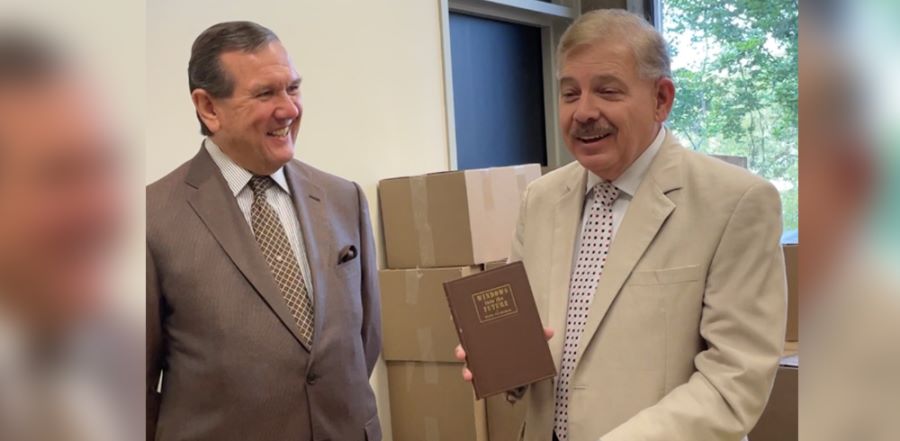 Don't miss any stories. Follow AG News!
Tom R. Shepherd loved to have a book in his hand — a different one every week.

The retired former Assemblies of God South Texas executive presbyter's library filled his ample home office in Amarillo with books on wall-to-ceiling shelves, not to mention an adjacent closet.

Billy D. Nickell, lead pastor of the AG congregation First Family Church in Amarillo, remembers the books under the front of his friend's traditional-sized desk, stacked on the floor, one end to the other.

"He had totally run out of places to put his books," says Nickell, 70. "All you could see were stacks of books arranged there." The overflow went into storage.

Shepherd may have recognized that his sizable collection could help equip the next generations of gospel proclaimers. At 81, Shepherd remained occupied teaching adult Sunday School at First Family Church and occasionally filling in for Nickell and other West Texas churches in the pulpit as needed. Even though his health had begun to falter, he determined to delay a decision about the books' destiny for some other day.

"He was an excellent preacher — very much studied, very articulate," Nickell remembers. "Tom Shepherd had a wonderful personality, an endearing spirit about him."

But on March 22, Shepherd collapsed in his backyard. By the time an ambulance drove him to a hospital, he had died of natural causes.

Tom Shepherd had never specified — even to his wife, Rosalea — who exactly should receive his books. She deferred to Nickell, the couple's pastor who married them after Nickell's wife, Bettye, had played their matchmaker.

Nickell recommended that the more than 3,000 titles go to Northpoint Bible College and Seminary in Haverhill, Massachusetts. The AG institution offers 245 students at the main campus and through online and 11 satellite campuses undergraduate and graduate degrees in biblical studies and practical theology.

Northpoint gratefully accepted the books as Shepherd's legacy, according to Thomas L. Harrison, the school's chief development officer.

"Tom Shepherd sounds like the pastor we'd all want to have in our life," Harrison says. The donation would be a substantial, welcomed addition to Northpoint's 48,000-volume collection. "These ministers' libraries are so precious to the family, entrusting the books to help train our current and future students."

Shepherd's working career actually began with the printed word. He worked at the Gospel Publishing House in Springfield, Missouri, for a short time before starting his full-time pastoral ministry at Lebanon First Assembly in Missouri. He later pastored churches in Joplin and Valley Park, Missouri, before moving to Texas, where he led Central Assembly of God in Seguin and Tomball Assembly of God. He retired in 2007.

Following Tom's death, Rosalea Shepherd catalogued her late husband's books, indexing each as she placed them into 76 identical boxes. Billy and Bettye Nickell volunteered to transport the books to the New England college in a rented 6.5-foot by 12-foot two-axle trailer hitched to the couple's pickup truck. Loading it took 45 minutes.

On Oct. 2, the couple set out for Massachusetts in their one-way long-distance bookmobile containing a literal ton of reading material. Bettye kept a video chronicle for Rosalea documenting their journey through Oklahoma, Missouri, Illinois, Indiana, Ohio, Pennsylvania, New York, Connecticut, and Massachusetts to Northpoint, 35 miles north of Boston at the New Hampshire boundary line.

Their trip proved uneventful until mid-afternoon Oct. 5, only 90 minutes from their destination. Nickell drove along the four-lane Interstate 84 in heavy traffic when a noise prompted him to check his rearview mirror in time to see the trailer's tire fly off the rim. He looked to the other mirror to witness the tire split and roll across the interstate, half to the right and half to the left. By a small miracle, he pulled over to a nearby travel plaza, where the rental company replaced the rim and tire within an hour.

As the trailer laden with books about the Book pulled into Northpoint at dusk, Harrison and his unloading crew of four awaited. In short order, they formed a production line loading carts and moving the 76 boxes into the library. Harrison unpacked the first box from the late minister's working library, Tom Shepherd's name stamped in every volume.

While in Haverhill, Nickell delivered a message in Northpoint's chapel.


Harrison notes that some of the Shepherd estate's volumes are "quite old."

"We could tell the depth of this man's scholarly appreciation for the things of God in every volume," Harrison says. "Think of the ministry investment this man made in building this library to accumulate these resources over a lifetime."

Harrison also appreciates the sacrifice the Nickells made in hauling the load.

"From West Texas to Massachusetts, they made quite the journey," Harrison says. "Our students will be the beneficiary of Tom Shepherd's knowledge, wisdom, and expertise."
PHOTO: Thomas Harrison receives the books on behalf of Northpoint delivered by Billy Nickell.