Long-Term Rebuilding Key to Caribbean Hurricane Recovery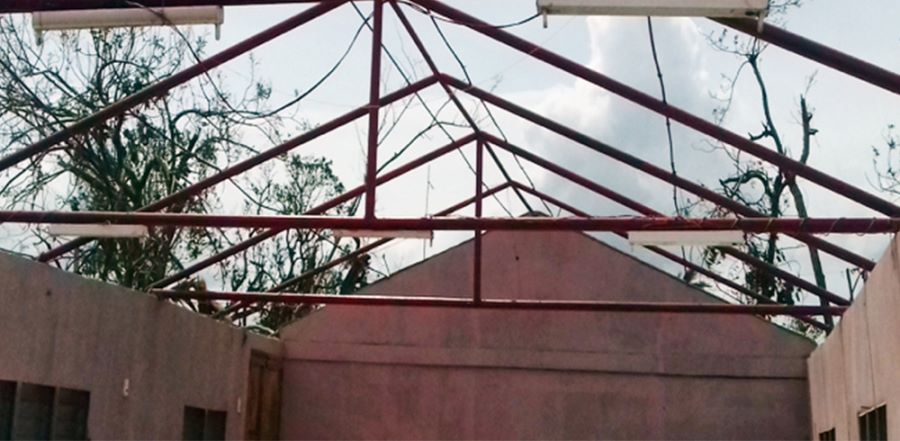 Don't miss any stories. Follow AG News!
By the time Hurricane Irma – a Category 5 storm – made landfall in Florida on Sunday, Sept. 10, it had already laid waste to many Caribbean islands.
The storm created a trail of destruction from the small island of Barbuda, 325 miles southeast of Puerto Rico, all the way to Florida. A total of 70 people are reported dead in the Caribbean and the southeastern United States. In the Caribbean, power outages create ongoing problems and residents are running out of food and water. Lawlessness is on the rise, as looters and thieves take advantage of the chaos, even attempting to plunder boats bringing relief supplies to devastated communities.
Maria is the latest hurricane to batter the Caribbean, having left much destruction on the island of Dominica and in Puerto Rico.
In the face of unparalleled crisis and devastation in Caribbean communities, AGWM personnel are standing shoulder-to-shoulder alongside national church leaders and pastors working to restore their communities. Convoy of Hope is also a key partner. For more information about how to support this initiative, visit giving.ag.org. A downloadable video with AGWM Executive Director Greg Mundis is available at crisisresponse.ag.org/pastors.
Dale Coad, who serves as AGWM Caribbean area director, provides the following report on efforts across the Caribbean and offers vital insight into the recovery process.
Stirred by images flooding the airwaves following Irma's path of devastation, our immediate response is to help. In some nations, there is an immediate and desperate need for water. In many of the other nations, the greatest need is short-term and long-term repair of their facilities.
My passionate appeal is to let our national church partners most impacted by the disaster be the ones to define for us what their actual needs are.
As missionaries, we can't assume we know specifically what the needs are. Rather, we join with our national church partners to assess the needs and then formulate long-term strategies to meet those needs. Our approach to disaster relief and response must keep a long-term view.
Across the Caribbean, key missionaries and church leaders are already forming such alliances and gathering necessary information. Below are three examples.
THE TURKS AND CAICOS ISLANDS
In the Turks and Caicos Islands, the main church's roof was partially destroyed, and rain is already destroying the church with mildew. Members of the congregation whose homes were damaged are out in the elements. The church also lost their Haitian sister church – both that church building and its members' homes were destroyed.
Missionaries Mike Peterson, David Swafford, Steve Puffpaff, Terry Castleberry, and Dale Eytzen are recruiting teams to come to the islands once a thorough assessment is made for long-term effectiveness.
BARBUDA
One of the first islands hit with Hurricane Irma's full fury, Barbuda (of the island nation Antigua and Barbuda) suffered damage or loss to an estimated 95 percent of all buildings.
Barbuda has a population of fewer than 2,000 people. As Hurricane Irma approached, the people were trapped. One observer said the frantic exit of those who could leave the island reminded him of the World War II exodus of Dunkirk, when every small boat that could possibly float was used to evacuate the British from France.
In 2005, AGWM helped the Barbuda Pentecostal Assembly of God add a Christian education and storm-shelter wing on their building. Barbuda was extremely vulnerable to storms and, thankfully, through the construction of the shelter wing, AGWM had already helped this church prepare for the fury of Irma. Very little damage was sustained to the building, rendering the church better able to serve its devastated community.
CUBA
Irma, the worst hurricane to strike Cuba since 1932, spent 24 hours grinding away over northern parts of the island. More than 4,000 homes were damaged. Downtown Havana was inundated with knee-high floods (some areas sustained water up to 3 feet deep), and thousands of acres of cane sugar were destroyed. Ninety percent of the city lost electricity.
More than 3.1 million people — a quarter of the island's population — lost water service. Small beach towns were destroyed on the northern coast, causing millions of dollars in losses and leaving thousands homeless. At least 10 people were killed.
Eventually, one pastor braved the treacherous journey from a northern province to Havana to bring a report to Cuba Assemblies of God General Superintendent Eliseo Villar. More than 100 buildings (churches, house-churches and pastors' homes) were severely damaged by Irma. Of those, 15 churches were completely destroyed.
Villar has submitted the paperwork requesting permission to import galvanized roofing and steel purling, like we did with Hurricane Matthew last year. He underscored how important those supplies were to help them rebuild. While we are thinking of relief, he is thinking of rebuilding.
Missionaries David Speer, Paul Duda, Daniel Irizarry, and Joe Crews are helping Villar assess the greatest needs. Joe Crews is in Havana with the Executive Committee of the Cuba AG traveling to the affected areas.
One of AGWM's core values is long-term relationship with our national church partners. We endeavor to empower the national church's leadership with the resources they ask for and to give them encouragement in their time of need.
It has been seven years and seven months since Haiti was shattered by a 7.0 magnitude earthquake. Hundreds of thousands of lives were lost. While that catastrophe has long since vanished from the news, AGWM personnel in Haiti and the Haitian church are just now winding down their work to restore and rebuild. Following Hurricane Irma, long after the flurry of media attention and short-term relief efforts have dried up, residents will be struggling to rebuild their lives. Together with our national church partners, we will be with them.