Loren Triplett Dies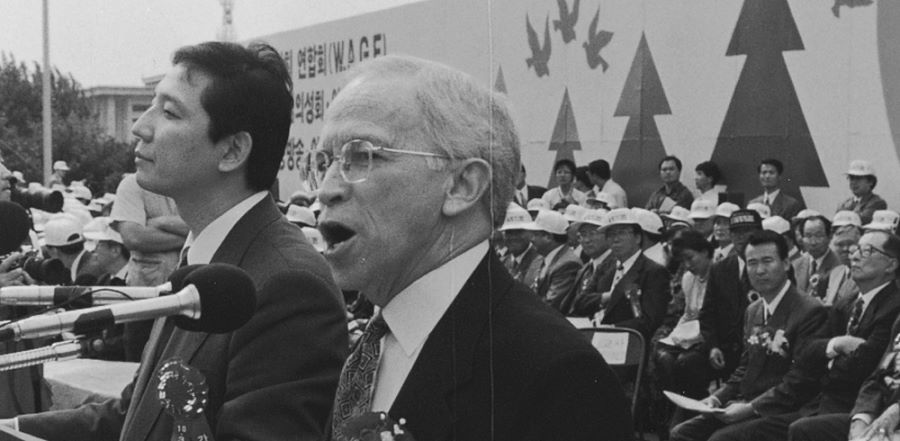 Don't miss any stories. Follow AG News!
EDITOR'S NOTE: In lieu of flowers, the Triplett family has requested that donations be made to a memorial fund which will help finance the Fire Bible in a new language. Visitation will be at Central Assembly of God in Springfield, Missouri on January 2 from 11 a.m. to 1 p.m. with the funeral service immediately following at 1 p.m.
Loren O. Triplett, former Assemblies of God World Missions executive director and veteran missionary to Nicaragua, died on Sunday, December 25 in Springfield, Missouri. He was 90 years old.
"Brother Triplett was a beloved servant, preacher, and missionary statesman in the Assemblies of God," says AGWM Executive Director Greg Mundis. "His passion for the Lord was unparalleled, and his heart for the lost was so often expressed with a tear in his eye. His exemplary leadership and character are still a pervasive influence in our missionary family."
Triplett was born July 5, 1926, in San Jose, California, to L. Otis and Gladys (Behnke) Triplett. His parents' godly influence had a lasting impact on his life. He attended Bethany Bible College in Santa Cruz, California, and after graduating in 1946 he immediately set out in full-time ministry. On Jan. 1, 1949, Loren married Milly Johnson, and the young couple began pastoring in Nebraska.
He was serving as Christ's Ambassadors vice president for the Nebraska District when he and his wife sensed God's call to serve as missionaries to Latin America. After raising funds, they and their two oldest children, Donald and Debora, arrived in Nicaragua in 1954. For the next 12 years they evangelized, planted churches, directed a Bible school, and wrote and published Spanish literature. Two more children — Marcus and Timothy — completed the family.
In 1966 Triplett was appointed director of Editorial Vida, the Spanish literature department of AGWM. In 1973 he was named regional director for Latin America and the Caribbean, a post he held for 16 years.
At the 1989 General Council in Indianapolis, Triplett was elected executive director of Assemblies of God World Missions. During his eight-year tenure, the number of AG members and adherents overseas grew from 16 million to 25 million. The number of Bible schools increased 43 percent, and the ranks of national ministers rose 48 percent.
After his retirement in 1997, the Tripletts continued to minister in both the United States and overseas.
In addition to his wife, Triplett is survived by his children: Don and his wife, Terri, missionaries to El Salvador; Debbe Goff and her husband, Lon, of Springfield, Missouri; Marcus and his wife, Janette, pastors of Thee Garden International Fellowship in Daytona Beach, Florida; and Tim and his wife, Suzan, of Canyon, Texas; and many grandchildren and great-grandchildren.
Mundis says he will always treasure his relationship with Triplett.
"He spoke prophetically into my life on several occasions, and his fervent words continue to affect my life and ministry," Mundis says. "I have often quoted his declaration that 'You don't measure yourself by your success but by the unfinished task.' We will miss Brother Triplett immensely, but we know he has now reached the reward he so zealously sought — to be with Jesus."
In 1997, Loren Triplett wrote his final piece for AGWM's publication, Mountain Movers. He closed with this statement:
"Let us faithfully move on in His will. The eternal city awaits us. I'll see you there."
PHOTO: Loren Triplett addresses an audience of one million at the World Assemblies of God Congress in Seoul.