Losing and Winning in Sin City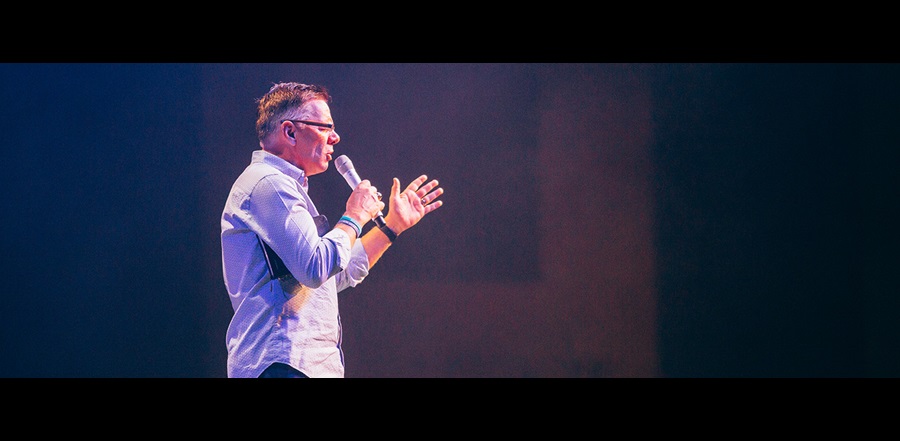 Don't miss any stories. Follow AG News!
Paul Marc Goulet, senior pastor of International Church of Las Vegas (ICLV) once fought hard to avoid pastoral ministry.
At age 33 in 1992, he had mapped out a rewarding career path as a professional therapist managing a staff of 17 at a Christian counseling center in Sacramento, California. Joining the clergy ranks didn't appear on his bucket list.
"I was terrified of pastoring," Goulet admits. "And I did not know even how to function as one."
ICLV has experienced countless blessings as one of the 20 largest megachurches in the Assemblies of God, ministering from three campuses with a dozen weekly services reaching more than 5,200 congregants. Goulet, however, has faced tough challenges.
His first hurdle involved yielding to the Holy Spirit's promptings 25 years ago to replace the resigning pastor at the former West Valley Assembly of God in Summerlin, a valley suburb 10 miles from the Las Vegas Strip of lavish hotels, entertainment palaces, and nonstop casinos. The 200-member church rented space in a storefront building next to a bar. Funds were tight.
Leveraging his counseling expertise, Goulet saw steady growth at the renamed ICLV within two years. However, during this time notable encounters with the Holy Spirit turned the ministry upside down. Praying alone among the cliffs of Red Rock Canyon, Goulet began singing in tongues and laughing in the spirit, an unusual experience for him. The joy of the Lord infected his preaching, interrupted at times by spontaneous laughter.
Subsequently, God saturated the congregation in a surprising way. Many fell down under the power of the Holy Spirit, but others balked, resulting in 150 people leaving the church. The public rejection distressed Goulet deeply.
"I didn't know what to do," Goulet says. "It was like being in an ocean storm with no oar or sail."
Initially he petitioned God to halt the moving of the Holy Spirit, a decision that caused a spiritual drought. In personal turmoil, Goulet fled to the Red Rock prayer mountain, spending hours on Fridays anguishing before God.
In 1996 he attended an AG seminar in Missouri, where a new fresh touch of the Holy Spirit enveloped him. Racing to the altar and falling prostrate, he sensed God's directive to die to sin again, and relinquish pride and ego. Returning home, he repented in front of the congregation for grieving the Holy Spirit. A powerful second-chance breakthrough in ministry followed, with attendance numbers exploding.
Goulet leads ICLV stressing four basic principles: the power of the Holy Spirit; building a healthy congregation mentally, emotionally, and relationally; sound, biblically based teaching; and creative outreaches.
The church reaches a diverse ethnic and socioeconomic community. Millennials and seniors blend together seamlessly at ICLV, which is an eclectic multiethnic mix of Anglo, Hispanic, African-American, Hawaiian, Armenian, Brazilian, and Filipino congregants. Donna Cooley, a faithful member who serves in a hospitality ministry, walked into ICLV traumatized by a family tragedy. Broken, she experienced genuine love and concern on her first visit.
"The people in the church placed value on me and because of this I found a relationship with the real Jesus," Cooley says.
The greater Las Vegas area welcomes ICLV's outreaches such as fighting the sex trade by providing Bible studies for strippers and dancers, and supporting a safe house for those leaving that lifestyle. It also has produced a 28-minute documentary called Trafficked No More that police departments across Nevada use for training personnel.
In 2012, the Las Vegas Police Department requested the church to conduct a prayer walk in a violent neighborhood known for repeated emergency calls. Following the prayers, no one called 911 that evening. Prayer walks in troubled spots are commonplace now.
In 2014, ICLV launched a tutoring program in a grade school in an effort to help solve a 50 percent dropout rate. The church operates a multiphase program through a separate nonprofit Southgate Learning and Resource Center from its South Gate Dream Center campus. The program includes one-on-one tutoring and mentoring for at-risk students, providing clothing and backpacks, and food. In 2016 the church donated 460,000 pounds of food to needy school families.
Globally, ICLV is active in assisting church plants in India, Singapore, and Europe. For example, ICLV helped to establish Grace Assembly of God, a Faridabad, India, congregation that started with 50 people and now has 10,000 members. Goulet has conducted leadership training sessions in France since 2007, equipping thousands of pastors.
In the course of ICLV's blessings, Goulet has faced another serious hurdle: a transient ischemic attack last November, followed by a major stroke in December. Recovering on a low-stress regimen for six months, he has handed day-to-day ICLV operations to his wife Denise, senior associate pastor plus the church's executive team. At 59, he recently returned to preaching.