Mama Bev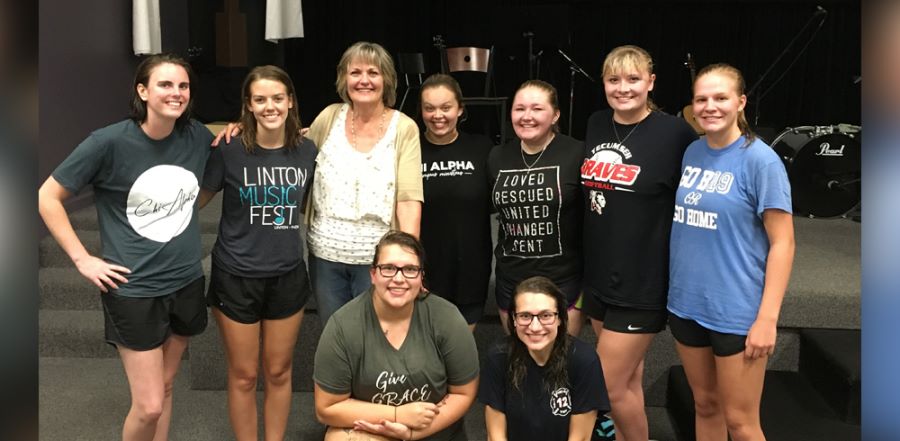 Don't miss any stories. Follow AG News!
Many people in their 60s are enjoying grandchildren and retirement, or at least thinking in that direction. The number who also lead a campus ministry, though, is considerably smaller.
Beverly L. Freund became Chi Alpha Campus Ministries director at the
University of Southern Indiana
in Evansville in 2009 at age 56. She became a fully appointed
U.S. missionary
in 2015.
Freund worked in corporate transportation for more than 30 years, much of that time in her hometown of Evansville. However, acquisitions and management changes resulted in a 2004 move to the Muncie suburb of Pendleton, to keep her job. Although initially she didn't want to move, she felt God urging her to go, and sensed God's confirmation when her husband, Rick, also found employment in the area.
The relocation proved to be uncomfortable. Freund had favor with corporate management, but after 3½ difficult years, her supervisor unexpectedly terminated her. However, as she navigated an unemployment case and fought for earned benefits, Freund found God already had orchestrated her marketplace departure.
Although Freund, who grew up in the Assemblies of God, had sensed a call to preach in 1996, she simultaneously felt God telling her to wait. She continued her corporate career while occasionally ministering in churches. With the move to Pendleton came an opportunity to volunteer with a Chi Alpha group being organized at
Ball State
by Tad E. Finch, then pastor of
Faith Church
. After losing her job, Freund reached out to Indiana District Superintendent
Don Gifford
, who suggested she obtain ministerial credentials. Then she received an email from another Chi Alpha volunteer telling of a director opening at the University of Southern Indiana, back in Evansville.
Freund contacted Jeff S. Alexander, who served as
Indiana District
Chi Alpha director for a decade before joining the
national Chi Alpha staff
as personnel director in 2018. Amazingly, Alexander had been praying about the USI opening when Freund called.
"I had just told God it really needed to be someone from Evansville," says Alexander, 49. "The timing was incredible."
The support-raising process didn't deter Freund. She realized she could work out the details of her benefit settlement and transition to missionary support. She already had good church relationships, and funding came together in just five months.
Now, a decade later, the 66-year-old grandmother leads a thriving campus group. Husband Rick found employment again back in Evansville before retiring. He now assists with Chi Alpha and with
Royal Rangers
at the church they attend,
Oak Hill Christian Center
. Daughter Leigh Ann Sheats has helped with the ministry, and son-in-law Michael Sheats, daughter Amee Lancaster, son Joel, and five grandchildren are supportive.
Alexander says Freund's unique background has helped the USI group to grow.
"Many students these days do not come from strong families, and they love 'Mama Bev,'" he says. "Her age and life experience are a plus, not a hindrance. She's authentic, and so good at empowering the kids to lead well."
Freund heads up an active social media presence and a full slate of fellowship, worship, and Bible study opportunities, following Chi Alpha's leadership model in which staff members disciple student leaders who then disciple other students. She also uses a "Gospel Basics" resource, because students often come to school with religious knowledge, but not a relationship with the Lord. Freund applauds her staff of volunteer help. Missionary associate Karissa Salm, a recent USI graduate, will be the first full-time staff member and is currently raising support. Freund has no immediate plans to retire from ministry.
"I'm inspired by Caleb," she says. "He felt just as good entering the Promised Land as he did 40 years earlier."