Mesmerized by Chi Alpha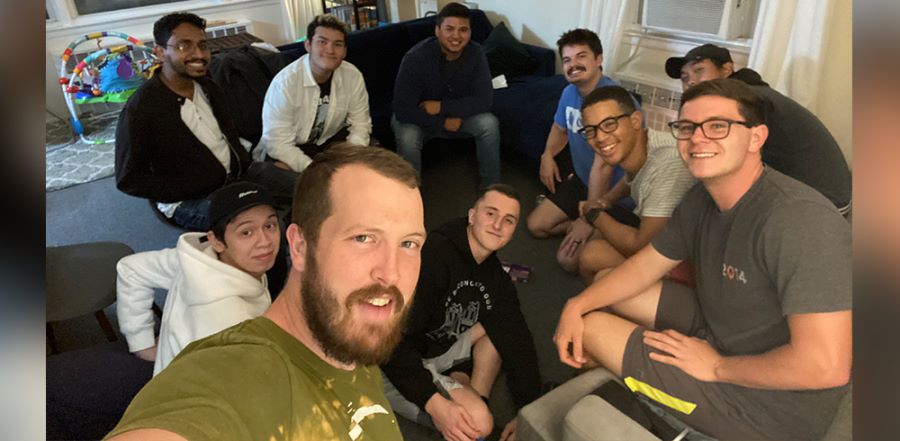 Don't miss any stories. Follow AG News!
Most
Chi Alpha Campus Ministries
staff leaders first became involved in the program while students attending mainstream colleges and universities.
Jordan and Samantha Parker, part of the Chi Alpha team on the campus of
Queens College
in New York, graduated in 2017 from the
University of Valley Forge
, the Assemblies of God school in Phoenixville, Pennsylvania.
Once they obtained their degrees, Jordan became youth pastor at
Neighborhood Assembly of God
in Belmore, New York; Samm, with a bachelor's degree in psychology, started working for a nonprofit social services agency on her native Long Island.
"We didn't know about Chi Alpha as undergrads," says Jordan, who has a bachelor's degree in pastoral ministry and a master's in religion. "I went to Bible college, felt a strong call to ministry, and went to work through a local church."
However, through a mutual friend, they met Craig W. Richey, who led a team from the
University of Texas-San Antonio
to launch the Queens College Chi Alpha. They attended some early Chi Alpha gatherings at the school, their first exposure to the college-based ministry now active on 303 U.S. campuses.
"We had never seen anything like the way they loved those students and drew them to Jesus," says the 24-year-old Jordan, who became an ordained AG minister in May.
"We had never seen such intentional and passionate discipleship that truly transformed people," says the 24-year-old Samm, who is finishing a master's degree in social work. "The Holy Spirit was so evident in their lives."
The experience of true Christian fellowship and disciple-making so impressed the Parkers they decided to leave their jobs and join the Chi Alpha team at Queens College. They quickly raised financial support and became part of the staff last year, helping in worship services, teaching, and leading small groups.
Reaching students for Christ is a natural fit for Jordan, who didn't know the Lord growing up. He heard the gospel for the first time as a senior in high school after his football coach invited him to a youth service.
There now are eight Chi Alpha staff members at Queens College, which is part of the City University of New York system. The Parkers lend ethnic diversity to an otherwise white Chi Alpha team. Jordan is African American and Samm has a Salvadoran mother and Italian father. Fewer than one in four students on the
Queens College campus
is white. Roughly one in three is Asian, and one in three is Hispanic. The campus has 18,500 students.
"I like the challenges of having so many backgrounds, personalities, and stories," Jordan says. "All those people represent different aspects of God's Kingdom. We want to unite them around Jesus."
The Parkers attend
Bethlehem Assembly of God
in Valley Stream, New York. Pastor Steven Milazzo, 58, says the church has benefited from their ministry.
"Jordan and Samantha make a tremendous team as missionaries," Milazzo says. "I've seen their passion for students. Jordan has a way of influencing and blessing young adults. With so many nations coming to New York, college ministry is a tremendous harvest field."
NEW YORK PLANTING
Richey and his wife, Kaitlyn, followed a more common route in becoming Chi Alpha leaders. Both accepted Jesus as Savior while part of the Chi Alpha group at the University of Texas-San Antonio.
Craig joined a small group as a Christian, accepted the Lord, then felt called to missions. He joined the San Antonio Chi Alpha staff after graduating, but soon sensed a call to New York, even though he knew no one there.
"God continued to confirm that we needed to move, answering our questions and our fears," says Richey, now an ordained AG minister and U.S. Missions Chi Alpha missionary. "New York is the seat of culture, influence, and economics. How did we not have anything going on in the colleges?"
He says he selected Queens College as a logical location to launch a group because of the heart for missions at nearby Bethlehem AG. The Chi Alpha group gained official campus recognition as a student organization in February 2019.
Jordan, a Maryland native, and Samm, from Long Island, are the only staff members not from Texas. Richey is grateful for what they will contribute to the team. He notes they are voracious readers and both pursued master's degrees because of their hunger for more knowledge.
Richey says one of the reasons Jordan left youth pastoring was for the opportunity to connect with more non-Christians.
"Jordan and Samm are serious about seeing lost people saved," says Richey, 28. "Jordan is a thinker who asks incredible questions."
Before Richey arrived, there had been no Chi Alpha groups in the entire state of New York for eight years. There are 1 million college students in the Empire State, 600,000 alone in the Big Apple.
Richey says 110 languages are spoken on the Queens College campus.
"I'm a white guy and, for the most part people, don't look like me," Richey says. "It's awesome."
Since the Richeys launched the Queen City Chi Alpha, three other chapters have been planted in New York — all from leaders from Texas. Those groups are located at
City College of New York
in Manhattan,
Buffalo State University
, and
Binghamton University
.